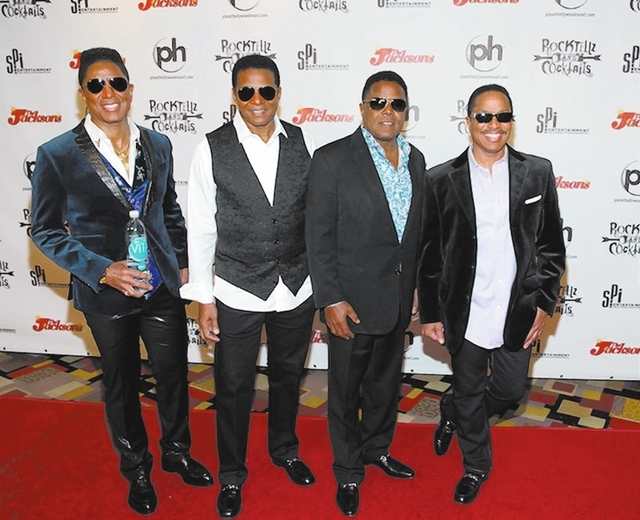 Former Broadway star and adopted Las Vegan Leigh Zimmerman has become the darling of London's musical theater fans again.
Fresh from winning one of London's most prestigious awards, Zimmerman has landed a lead role in "Relative Views" as Miranda Frayle in Noel Coward's play, which has been described as "the uproarious culture clash between the glittering world of Hollywood and the stiff upper lip of the English aristocracy." "Relative Views" starts March 19 and is scheduled to close in late June.
Zimmerman, a Wisconsin native, won the Olivier Award last year for her portrayal of Sheila in the revival of "A Chorus Line" at the London Palladium.
Zimmerman was a showstopper as Ulla, the Swedish dish in Mel Brooks' Las Vegas edition of "The Producers," which opened at Paris Las Vegas in 2007 and ran for a year. Zimmerman's portrayal of Ulla in London's West End production earned her an Olivier Award nomination for Best Leading Actress in 2004.
She and husband Domenick Allen, a member of Foreigner from 1991 to 1993, made Las Vegas their home and embraced the music scene after "The Producers" ended in 2008.
She had appeared in "Chicago" in London's West End in 2001 and returned to play Velma Kelly in "Chicago" in June 2009.
END OF MILLI VANILLI
Las Vegan Jodie Rocco said she was responsible for blowing the whistle on the Milli Vanilli fraud. Rocco, who appeared on OWN's "Oprah: Where are They Now" on Friday, said her comments didn't make it on air.
In an email, the former backup singer said, "I am the one who went to the press."
Initially, she didn't get very far when she tried to expose the scandal. Rocco said she called KLAS-TV, Channel 8 the first week of November 1990.
"I identified myself and why I was calling, and the person I was speaking to hung up the phone. I called back and identified myself again, saying that I was one of the original singers of Milli Vanilli, and I have information about the group that no one knew.
"Eventually they sent a film crew to my parents' house to film some footage and interview me."
Rocco said Milli Vanilli frontmen Rob Pilatus and Fab Morvan supported her going public. The pop and dance group, created by Frank Farian in Munich in 1988, exploded a year later.
"Rob and Fab invited my husband and I to The Mirage in 1990 to discuss the 'real' group announcing to the world that we were the real singers/group.
"Rob and Fab wanted to expose Frank and take him out of the controller's seat regardless of the repercussions. They wanted the world to know they didn't sing because they weren't allowed to sing, not because they couldn't sing.
Rocco added, "They wanted to get out from under Farian's control by whatever measure it took. Unfortunately, their fame wasn't enough to quash Frank Farian's powerful presence in the music world and sadly, they failed."
THE SCENE AND HEARD
Associated Press sports columnist Tim Dahlberg, based in Las Vegas, speaks March 6 to a Sons of Norway gathering about his experiences at the Sochi Olympics. Erik Pappa, director of public communications for Clark County, said Dahlberg, a Norwegian-American who grew up in Las Vegas, had one request. "We just had to promise we'd have lefse for him," Pappa said. …
Actor Michael Madsen said he misspoke in Sunday's column when he said Frank Sinatra kidded him at the Sands in 1989. "It was at Bally's," he said in an email on Sunday.
SIGHTINGS
At Jermaine, Jackie, Tito and Marlon Jackson's "RockTellz &Cocktails" show on Saturday for the opening weekend celebration at Planet Hollywood Resort: Bubba Knight of Gladys Knight &the Pips, Sabina Kelley of Oxygen's "Best Ink," musician Franky Perez, actor Adrian Zmed, BMX pro Ricardo Laguna, Miss Nevada United States 2013 Hilary Billings, Phil Lewis of the LA Guns, pianist Danny Wright, singer Traci Ohlson Kesisian, members of Human Nature, "Thunder From Down Under" performers, "Jersey Boys" players, magician Murray Sawchuck and "Fantasy" star Chloe Crawford. … Lauren Conrad and Kelly Osbourne, taking in Britney Spears in separate groups Saturday at Planet Hollywood. … At Hakkasan (MGM Grand) on Saturday: "Pitch Perfect" co-stars Anna Kendrick and Brittany Snow. At another table: "That Awkward Moment" actor Miles Teller, belatedly celebrating his 27th birthday with a group that included Chase Crawford. Teller's cake was decorated with a "Fantastic Four" theme, in honor of his newly announced role as Mr. Fantastic in the upcoming reprise. Also at the club: Teller's "Divergent" co-star Theo James. … Osbourne, her boyfriend and friend downed lemon drop shots at Sapphire. She left her booth to meet boxing champion Floyd Mayweather Jr.
THE PUNCH LINE
"The best part of watching the Canadians win is we got to watch Toronto Mayor Rob Ford celebrate." — Jimmy Kimmel
Norm Clarke's column appears Sunday, Monday, Wednesday and Friday. He can be reached at 702-383-0244 or email him at norm@reviewjournal.com. Find more online at www.normclarke.com. Follow Norm on Twitter @Norm_Clarke. "Norm Clarke's Vegas," airs Thursdays on the "Morning Blend" on KTNV-TV, Channel 13.