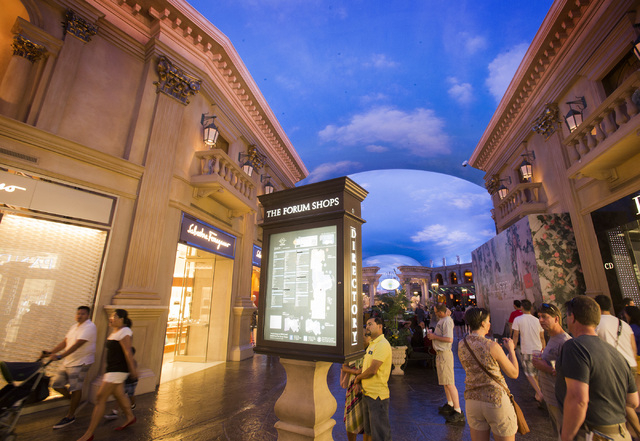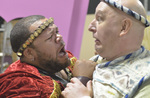 Super Summer Theatre has always been a pleasant experience, and the quality of the productions has increased dramatically. The current production of "A Funny Thing Happened on the Way to the Forum," presented by Second Star to the Right Productions, begins as director-choreographer Tim Bennett sends the cast wandering through the Spring Mountain Ranch meadow for a greenshow. It then cleverly segues into the familiar opening.
With music and lyrics by Stephen Sondheim and book by Burt Shevelove and Larry Gelbart, how can you go wrong?
It's a bawdy script, but the kind that makes both kids and adults laugh, albeit for different reasons. You expect a certain amount of liberty to be taken; in fact, it's almost a requirement with this show. Yet, some of the liberties in this production feel out of place. They're a bit too stark. And that's how this production goes wrong.
The action takes place on a street in ancient Rome, 200 years before the Christian era. While the bulk of the set by Steve Paladie meets that expectation, the house of ill-repute stands out like a sore thumb. A la early Fremont Street, it's adorned with light bulbs and an early Roman version of Vegas Vicki. The rented costumes also jump eras.
The uninspired choreography contains movement too effeminate for some roles, and a mixture of styles further muddies the picture. At one point we get a Radio City Rockettes kick line, at another a portion of the hand dance from "The Will Rogers Follies."
With a farce, it's important to make it believable, to suck us in, but with a wink that tells us it's all performance, all for fun. Here, that balance is missing. An empty stage during the climactic chase could've worked given a correct beat. Though all is not lost. Some standout performances make it worthwhile.
Sondheim is never easy to sing, particularly with this score — it's that balance thing again. Bruce Block brings us a Pseudolus who grows on you over the course of the play. His characterization sells the songs, and once he settled into the role, he found the balance required to pull it off.
John Wennstrom's Marcus Lycus marries the fun of the script to the melodies of the score with a glorious agility. Terri L. Gandy manages the same with a wonderful mixture of vocal ability and playfulness in her role of Domina.
Steven Dietrich, Rob Tyree and Keaton Johns as Protean 1, B and III, respectively, are a nimble trio of Greek Chorus. Their antics are brilliantly funny and fitting as they change from Roman soldiers to eunuchs to slaves in a merry-go-round blink of an eye.
The real standout in this large cast has to be Carnell Johnson. As Miles Gloriosus, his timing is superb in both line delivery and action. You feel his stage presence immediately, not only because of his physical stature and baritone voice, but because he uses it all so adroitly. He's mastered the equalization of nuance and broadness needed for this play, and for the venue.
There's a vast improvement in sound. Relocating the board to audience level, enabling the technician to hear what the audience hears, and having enough body mics, ensures you won't miss a word of the fun no matter where you are in the meadow.
REVIEW
What: "A Funny Thing Happened on the Way to the Forum"
When: 8 p.m. Wednesdays-Saturdays through July 26
Where: Spring Mountain Ranch State Park, 10 miles west of Charleston Boulevard and I-215
Tickets: $12.95-$20, (866-967-8167; www.supersummertheatre.org)
Grade: C+