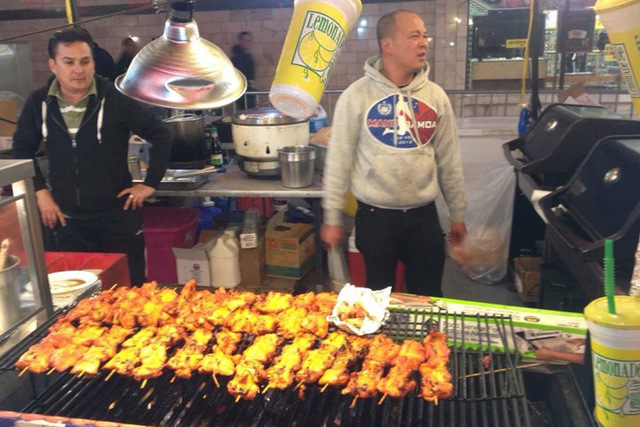 Feeling festive
It's a celebration so nice, the word "fest" is in there twice.
The ninth annual Las Vegas Culture Fest Food and Music Festival is set for 11 a.m. to midnight Saturday and Sunday at the Fremont Street Experience.
The free festival will feature a variety of foods, including Asian, Creole, Indian, Venezuelan and Jamaican dishes, as well as barbecue and soul food.
On the music side, Klique, Hale Amano, DJ Mojo and DJ Ice Break will perform.
The free festival's goal is "to bring about an enhanced cultural understanding and appreciation for diversity."
A flair for flying
Kids — of all ages — will display model behavior Saturday during the National Atomic Testing Museum's "Secret Planes of Area 51," a model-making event keyed to Cold War history. While learning how to construct snap-fit models of aircraft, kids also will discover how the planes were developed, secretly, at Area 51. The event runs from 10 a.m. to noon Saturday at the National Atomic Testing Museum, 755 E. Flamingo Road; admission is $10. To RSVP, call 702-794-5151; for more details, click on www.nationalatomictestingmuseum.org.
Everybody gets the blues
Yes, there will be out-of-state pilgrims at the Big Blues Bender, a four-day fest bringing more than two dozen blues masters to town, including B.B. King and George Thorogood. But there are ticket deals for Nevadans: single-day prices starting at $75 for today's lineup commencing at 4 p.m., or $350 for the whole shebang. And anyway, locals know the back, Paradise Road way into the Riviera. For details and the full lineup, see bigbluesbender.com.
What a blast!
Garage rock wunderkind Ty Segall is as prolific as any musician out there these days, releasing a solo album a year since he debuted in 2008 along with records with various side projects. His latest album, "Manipulator," is his most expansive both sonically and emotionally. See him at 9 p.m. Sunday at Beauty Bar, 517 Fremont St. Tickets are $10 in advance, $12 day of show; call 702-598-3757.
Rosh Hashana fare
Feast Buffets at Station Casinos and Festival Buffets at Fiesta Casinos are featuring specialty items for Rosh Hashana. Available at lunch Thursday and Friday and dinner Thursday night, they include challah rolls, honey-glazed salmon, fresh-sliced apples with honey salad and honey cake, and complement the usual offerings.