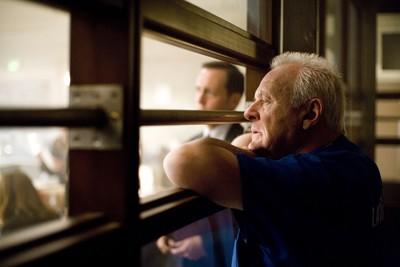 A "howdunit" is rarely as compelling as a "whodunit" — unless a master is calling the shots.
"Fracture's" director, Gregory Hoblit, demonstrates that he's not there yet.
More's the pity, because this courtroom thriller had the same sort of potential as Hoblit's big-screen directorial debut, "Primal Fear," which paired veteran leading man Richard Gere with a thrilling young actor named Edward Norton.
"Fracture" repeats that pairing of veteran and rising star. Here, the former is Oscar-winner Anthony Hopkins, in trademark criminal genius mode. The up-and-comer? Ryan Gosling, recently Oscar-nominated for his powerhouse "Half-Nelson" performance.
Both prove (as if we needed further confirmation) that an actor's only as good as his script. And "Fracture's" isn't nearly as fascinating as it thinks it is.
Indeed, the movie often plays like an extended episode of the exemplary TV shows Hoblit used to write and direct, from "Hill Street Blues" and "L.A. Law" to "NYPD Blue."
Those series had a genuine commitment to character and a stubborn resistance to standard, business-as-usual genre cliches. That's far more than you can say for "Fracture," which desperately wants to be clever — but turns out to be distressingly routine.
Hopkins plays cold, crafty entrepreneur Ted Crawford, who's not at all happy that his trophy wife (Embeth Davidtz) has been cheating on him.
Ted's the type who demands that things work seamlessly — even complicated things like life. (The elaborate, gleaming metal mazes he builds provide an elegant, if obvious, visual metaphor.)
As Ted explains, a boyhood experience candling eggs at his grandfather's farm, looking for imperfections, taught him that nothing is flawless.
"Look closely enough and you'll find everything has a weak spot," he says, "where, sooner or later, it will break."
Initially, Ted applies that assessment to his marriage — a situation he attempts to remedy by shooting his straying spouse at point-blank range.
Being Ted, he's planned the perfect murder. Except that his wife doesn't die, which means he's going to trial for attempted murder instead.
Enter the prosecutor: hotshot Willy Beachum (Gosling), an up-by-his-bootstraps assistant district attorney with a 97 percent conviction rate. Not that Willy cares much about such things anymore; he's movin' on up, having accepted a lucrative job at a high-powered corporate firm.
But the district attorney (tough but sympathetic David Strathairn) wants his ace prosecutor to handle one final case, which appears to be a legal slam-dunk.
And appearances, as "Fracture" knows we all know, are inevitably deceiving.
So far, so OK. Except that "Fracture" concentrates so much on its supposedly twisty story that it overlooks such vital components as character development.
Screenwriters Daniel Pyne and Glenn Gers pile on the plot complications in fast and furious fashion, hoping the sheer volume of information will obscure the fact that pieces in their jigsaw puzzle don't always fit.
Those complications include Willy's obligatory romance with his ice-queen corporate boss (Rosamund Pike) and the cops on the case (Billy Burke, Cliff Curtis), at least one of whom has a more than professional interest in the outcome.
Even though those of us in the audience don't really care, the movie also tries to milk the class-conscious clash between Willy, a humble Oklahoma boy trying to claw his way up the L.A. power grid, and Ted the corporate tycoon.
Throughout, Hoblit and director of photography Kramer Morganthau work diligently to distract us with striking visuals, from posh, polished interiors to unsettling, almost claustrophobic camera angles.
"Fracture" also offers a guided tour of distinctive L.A. locations, including the new Walt Disney Concert Hall (it's supposedly the first movie to film inside architect Frank Gehry's new downtown landmark), the roof of the Standard Hotel and the venerable Montecito Heights neighborhood, with its killer view of downtown.
This window-dressing may be diverting, but it's no substitute for complex, fully developed characters we can't help caring for — or at least about. "Fracture" doesn't have them.
It's always a pleasure to watch Hopkins sink his teeth into the role of the diabolically clever mastermind. By now, however, he could play this role in his sleep — and occasionally seems to be doing just that.
Yet Hopkins' old-smoothie turn proves far more entertaining than Gosling's mannered portrayal, which includes so many furrowed brows and so much hand-on-chin posturing it's difficult to concentrate on Willy's transformation from arrogant showboat to dogged crusader.
Then again, maybe Gosling's just trying to capture the essence of the movie itself: slick on the outside, empty on the inside. It's a cruel fate for a talented actor — and an innocent audience.
CAROL CLINGMORE COLUMNS
movie: "Fracture"
running time: 112 minutes
rating: R; violence, profanity, sexual references
verdict: C+
now playing: Boulder, Cannery, Cinedome, Green Valley, Neonopolis, Orleans, Palms, Red Rock, Santa Fe, Showcase, South Point, Suncoast, Sunset, Texas
DEJA VIEW
FROM LEGAL EAGLES TO EXPLOSIVE TESTIMONY, THESE COURTROOM THRILLERS MAKE A PERSUASIVE CASE:
"Witness for the Prosecution" (1957) — A LONDON ATTORNEY (CHARLES LAUGHTON) DEFENDS A NOTORIOUS MURDER SUSPECT (TYRONE POWER) WHOSE FATE HINGES ON THE TESTIMONY OF HIS WIFE (MARLENE DIETRICH).
"Anatomy of a Murder" (1959) — IN ONE OF HIS BEST PERFORMANCES, JAMES STEWART PLAYS A SMALL-TOWN LAWYER TRYING TO OUTWIT A CANNY PROSECUTOR (GEORGE C. SCOTT) TO SAVE HIS POSSIBLY GUILTY CLIENT.
"Presumed Innocent" (1980) — IN THIS ADAPTATION OF SCOTT TUROW'S BEST-SELLER, A TOP PROSECUTOR (HARRISON FORD) FINDS HIMSELF THE PRIME SUSPECT IN THE MURDER OF HIS FORMER MISTRESS.
"The Verdict" (1982) — An alcoholic attorney (Paul Newman, in peak form) seeks redemption by pursuing a medical malpractice case against a ruthless courtroom opponent (James Mason).
"Primal Fear" (1996) — "FRACTURE" DIRECTOR GREGORY HOBLIT'S DEBUT STARS RICHARD GERE AS A "BIG-DEAL LAWYER" DEFENDING AN ALTAR BOY (EDWARD NORTON) ACCUSED OF MURDERING A CATHOLIC ARCHBISHOP.
— BY CAROL CLING