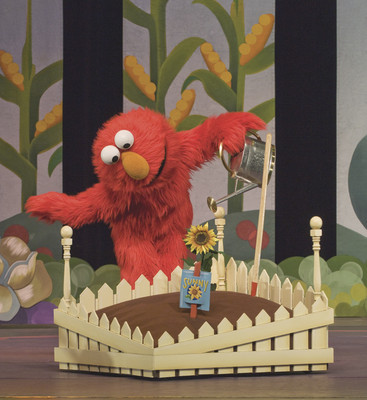 The "Street" fleet's in — as in "Sesame Street Live," back for another romp of classic characters in their yearly leap from screen to stage, this time called "Elmo's Green Thumb." But this year, the town's abuzz with rumors that some citizens of the "Street" have been spotted in and around the Strip, trying out for Vegas shows.
Here's the lowdown on their activities onstage. And off.
Elmo: His high-pitched pipes led him to an audition for "Jersey Boys." He's a natural imitating Frankie Valli's famed falsetto. You haven't heard Sheee-eee-eee-eee-eee-ree Baaay-yaaaa-beee until Elmo does it.
Prairie Dawn: The highly theatrical little cutie auditioned for Donny and Marie at the Flamingo, but stomped out in a huff when Donny sang "Go Away Little Girl" to her. She has since been seen over at the Hilton for Barry Manilow's production, trying out as Lola from "Copacabana." She was fine with the yellow feathers in her hair, but balked at the dress cut down to there.
Ernie: The little dude who can explain anything and everything hopes to replace Jay White at the Riviera's Neil Diamond tribute. He's the only creature on Earth who can explain the meaning of the lyrics to "I Am, I Said."
• • •
"This show's about the creatures that live within our environment, how we can live in harmony with it," says performance director Glen Taylor about this year's edition.
"Elmo introduces the audience to a new friend, Sunny the Sunflower, who has gotten too big for his flowerpot. But everyone at Sesame Street is too impatient to let him grow the natural way, so Abby Cadabby casts a spell to make him grow faster. Of course, her magic doesn't always go the way she plans, and she shrinks some of her friends, so they get to explore the garden from a very small perspective."
• • •
Bert: Ernie's more mature sidekick indulges his wilder side, letting loose as Michael Jackson in "American Superstars." The producers were knocked out by his "Billie Jean," and were overheard marveling that Jacko looks almost as lifelike as Bert.
Big Bird: He's up for a spot in Bette Midler's show at Caesars Palace in a number rearranged specifically for him: "The Boogie Woogie Bugle Bird." But he still trips over the lyric, "A-Toot-a-Toot-a-Toot-Diddleyada-Toot, he blows it eight to the bar."
Abby Cadabby: The "fairy in training" with a yen for magic eyed an assistant's job but fled the Rio in terror after seeing the Penn & Teller show. Things didn't go much better with Amazing Johnathan.
• • •
"The hardest part is transforming myself into a boy character in different ways that you stand — you can't stand with your hip out or your feet turned out," says Elmo portrayer Cyndi Graves. "I'm one of the last characters to come onstage, and backstage I listen and the kids are just screaming. He's like a rock star to them."
• • •
Grover: The gregarious, blue-hued monster took a shot at (what else?) Blue Man Group but just didn't possess the proper mime skills. He was green with envy.
Oscar the Grouch: He headed over to The Venetian, expecting to star in a revamped "Oscar of the Opera," but blew the audition with his attitude. Sure, the lead character is a bit peeved, but even the Phantom was never this grumpy.
Count Von Count: The Dracula doppelganger with the obsession for numbers is also a savvy shopper with a head for prices that's made him a repeat contestant on "The Price is Right: Live." He has won so much so often that he has been barred from Bally's.
• • •
"We've got Grover and Elmo doing choreography set to a Britney Spears video," Taylor says. "The choreographer wanted to show choreography they'd see on the Disney Channel or the top videos. Typically, we do musical theater-style, but this is a lot more hip-hop, and it's really fun to see Elmo and Bert and Ernie breakin' it onstage."
• • •
Cookie Monster: Blew off auditions. Spends all his free time at the Mrs. Field's stand at the Boulevard Mall, harassing passers-by for spare change to feed his habit. Security has been notified.
Contact reporter Steve Bornfeld at sbornfeld@reviewjournal.com or 702-383-0256.
Preview
What: "Sesame Street Live: Elmo's Green Thumb"
When: 7 p.m. today; 10:30 a.m. and 7 p.m. Friday; 10:30 a.m., 2 and 5:30 p.m. Saturday; and 1 and 4:30 p.m. Sunday
Where: Cox Pavilion, East Tropicana Avenue and Swenson Street
Tickets: $14, $20 (739-3267; 866-388-3267; www.sesamestreetlive.com)