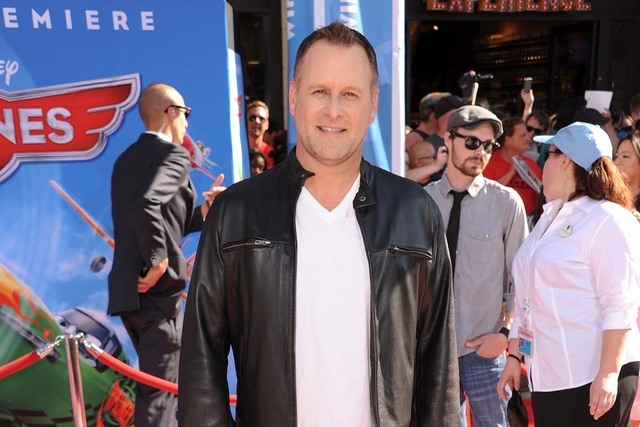 Have you ever wondered how many women swarm to the mere presence of pretty actor John Stamos? I have. Comedian Dave Coulier of "Full House" gives us details.
"John and I were single at the same time when we started 'Full House,' " said Coulier, who will perform Friday through Sunday at the South Point.
"I had never seen anything like it. I'd never seen girls just throw themselves at someone," he said. "We're talking about supermodels."
So what would Coulier do in those situations?
"I would just sit there. There'd be five girls going after John, so I'd get to sit next to four of them who weren't talking to him, and just say, 'Yes, he is an incredibly handsome man.' "
Coulier's strategy was a winner.
"Then they would start saying things, like, 'You know what? You're really funny and kind of cute.' "
The men of "Full House," including comic Bob Saget, remain friends. They did a Super Bowl commercial this year. Saget and Stamos gave speeches at Coulier's wedding this summer.
In fact, eight years ago, Coulier and Stamos "kidnapped" Saget and made him come to Las Vegas to celebrate Saget's 50th birthday.
"We stayed at the suite at the Palms that has the bowling alley," Coulier said. "I bowled naked for him. It turned out, I was the only one that thought that would be really funny."
Coulier has won Emmys for doing voice-acting jobs.
He is the voice of Kellogg's Raisin Bran and did 62 Geico commercials. He did five voices on "Muppet Babies" and voiced on "Scooby-Doo," "The Real Ghostbusters," "Robot Chicken" and "China, IL."
He also copycatted Robin Williams on the cartoon version of "Mork &Mindy."
Coulier even did the copycat dub-over for Richard Pryor movies, replacing Pryor's swear words with words that could be heard on broadcast TV.
"It's weird that the whitest guy in the room ends up doing Richard Pryor's voice," Coulier said.
This line of work started when Coulier was a young kid in Michigan. He heard his voice on tape, and he didn't like it.
Coulier has a great joke about this. When he spoke in his own tenor, no one walked up to him and said, "Hey! You've got a great speaking voice!"
I told Coulier I've always thought Louis Armstrong and Kermit are the easiest voices to do, but he's the pro. So who is easiest?
"Joe Pesci is kind of an easy one to do," he said then launched into a Pesci "Goodfellas" impression.
"I've always loved that voice. People come up to me and they go, 'You're pretty funny.' I'm like, 'Tell me how, like a clown?' "
As you can imagine, Coulier's shows at South Point will be eclectic.
"I rehash things that happened on 'Full House.' I talk about being a dad. I talk about my experiences traveling around the country."
Oh, and then he said this:
"I'm actually going to be flying myself to Las Vegas for the South Point show," Coulier said.
He is a pilot and he takes part in the airplane-promotional Hat in the Ring society, along with Morgan Freeman and Harrison Ford.
"We extol the positive virtues of aviation nationwide," Coulier said.
I asked him the ridiculous question I ask all pilots of small planes:
"Are you flying to town with your hand out of the window?" I said.
"You can," he said. "You could do that hand-airplane thing out the window that people do out of cars, that up-and-down motion.
"I'm not sure you'd want to get hit by a giant bug at 150 mph. I would like to think the use of my hands is probably better applied to flying the airplane."
Doug Elfman's column appears Tuesdays, Thursdays and Saturdays. Email him at delfman@reviewjournal.com. He blogs at reviewjournal.com/elfman.