Garth Brooks comes up with own hook for Las Vegas concerts
December 3, 2015 - 9:50 pm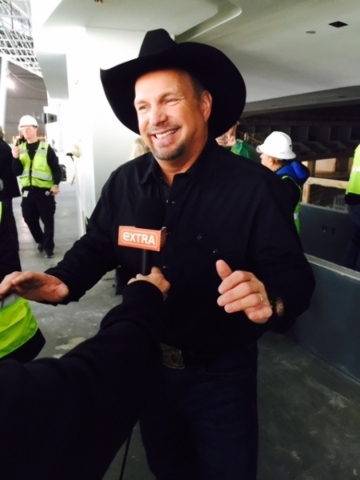 Garth Brooks has record expectations for his four performances over the Fourth of July at Las Vegas Arena.
During a news conference Thursday in the 20,000-seat venue, which opens in April, Pat Christenson of Las Vegas Events recalled a meeting with Brooks a month ago.
"Garth listens very carefully," Christenson said. "He picked up something that came up in the meeting" that included Rossi Ralenkotter, president and CEO of the Las Vegas Convention & Visitors Authority, and Rob Dondero, executive vice president of R&R Partners.
"Rossi had said something about occupancy being around 84 to 86 percent (historically) during that weekend," Christenson said.
"That's the record I want to break," said Brooks.
When Brooks saw a rendering of the new arena, he wanted something clarified after seeing a banner that read, "Garth Brooks World Tour."
"No," Brooks said, "this isn't going to be Garth Brooks World Tour. This is going to be Garth Vegas."
"Right away," Christenson said, "that stuck and you're going to hear a lot about Garth Vegas from here on." "Garth wanted this to be more than just a play for the locals or another tour, he wanted a play for the entire destination," Christenson said.
"It became clear what our roles would be," he added, referring to Las Vegas Events and the Las Vegas Convention & Visitors Authority.
It is up to them, he said, to get the city's major hotels "to commit to ticket packages and fully integrating the events in 'Garth Vegas,' much like what we do with all of our other special events; we call them signature events. And rarely do we do concerts where that's possible."
Within two weeks, 10 hotels partners "signed on," Christenson said. He identified them as Caesars Palace, The Orleans, Mandalay Bay, South Point, The Cosmopolitan, MGM Grand, Silverton, Berkley Group and Wynn Las Vegas.
Brooks told the media, "If you're in the entertainment capital of the world, fans can expect to see a show like nothing they've never seen before."
"You can take it to a level you never dreamed of," he said.
Remembering Sinatra
"Sinatra 100 — An All-Star Grammy Concert," the 100th birthday salute to Frank Sinatra, won't disappoint.
Taped at the Encore Theater inside Wynn Las Vegas on Wednesday, there were nearly a dozen standing ovations.
The two-hour CBS special airs Sunday from 9 to 11 p.m.
Family members were there, with Nancy Sinatra, teaming up with Harry Connick Jr. on her 1967 hit "Something Stupid."
Quincy Jones, who composed for Sinatra, walked on stage with rapper LL Cool J and shared some nostalgic times with Ol' Blue Eyes.
Celine Dion decided to perform "All the Way" for her ailing husband, Rene Angelil, and all of the people who need the strength to "go all the way." She received one of the longest ovations.
Lady Gaga closed the show, twice, with a memorable "New York, New York." No one minded sitting through a second take because no wanted the evening to end. Gaga rose from the front of the stage on an elevator. She was dressed in a black tux with her slicked-back blond hair tucked under a fedora, which she later flipped into the crowd.
The scene and heard
Pia Zadora, who was Frank Sinatra's opening act during tours in the 1980s, will add a medley of his classics to her show this month at Piero's Italian Cuisine (Friday and Saturday, 9 p.m.) Sinatra's guitarist, Joe Lano, will join Zadora's conductor, Vinnie Falcone, who held the same title with Sinatra.
Sightings
Homegrown hero Kyle Busch, the 2015 NASCAR Sprint Cup champion, dining at Andrea's in Wynn Las Vegas on Wednesday with wife Samantha and friends. … At Wednesday's retirement party for baseball star Torii Hunter: David Price, who signed with the Boston Red Sox this week for $200 million; Detroit Tigers pitcher Justin Verlander and his girlfriend, supermodel Kate Upton; and retired pitcher Scott Erickson. Chef Grant McPherson put together the pop-up dinner. Upton and Verlander partied at Hyde Bellagio on Tuesday. … NASCAR driver Dale Earnhardt Jr., backstage after taking in the Reba McEntire and Brooks & Dunn show Wednesday at the Colosseum in Caesars Palace. … NASCAR driver Kevin Harvick, with a group at Carmine's in Forum Shops at Caesars on Wednesday.
The punch line
"Los Angeles is getting much closer to having an NFL team next year. So pretty soon, the Lakers won't be the only team in LA scoring about 20 points a game." — Conan O'Brien
— Norm Clarke's column appears Sunday, Monday, Wednesday and Friday. He can be reached at 702-383-0244 or norm@reviewjournal.com. Find more online at www.normclarke.com. On Twitter: @Norm_Clarke.