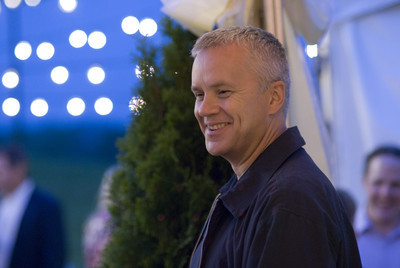 Everybody rolls the dice in Las Vegas. But not always at the craps table.
In the new movie "The Lucky Ones," which opens in theaters Friday, Las Vegas serves as the end-of-the-rainbow destination for three soldiers (played by Tim Robbins, Rachel McAdams and Michael Peña), home on leave from Iraq, who share an unlikely cross-country odyssey.
From the City Center construction site on the Strip to a Sunrise Mountain residence, Vegas vistas that don't generally show up on the big screen characterize their offbeat journey.
For the filmmakers, however, Las Vegas also provided "The Lucky Ones" with its first showcase at the annual ShoWest convention and trade show in March, where theater owners got their first look at the movie — and liked what they saw.
All of which came as a relief to director Neil Burger ("The Illusionist"), who's still worried that "The Lucky Ones" might be lumped in with other Iraq-themed dramas of the past few years, all of which have tanked at the box office.
At ShoWest, exhibitors who caught "The Lucky Ones' " initial screening "really liked it," Burger recalls during a telephone interview during the recent Toronto film festival, where "The Lucky Ones" made its festival debut.
What's more, Burger says, theater officials who saw the movie at ShoWest "got it — they wanted the movie. They weren't worried about the Iraq stuff."
Yet, somehow, he still is.
"I'm not only concerned, I'm terrified," Burger admits — despite his insistence, and that of his colleagues, that "The Lucky Ones" is "not an Iraq movie."
In Burger's view, "it's about America today," and three characters who are "strangers in their own land," sharing a "transformative" journey.
"We don't want it to be another Iraq movie," insists Michael Peña ("Crash," "World Trade Center"), who plays cocky T.K. Poole, whose battlefield injury — in a certain sensitive area of his anatomy — inspires his desire to visit Las Vegas.
"It's a different kind of movie — it doesn't spend a lot of time on the pain of war," Peña says. "You actually get to laugh quite a bit."
Indeed, the laughter started when Peña first read the movie's script, which Burger wrote with novelist Dirk Wittenborn. (Wittenborn's latest novel, "Pharmakon," was published in July.)
"Life is funny, but it's also a little sad," Wittenborn reflects in a telephone interview from New York, "and if it's funny, you know it's not going to last. And even when it's really bleak, it's still funny."
That bittersweet mix of "absurdity with the tragedy," in Burger's words, benefits from laughter's "healing quality," which "allows certain truths to land with more impact," enabling audiences to "get into the hearts of these characters."
Robbins' character, Cheaver — an Army Reservist who thinks he's completed his final tour of duty in Iraq — has "been through an intense experience," Robbins acknowledges, "but he doesn't wear it on his sleeve."
All three characters have suffered traumas, on and off the battlefield, "but nobody talks about it," the Oscar-winning actor adds. "I find that really moving."
In one case, when Peña's character awakens with nightmarish combat memories, "there could easily have been a monologue," Robbins says. "But in the silence, he tells a much more interesting story."
Las Vegas has been part of that story since longtime friends Burger and Wittenborn first began sketching out "a thinking person's road movie," Wittenborn recalls.
He and Burger "thought, metaphorically and visually," that Las Vegas "stands for something in transition," reflecting characters in flux, Wittenborn explains. Especially because of Las Vegas' "historical place in our imagination — a city of luck, of dreams."
To Burger, Las Vegas also represents the new West, a place overflowing with "all possibilities, where anything can change" — including yourself. "It's part of the American mythology, where you can reinvent yourself."
Las Vegas' mythical status may have influenced "The Lucky Ones," but on location last summer, cast and crew discovered the unlucky reality of life in triple-digit hell.
Especially when Burger and the actors crammed into the rental van that serves as the central trio's home on wheels, for shots of the travelers on their way into Las Vegas.
Because filming couldn't proceed with the air conditioning going full blast, or the windows rolled down, "we were basically in a sauna," recalls Peña. Sure, it was beastly, but "you've got to be able to work through anything."
Good thing Peña, McAdams and Robbins weren't subject to animal-cruelty regulations, Wittenborn laughs.
"If you had animals in there instead of actors, the ASPCA" would have protested, he notes.
As for Burger, "I had never done 108 to 110 degrees before," he admits. "It was incredibly hot." So hot that, rather than saying "Cut!" at the end of a shot, "I would always yell 'A/C on!' "
Reflecting the movie's laugh-through-the-pain attitude, "it's hilarious in retrospect," Burger admits.
And, of course, it's also reflective of the adventures "The Lucky Ones" share.
Road-trip movies have an enduring appeal, in part, because of "the landscape and the infinite possibilities," Robbins comments. "You can meet just about anybody."
Including yourself.
"For me, it was about the journey of the three characters finding a common ground," Robbins explains. "Under normal circumstances, they wouldn't find themselves together. But they're trapped in the car for five days."
And, as we all know, all roads lead to Vegas.
Contact reporter Carol Cling at ccling@reviewjournal.com or 702-383-0272.