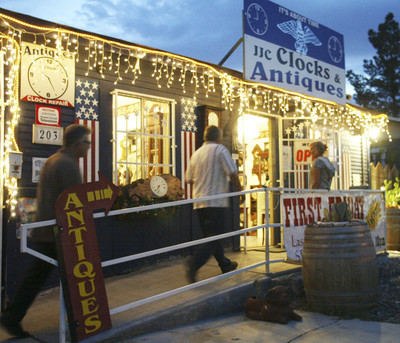 Katie Cewe's dream to own a successful vintage clothing business is off to a good start.
Cute shop? Yes, a tiny fuchsia-colored, 1900s-era cottage. The rent's cheap, too.
An inventory of vintage clothes, a smattering of handmade jewelry and artwork from local artists: check. An alarm? You bet. She also has a handyman of a father and friends willing to kill time hanging out with her.
She's missing one vital piece, however: customers.
Cewe's store, The Gypsy Den, is in a no-man's land sort of neighborhood, on Colorado Avenue between Casino Center Boulevard and Third Street. It's in a part of downtown that has long needed some attention, according to one longtime business owner just down the street, and serves more as a thoroughfare for bus riders and, at night, prostitutes and drug dealers. Unless, of course, it's First Friday and then the street is buzzing with hipsters, goths and artsy types streaming in and out of the galleries and shops.
But that hasn't stopped Veronika Holmes-Litvak and her small army of tenants from launching an all-out artistic assault on that section of Colorado in hopes of building a recognizable foundation for a downtown arts district that actually bustles on days other than the first Friday of each month.
"It will be a colorful, vibrant area. You will not miss us," says Holmes-Litvak, who owns nine pieces of property along Colorado Avenue.
The plan is to bring in some solid businesses and increase foot traffic in the area. Easier said than done, especially since downtown condominium projects have been put on hold.
So far, there's the Pop Culture Arts Gallery store that sells prints of vintage movie posters and original artwork; Gypsy Den; an antique toy store and a clock store. A cafe is slated to open in another cottage within the next 60 days.
Alas, the candy shop, Fiddlicious, there for only two months, has already closed its doors.
But Holmes-Litvak fell in love with the dreams of Oscar Goodman, who has long talked of a vibrant arts district revitalizing downtown. And, she says, like him, she strongly believes in the area's potential.
Yes, the economy is bad, she agrees. It may be for a while. But she and the business owners who are renting the cottages from her are confident things will get better. It's just a matter of when.
The main problem is getting shoppers to come to the area, so Holmes-Litvak plans to start an ongoing event called Shop the Block on the first and third Saturdays of each month. Twenty-one vendors will set up along the 21 blocks encompassing the arts district and shopping madness is expected to ensue. Holmes-Litvak is securing permits to close off the street for two weeks before Christmas, so that shoppers can come to the area and walk around, with luck, doing their holiday shopping, she explains.
It will be a challenge but business owners and gallery directors are hopeful, especially since the city is constructing a bus line that will run from the Strip through downtown. One stop on the planned Ace line is only a block away.
"I've wanted to see the downtown arts district get started," says Ski Bassham, gallery director of the Pop Culture Arts Gallery. "I've been seeing little fires here and there but now it seems to be happening together. Everyone is building on each other, getting some momentum."
That momentum can't come fast enough for Marcus Durden, one of three investors who own and operate A Little Bit Dusty, an antique and decor shop.
The shop has been operating on Colorado Avenue for about five years. First Friday has kept them afloat, Durden says, but now things are getting tighter.
"The plan is to continue like this and see what happens," Durden says. "If things haven't improved by January, we'll close up."
Contact reporter Sonya Padgett at spadgett@reviewjournal.com or 702-380-4564.