Giada's new romance spotted in Las Vegas
November 12, 2015 - 10:18 pm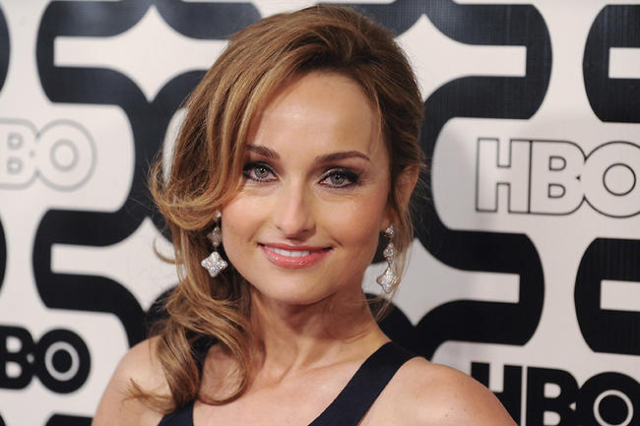 Celebrity chef Giada De Laurentiis kept a lid on her mystery-man romance despite a very public make-out session in Las Vegas in August.
In this age of phone cameras and instant sightings via social media, that was one of the best-kept secrets of the year.
US magazine reported Thursday that De Laurentiis and Emmy-winning TV producer Shane Farley were "making out" in full view Aug. 1 at Drai's rooftop nightclub at The Cromwell, where her restaurant, Giada, is housed.
They were attending a Nick Jonas performance.
"They are super affectionate … all over each other," a source told US.
E! revealed the identity of De Laurentiis' beau on Thursday.
Farley is still married to Manhattan personal trainer Jennifer Giamo. Farley, the former executive producer for "The Rachael Ray Show," filed for divorce March 30 and moved to Los Angeles.
De Laurentiis opened Giada in June 2014. She and her husband, Todd Thompson, announced they were getting divorced in late December.
The divorce was completed in September.
Loggins likes photos
Kenny Loggins had a refreshing reaction the other night to the age-old issue of fans taking photos during a performance.
He brought up the issue early in his headliner performance Tuesday at the 20th annual Serenades of Life Doctors in Concert charity event at Reynolds Hall at The Smith Center for the Performing Arts.
Instead of announcing the common practice of banning photography during a show, Loggins encouraged the audience to take all the photos they wanted and post them on Facebook, adding, "This isn't 1979."
A roar of approval went up, and so did hundreds of smartphones, clicking away.
Loggins gets it. Staying relevant is all about promotion. He has been quoted as saying, "Visual content is the name of the game right now."
By they way, emcee Brad Garrett kept the full house in stitches with his scalpel-like wit. Best emceeing job I've seen in many years.
The scene and heard
Mondays Dark celebrates its second anniversary with a party on Dec. 14 at The Joint in the Hard Rock Hotel. Creator Mark Shunock, who stars as Lonny in "Rock of Ages," said the party will be a celebration for the $250,000 the event has raised in two years. He is expecting a crowd of 1,400. "We will announce the additional 11 charities that will make up the 2016 lineup," he said. The event features more than a dozen Strip entertainers each month at Vinyl inside the Hard Rock. Information: www.MondaysDark.com. … Spectators are welcome at the star-studded Jennifer Harman celebrity poker tournament tonight on the mezzanine at Planet Hollywood Resort. Co-emcees are Kevin Mack, Roli Szabo and Horny Mike of History Channel's "Counting Cars" reality show. The red carpet starts at 5 p.m., with the tournament starting at 6:30 p.m. All proceeds go to the Nevada SPCA for animal rescue, rehab and adoption.
On this day
Nov. 13, 2005: Paris Hilton's boyfriend, Stavros Niarchos, starts a pillow fight in his Hard Rock Hotel suite after a party celebrating Kelly Osbourne's 21st birthday. The revelers break a sprinkler, flooding rooms and forcing evacuation of the hotel. His billionaire dad pays $25,000 to cover damages.
Nov. 14, 1998: NBA star Dennis Rodman and "Baywatch" star Carmen Electra marry at Little Chapel of the Flowers. Both are reportedly inebriated, and they file for an annulment after nine days.
Sightings
One of the most photographed sights along the Veterans Day parade route Wednesday were the four pre-teens wearing uniforms representing four of the five branches of the U.S. military. Their father, Grant Graan, a veteran, brought them to the parade. Brothers Graedyn Graan, 11, and Sage Graan, 9, joined their half-sisters Abigail Hubert, 9, and Natalie Hubert, 11.
The punch line
"Apple announced a plan to creat 1,000 new jobs in Ireland. Irish people were excited until Apple told them, 'It's a Genius bar, not a Guinness Bar.'" — Conan O'Brien
— Norm Clarke's column appears Sunday, Monday, Wednesday and Friday. He can be reached at 702-383-0244 or norm@reviewjournal.com. Find more online at www.normclarke.com. On Twitter: @Norm_Clarke.