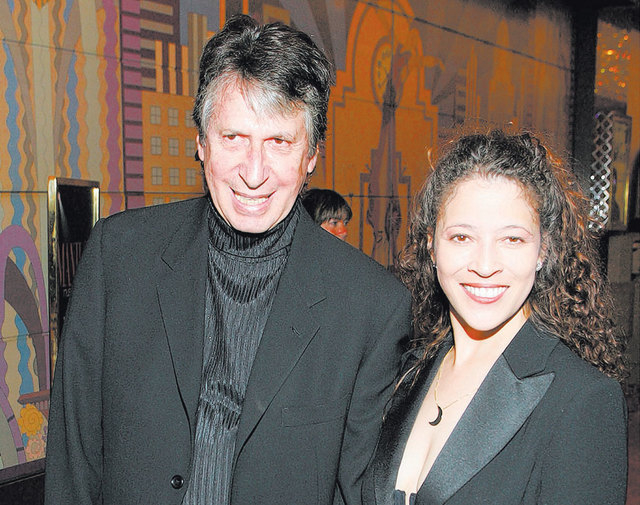 David Brenner's long-time girlfriend, Tai Babilonia, said the comedian often told her son and his three sons that he would "never die. He's just going to fly up to his planet and hang out there for a while."
"He is now in his happy place," the former U.S. Olympic figure skating star wrote on her Facebook page on Sunday.
Brenner died Saturday at his home in New York City after a bout with cancer. He was 78.
"My heart is heavy as I write this," she wrote.
"To say that my 8yr. relationship with David Brenner was complicated would be an understatement, he was the most generous, stubborn, classy, intense, loving (in his own brenner way) & of course hands down one of the most brilliantly funny entertainers ever!"
She wrote that Brenner was in a league all is his own.
"I embrace the great & not so great times that we shared & that have changed my life & the life of my son scout's forever. We watched & we learned from the best!"
Fellow comedian Kevin Kearney, who worked with Brenner in his hometown of Philadelphia and later in Las Vegas, recalled that Brenner had a fear of cancer.
Kearney, who co-owns Sin City Comedy, said in an email that Brenner wrote in one of his books that he was convinced his doctor had found a terminal form of cancer.
"For a few days, he is certain that he is going to die," Kearney continued. "Then tests come back and confirm that he's going to be OK. He said he remembered a saying framed on the wall of that doctor's office. It said something to the effect of, 'To those who have faced the final dragon, all other beings you face in this life will seem lesser.'
"David faced this situation before," Kearney wrote. "Yesterday he faced his final dragon. I'm sure he faced it with the same sense of humor, courage and wit he showed when winning over an audience on 'The Tonight Show,' entertaining countless audiences in Las Vegas or authoring his many books."
Kearney said Brenner "was so much more that a comedian. I would list him among the great American humorists. Those special people who have earned the right not to make us laugh at the end of every sentence. This is because we know, at the end of the story, we're going to see a mirror of sorts and end up laughing at ourselves. That was the talent and the magic of David Brenner.
"Just a boy from Philadelphia who made good, while remaining one of us," he said.
HAD A GRAND TIME
Pac-12 Commissioner Larry Scott received praise from Arizona Republic sports columnist Paola Boivin for moving the league tournament to the MGM Grand.
She wrote: "It's not just the 16,800-seat arena's atmosphere — which is far superior to the vibe in Staples Center — it's the fan experience the MGM Grand provides.
"Team stay and play there, giving fans an opportunity to interact with players, who frequently are walking the hallways and concourses.
"During the day, numerous fan events are held by the pool, and the hotel does a nice job of hanging banners representing all conference teams throughout the facility to give the building a bit of a collegiate feel."
Boivin admitted the Las Vegas move came with some Sin City baggage.
"Sometimes the clash of college tournament and Vegas naughtiness does get a little weird. During a timeout at Friday's Arizona-Colorado game, there was a promotion that involved handling out tickets to 'lucky' fans to see 'Fantasy,' which touts itself as one of the city's leading topless shows."
THE SCENE AND HEARD
The latest on-the-rise Las Vegas band, Rusty Maples, was the only local band represented at this year's SXSW music festival in Austin, Texas. The group performed during the Caesars Entertainment showcase curated by Life is Beautiful at Austin Ale House. The band recently was in the recording studio in Las Vegas with Alex Rose of Minus the Bear and have released the first song titled "Long Walk Home" from the upcoming EP which can be heard here https://soundcloud.com/rusty-maples/long-walk-home-radio-edit. It was released during their week at SXSW. …
Flashback from this column on Oct. 11, 2011: "Two-time Olympian pair skater Tai Babilonia and comedian David Brenner, at Michael's restaurant (South Point) on Thursday, celebrating the eighth anniversary of their first date."
SIGHTINGS
University of Arizona super freshman Aaron Gordon, at the Stage Deli (MGM Grand) on Friday with his mother. … Former 'N Sync star Joey Fatone, getting a tour of the "Pawn Stars" home at Gold & Silver Pawn on Friday. … Pantera's Vinnie Paul and "America's Got Talent" winnerMichael Grimm, at the opening night of The Dirty with Franky Perez last night at Rocks lounge inside Red Rock Resort.
THE PUNCH LINE
Leaving 'em laughing to the end, Brenner's last request was that $100 in small bills be placed in his left sock "just in case tipping is recommended where I'm going." — From the family statement printed in the New York Times.
Norm Clarke's column appears Sunday, Monday, Wednesday and Friday. He can be reached at 702-383-0244 or email him at norm@reviewjournal.com. Find more online at www.normclarke.com. Follow Norm on Twitter @Norm_Clarke. "Norm Clarke's Vegas," airs Thursdays on the "Morning Blend" on KTNV-TV, Channel 13.