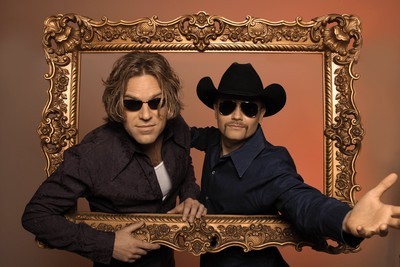 It's not easy teaching a dude who once dressed like a cross-dressing linebacker how to sing with a twang.
Dee Snider. Twisted Sister frontman. Eyeliner casualty.
He's the guy who once posed for an album cover in black and red shoulder pads and enough makeup to waterboard a steer in mascara.
In other words, he's the kind of fella who doesn't get mistaken for George Strait very much — unless, of course, "King George" happened to be savaged by some transvestite zombies.
Yet none of this matters all that much to John Rich.
As one half of country duo Big & Rich and the host of "Gone Country," a reality show where rockers and pop stars such as Snider and Bobby Brown attempt to go honky tonk, his job is to oversee just such a transformation.
"He's a great performer, but performing in front a country audience is different than performing in front of a headbanging audience," Rich says of Snider matter-of-factly, speaking from the set of "Gone Country 2." "The country audience is everybody from grandkids to grandmas. It's a challenge for them on a lot of levels, but it's not science fiction to think that artists in other genres can connect with the country audience."
And he should know. Over the past several years, few acts have pushed the bounds of contemporary country like Big & Rich.
Country was once one of the most insular forms of music, defined by a rigidly codified sound that eschewed the kind of cross-genre hybridization that's impacted everything from mainstream rock and roll to contemporary jazz in recent times.
But that's all changed. Guys like Kenny Chesney and Keith Urban owe as much to rock influences as they do guys like Hank Williams and Merle Haggard, and Big and Rich have similarly diffuse roots.
Not only do they boast a palpable hip-hop edge, particularly in their work with honky tonk rapper Cowboy Troy, but they've collaborated with plenty of artists far removed from the Nashville tradition, from silky-smooth R&B crooner John Legend to eclectic, urban music jack-of-all-trades Wyclef Jean.
There's a rock element to the duo too, with Rich playing a Randy Rhodes-worthy Flying V guitar live and appearing in Nickleback videos.
Most recently, Rich oversaw pop chanteuse Jewel's first country album, "Perfectly Clear," which is due out next month.
"Jewel's already a country girl, she grew up in the middle of nowhere in Alaska, her boyfriend of eight years is Ty Murray, who's the seven-time world champion cowboy. She's probably more of a country girl than some of the girls we've got singing country music nowadays," Rich says. "So it wasn't a stretch on that level, but on the artistic side, it was just a matter of what she was wanting to say and how she was saying it, to where the every day country listener could be impacted by it."
In broadening the reach of Nashville, Big & Rich have been handsomely rewarded: All three of their albums have gone gold or platinum, and at this year's Academy of Country Music Awards, which will be at the MGM Grand on Sunday, the two are up for a bevy of honors, including "Song of the Year," "Single of the Year" and "Top Vocal Duo."
"It feels like we did our job again, you know?" Rich says of the nominations, looking forward to the show with obvious relish. "It's a real serious party atmosphere. You wind up running into all your buddies out in the lobby, and end up playing blackjack with Tim McGraw and Faith Hill. It's crazy the kind of situations you wind up in."
Though they're up for their share of awards this weekend, Big & Rich are currently on hiatus until some time next year.
"Big Kenny has decided to take about a year and a half off, he just kind of wants to sit in the house and chill out and do nothing," Rich says. "I told him, 'Well, I'm ready to rock, I'm going to go make a record.' And he said, 'Rock on, dude, go do it.' And so in the 18 months that he's going to take off, I decided to make a solo album, and I think I've made a pretty damn good one."
Mainly, Rich wants to paint a fuller picture of himself with the disc, which is due out in the fall. He's turned plenty of folks onto a newfangled take on country music, and now he's looking to do the same with himself.
"I can talk about things when it's just on my own that I couldn't with Big & Rich, more personal things," he explains. "I've got a song on the record that I wrote about my grandfather called 'The Man,' about him being a World War II vet and how he impacted me.
"It's just a whole other approach when you don't have a duo situation," he continues. "I think I've really written some of the strongest songs of my career."
Contact reporter Jason Bracelin at jbracelin@reviewjournal.com or 702-383-0476.
who: Academy of Country Music Awards when: 5 p.m. Sunday where: MGM Grand Garden arena, 3799 Las Vegas Blvd. South tickets: $106-$456 (891-7777)