January 11, 2008 - 10:00 pm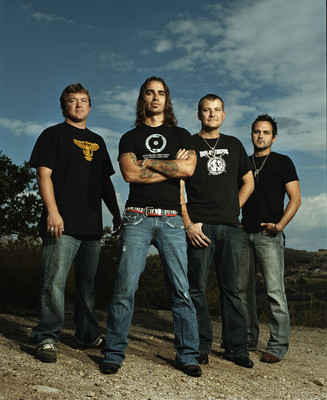 With his tattooed forearms and flowing brown hair, Cody Canada looks less like a country singer than Billy Bob Thornton aping a Metallica roadie.
And that's fine for the no-nonsense Oklahoman, whose voice is as devoid of equivocation as a kamikaze pilot.
"I don't want to be classified as country, because I don't like most of the country out there," the frontman for hard-rock honky-tonkers Cross Canadian Ragweed states flatly. "If you get pegged as a country band, then people will turn their heads. They don't like the crap that's on the radio, and they automatically think that you're the same old thing, because most of it is the same old thing. We're more of a 'contra-band' than a country band."
And with that, Canada allows himself a knowing little chuckle. After all, he and his band mates have slowly but steadily built a strong following for themselves by thumbing their noses at Nashville.
The group's raucous Americana harkens back to the outlaw country movement of the '70s, when guys like Willie Nelson and Waylon Jennings paired rough-edged roots music with an equally stubborn and sentimental streak.
They're pious partiers, the kind of dudes who pen odes to reefer and Jesus in the same breath. They tend to knock the stuffing out of their tunes, tempering a slight twang with a sweaty Southern rock bravado and the freewheeling recklessness of a teen kid doing donuts in the family station wagon.
And though Cross Canadian Ragweed has been signed to a major label, Universal South, for some time now, it's still an independent-minded band at its core.
The group hits the road for 250-plus shows a year with no tour support, they largely self-financed the recording of their latest disc, "Mission California," and they don't take kindly to record company feedback, such as when a label vice president once visited the band in an Austin, Texas, studio.
"He took 'This Time Around' off the 'Garage' record back to Nashville and took everything out but my vocals and built a band around it, so it was just me singing with a Nashville band," Canada recalls. "And I said, 'That's the biggest slap-in-the-face insult ever handed to this band. You basically just told us that we're ugly and that we won't work on radio. If we're not going to work on radio, then drop us. You don't need us. And we don't need you.'
"He got a little upset about it at first," he continues, "then he called me back and said, 'Thanks for telling me "no." Nobody's told me "no" in 30 years. I bet you're probably going to write a song about this.'"
Canada did just that on "Record Exec," the lead track for "California," a snarling kiss-off to corporate interference where the band sticks to its guns willfully.
"No time for change / No time to rearrange for the radio man," Canada sings. "We don't need a cheaper version / It sounds like perversion / Open your mind and see what I want you to see."
Gradually, Nashville has done just that, as the band now gets a smattering of airplay and consistently debuts in the country top 10 with each new release.
"When they finally came around to us, I think it's because they didn't have a choice," Canada says. "We're on our fourth album now with Universal South, and they finally said, 'We're not going to change you and we know that. Whatever you guys want to do, we're behind you.' To us, that's making a stand. Most people get exiled from Nashville because of that."
That never really concerned Cross Canadian Ragweed (whose moniker is an amalgamation of the surnames of band members Grady Cross, Canada and Randy Ragsdale), as the band built its fan base up by living on the road, where they've become a solid draw.
An article in Billboard magazine quoted one the group's handlers as estimating that they're now making around $2.5 million a year in concert receipts with an additional $1.5 million in merchandise sales.
The band's do-it-yourself approach was honed in the fertile Red Dirt music scene of Stillwater, Okla., where it initially developed a following alongside the likes of Dierks Bentley and No Justice.
"When I first walked into that scene, I was 16 years old," Canada reminisces. "I'd sit around and smoke dope and drink homemade honey mead wine at a place called The Farm, where everybody just kind of gathered around and played their own songs. I started realizing, 'Man, there's a lot of really good stuff here, and these people aren't in it for the money, they're in it for the songs.' I tried to get to know people in the business, and it was a bunch of phonies. Seeing that happen at The Farm, I thought, 'This is where I want to be. I don't care if I make a dime.' If that part of our lives didn't happen, I don't think we'd be doing what we're doing."
And what they're doing is keeping country music vital.
Even if they don't consider themselves full-fledged members of the genre, they're still doing a lot more for it than some radio staples who loudly trumpet their honky-tonk bona fides, even if their tunes are the country equivalent of fake boobs.
"The stuff that you hear about your pickup and 'Honky Tonk Badonkadonk,' come on, dude, there ain't a speck of soul in that," Canada snorts. "There's people like that who don't care. It's about the money. If you care about music, then people are going to get it, people are going to follow you until the end."
Contact reporter Jason Bracelin at jbracelin@reviewjournal.com or (702) 383-0476.
who: Cross Canadian Ragweed
when: 8 p.m. Sunday
where: House of Blues at Mandalay Bay, 3950 Las Vegas Blvd. South
tickets: $25-$27 (632-7600)