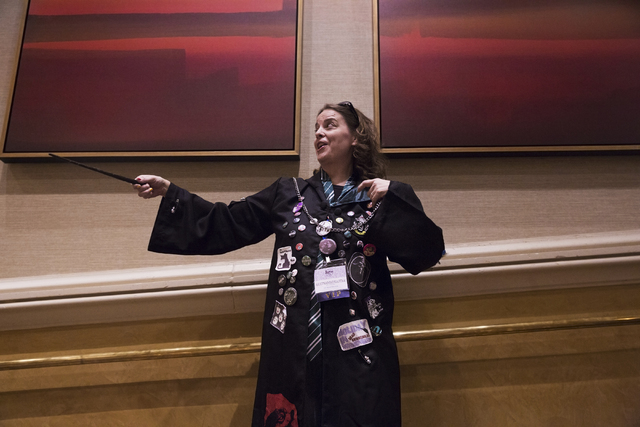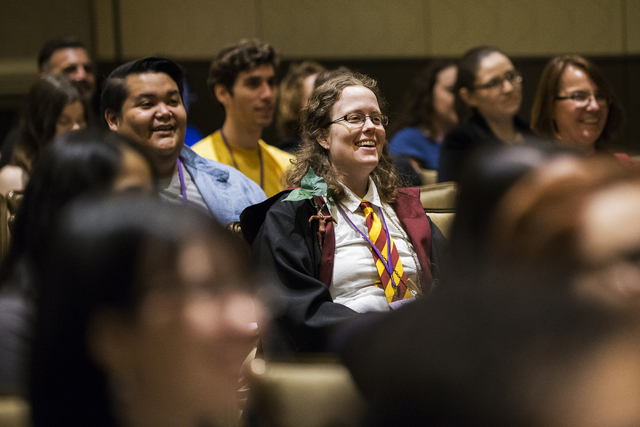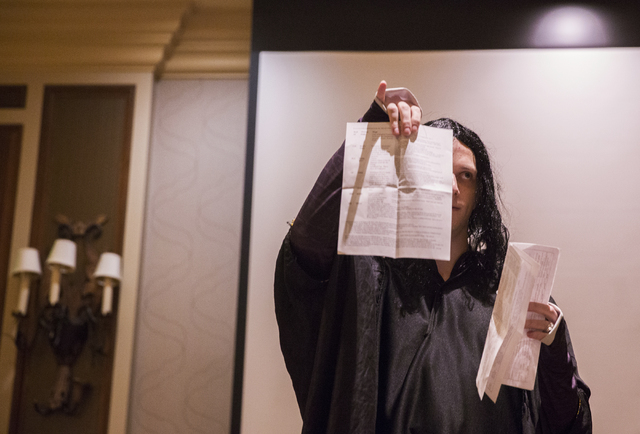 Down the escalator from the casino where Muggles tried to work magic on the slot machines, wizards and witches brandished wands, their black robes fluttering through the halls. Some pulled up their sleeves to reveal the "dark mark" on their forearms, a slightly blurry image of a skull and twisted snake that identifies Lord Voldemort's followers in the Harry Potter novels. Behind closed doors, others debated whether a certain potions professor was a tragic hero or undeniable villain.
Leviosa Con, the first Harry Potter conference in Las Vegas since Lumos 2006: A Harry Potter Symposium, summoned fans of all ages to the Green Valley Ranch Resort in Henderson this weekend to consider various facets of the series, talk writing craft, make actual crafts and participate in a variety of Potter-themed revelry.
"We just really missed this style of conference, where it was more about the creative process," Leviosa Con director Sarai Phillips said. From Phoenix, she chose to host the convention in Las Vegas because it offers activities for family members less enthusiastic about immersing themselves in the fantasy series for the weekend.
The convention began Thursday night with a "Welcome Feast" and game night before launching into the full range of sessions Friday.
Phillips estimated that more than 600 fans will attend over the course of the weekend. Day passes for Saturday are still available for $75, or a Saturday and Sunday combo pass is $100.
Attendees choose from sessions that fall into six tracks: academic, fandom, creativity, slash and queer lit, young adult (YA) literature or writing. The YA literature track includes panels with YA authors and professionals from the publishing industry, while the writing track focused more on craft and technique.
Leviosa Con is the first Harry Potter conference to dedicate an entire track of programming to the discussion of slash and queer literature ("slash" is fan fiction that depicts romantic or sexual relationships between two people of the same gender).
"Mostly we did that because this is a place of inclusivity," Phillips said. "Everybody's welcome. We don't want anyone to have their own quiet little corner."
Overall, Phillips said, "diversity was our main theme." Sessions across all tracks focused on how race, gender, sexuality and identity impact one's position in the literary and fandom worlds.
Speakers throughout the weekend included authors Alexandra Bracken and Sarah J. Maas as well as a host of academics, fan fiction writers, bloggers and other industry professionals.
Chris Rankin, who played Percy Weasley in five of the eight Harry Potter movies, spoke at Friday's keynote alongside podcaster Eric Scull, academic Morgan Howard and chapters director at the Harry Potter Alliance Janae Phillips about how morality is portrayed in the Harry Potter series and how readers may apply it to their own lives.
As a fan of the series both before and after appearing in the movies, Rankin has avidly attended various Harry Potter-themed conventions, both as a speaker and attendee. He completed his thesis for a bachelor's degree at Lincoln University in England on what happens to fan communities when the subject of their fandom ends. Five years after the release of "Harry Potter and the Deathly Hallows: Part 2," Rankin is watching the fandom persist, evident at conventions like Leviosa Con, and therefore fuel the release of additional Harry Potter spinoffs such as the upcoming film "Fantastic Beasts and Where to Find Them."
"It's sort of coming around again. It's really nice to see that the people who loved Potter when it first came out are introducing their families to it and it's coming through the second time around for these people who are having the same experiences, almost, that we had reading it the first time around," Rankin said. "It'll go on forever. No doubt."
Contact Sarah Corsa at scorsa@reviewjournal.com or 702-383-0353. Follow @sarahcorsa on Twitter.
More about Harry
J.K. Rowling's script of a Harry Potter-based stage play opening this month in London is coming out in book form July 31. It's already a best-seller on Amazon and No. 1 on Barnes & Noble's Top 100 as pre-orders.
The new story is by Rowling, Jack Thorne and John Tiffany. The play opens on London's West End on July 30, with the script book released a day later. It is described as a "special rehearsal edition." The story is being dubbed a sequel to the original seven books.
According to media reports, the book is set 19 years after "Harry Potter and the Deathly Hallows." The story centers on Harry and his youngest son, Albus.