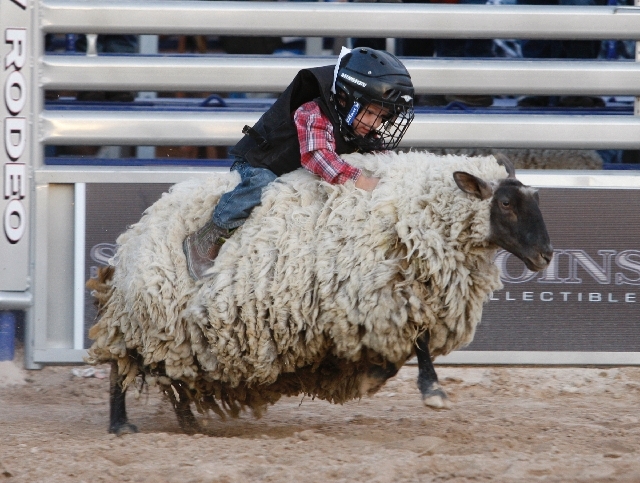 Never underestimate the pull of cowboy culture.
Consider the email Esther Carter received a few weeks ago from a woman in France.
The woman, Carter says, was planning to surprise her husband with a trip to Las Vegas just so he could attend Las Vegas Elks Helldorado Days, Las Vegas' annual celebration of our Wild West heritage.
What was really strange, adds Carter, the city of Las Vegas' rodeo and parade coordinator for Helldorado, was that "he doesn't even know he's going anywhere," let alone to Las Vegas for Helldorado Days.
Luckily, we Southern Nevadans are never far from our Western past and even closer to Helldorado Days, which Thursday begins a four-day run in downtown Las Vegas.
Again this year, Helldorado will feature rodeos, contests, carnival rides, food and a parade.
Not to mention, of course, all the cowboy cool a tenderfoot city slicker could ever desire.
Since 1935, Helldorado has served as both a community event and a charitable fundraiser for Las Vegas Lodge 1468 of the Benevolent and Protective Order of the Elks.
However, the very first edition of Helldorado was held the previous year, in 1934, when a man named Clyde Zerby was enlisted to produce it, says Jim Buell, past exalted ruler and former Helldorado general chairman for the Las Vegas Elks lodge.
"He was some kind of promoter from Arizona, and he really was the one that did the first event," Buell says.
"Well, as the legends go — and, of course, I'm no expert here — Zerby did make some money off of the event and absconded with whatever profit there was and was never to be seen or heard from again."
Talk about a Wild West twist.
Anyway, the Las Vegas Elks lodge began producing Helldorado Days the following year. In the decades since, Helldorado Days became Las Vegas' signature community event, memorialized in local history books and family scrapbooks alike.
Even several Helldorado-less years during the late 1990s and early 2000s couldn't stop Helldorado. By then, the event had moved to Thomas & Mack Center where, Carter says, it was done in by the deadly combo of low attendance and high production costs.
However, in 2005, then-Mayor Oscar Goodman spearheaded bringing a whittled-down version of Helldorado Days back to downtown Las Vegas. By 2009, Helldorado's rodeo, and Helldorado as generations of Las Vegans came to love it, were back.
"We're so fortunate with (former) Mayor Oscar Goodman and Mayor Carolyn Goodman that they are major supporters of this," Buell says.
And ever since then, he adds, Helldorado "has been going strong."
This year's edition of Helldorado Days — the event now is co-produced by the Elks lodge and the city of Las Vegas — kicked off with an already completed roster of events that included a golf tournament, an art fair, a fashion show and a trail ride.
The four-day main event kicks off Thursday with carnival rides and a locals rodeo at the Downtown Rodeo Grounds, on Las Vegas Boulevard between Seventh Street and Stewart Avenue.
Pro rodeo events take over the arena Friday through Sunday, featuring competitors from the Professional Rodeo Cowboys Association who, Carter notes, are competing to go on to the National Finals Rodeo later this year.
At Helldorado, cowboys ride in a rodeo arena built each year from scratch on a vacant downtown lot.
Cowboys "love arenas like this," Carter says. "They love that it's outdoors and the old feel of it, and they love coming downtown. We hear it every year."
"To me, this rodeo is really what rodeo is all about," Buell adds, noting that Helldorado Days' family-friendly rodeo tickets allow locals to see the same cowboys they probably can't afford to see at the NFR.
This year's Helldorado Days Parade is scheduled for 5 p.m. Saturday. The parade will travel along Fourth Street from Gass Avenue to Ogden Avenue.
Carnival rides and attractions will be open daily, while the schedule also includes such Helldorado mainstays as the Whiskerino Contest, at 6 p.m. Friday, and a daily "mutton bustin' " — a sheep-riding competition for kids .
Thursday is Kids Day, when children younger than 10 who are accompanied by an adult will be admitted free, while Saturday will feature a tribute to military personnel and veterans.
On Sunday, guests are asked to wear pink for "Cowboys for a Cure," when ticket proceeds will benefit the Susan G. Komen For the Cure organization locally.
All Helldorado proceeds go to local charities, primarily for children and veterans, Buell says. "Over the years, we've raised over $4 million for charities."
Carter says production costs for Helldorado Days come from proceeds from the sale of Las Vegas Centennial license plates and sponsor donations .
"We've been so lucky over the years to raise enough sponsorship funds every year to cover all of the production costs to build Helldorado," she says.
In fact, Buell adds, "I want to say that, without the support of the sponsors, we could not do it."
And, visitors from France notwithstanding, Helldorado Days remains, at its heart, a celebration by and for locals, Carter says.
"Every city has an event that it hangs its hat on," she says, "and Helldorado is ours."
Contact reporter John Przybys at jprzybys@review journal.com or 702-383-0280.
PREVIEW
What: Las Vegas Elks Helldorado Days
When: Thursday through Sunday
Where: Downtown Las Vegas Rodeo Grounds, on Las Vegas Boulevard between Seventh Street and Stewart Avenue
Tickets: $3 general admission; carnival ride tickets $1.25 each or all-day unlimited ride arm bands for $25; PRCA pro rodeo Friday through Sunday general admission $15-20 for adults and $8-$15 for children under 12; Thursday locals rodeo general admission is $10 adults and free for chidren younger than 10. (870-1221 or www.ElksHelldorado.com)
LAS VEGAS ELKS HELLDORADO SCHEDULE
THURSDAY
On Kids Day, admission is free for children under 10 who are accompanied by an adult.
The day's schedule includes carnival rides from 5 p.m. to midnight, and the locals' rodeo at 7 p.m.
FRIDAY
The Whiskerino Contest will begin at 6 p.m. Carnival hours are 5 p.m. to midnight, and the PRCA Pro Rodeo begins at 8 p.m.
SATURDAY
Helldorado will honor veterans and members of the military on Saturday.
At 5 p.m. the Helldorado Days Parade will be held, running along Fourth Street from Gass Avenue to Ogden Avenue.
Carnival hours are 5 p.m. to midnight, while the PRCA Pro Rodeo will begin at 8 p.m.
SUNDAY
"Cowboys for a Cure Day" benefits Susan G. Komen For The Cure. Guests are asked to wear pink.
The carnival, exhibits, and vendors will operate that day from 2 p.m. to midnight, while the day's PRCA rodeo begins at 4 p.m.