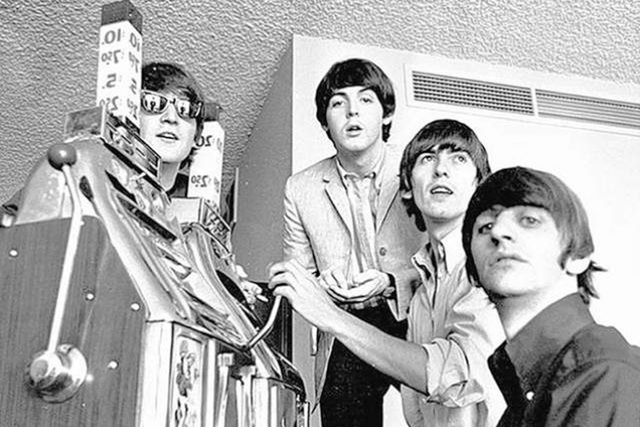 Ringo Starr probably owes a thank-you to George Benson, an 82-year-old retired Sahara executive.
Amid a mad rush through the Sahara kitchen, the Beatles drummer had fallen behind the main group as they dashed for a freight elevator.
"He was lollygagging," said Benson, the No. 4 in command at the Sahara at the time.
To hurry Starr along, Benson placed his hand on Starr's back with some urgency so they could reach the elevator before the door closed. On their heels was an onslaught of hysterical and grabby teenage girls.
"In his Liverpool accent, he said, 'Don't (expletive) touch me,' " Benson recalled.
"Then get killed," said Benson, ending with an expletive of his own.
"The elevator slammed. I thought we made it. But there was pounding on the door," said Benson. "Ringo got squeezed out. We opened the door and dragged him in.
"It was just pandemonium. I had seen crowds, but nothing like that," said Benson, who now lives in Northridge, a Los Angeles suburb.
Video and photographs of the Beatles' wild and woolly escapes support Benson's description of the handsy crowd that descended on the Fab Four during their historic visit here 50 years ago today.
What appears to be a female fan's hand is grabbing a handful of hair as one of the Beatles is frantically attempting to enter a building. Another young female with arms outstretched is seen catapulting herself onto another Beatle, pinning him against a wall. Some fans were on fire escapes.
"When the Beatles went on their balcony, there were 2,000 girls down at the pool," some popping their bikini tops, Benson said.
Hello Vegas, meet Beatlemania.
The 4 p.m. and 9 p.m. concerts at the Las Vegas Convention Center attracted 17,000 fans, an unheard-of crowd in the entertainment capital of the world. The buzz was unbelievable. Las Vegas had seen hot acts before. The hoppin' lounge scene and the Rat Pack had lit a fire under the city. Coming-of-age Las Vegas was the place to be — for adults.
This was different. This explosion came from the kids.
Sahara entertainment director Stan Irwin and his connections played a big role in getting the Beatles here as part of the North American tour, Benson said.
What many have forgotten, said Benson, is what happened a short time later.
"The great Sahara fire started in early evening," he said. "It started in the eye in the sky over the casino and destroyed casino operations, and the showroom was damaged. Imagine if that fire happened with all those people there.
"We lucked out on that one."
THE SCENE AND HEARD
Dennis Mitchell's "Breakfast with the Beatles" revisits the Fab Four's 1964 two-concert stop in Las Vegas. To celebrate the 50th anniversary, Mitchell interviewed author Ivor Davis, who was traveling with the Beatles, and Bill Tannenbaum of the Las Vegas Visitors and Convention Authority. Tannenbaum was with General Artists Corp. which organized the Beatles' North American tour. The show re-airs Saturday and Sunday at 7 a.m. on KOOL-FM 102.3/1280 AM). …
Las Vegas attorney Al Lasso launched his monthly "Lunch with Lasso Law" Saturday on KSNV-TV, Channel 3. The show, shot at the Italian American Social Club, airs at 4:30 a.m. The opening show also will air at 8 a.m. this Sunday on the CW, Channel 33. Lasso, who spent three years as Judge Joseph Bonaventure's law clerk, said it marks the first time the judge is speaking publicly about the high-profile murder cases involving Jeremy Strohmeyer and Margaret Rudin and the death of Ted Binion.
SIGHTINGS
Miami Heat veteran Chris Bosh, dining at Giada (The Cromwell) on Sunday. He's in town for Magic Market Week. Bosh has a fashion line called "Mr. Nice Ties."… Actor Nicolas Cage, on a family outing with his son at Fix Restaurant &Bar at Bellagio on Sunday. … Bally's headliner Veronic, bowling with her dancers and backup singers at Brooklyn Bowl.
THE PUNCH LINE
"Texas Gov. Rick Perry has been indicted after he threatened to veto funding for a district attorney's office unless she stepped down. He's now the most controversial governor in the country — which is why today he got a gift basket from Chris Christie." — Jimmy Fallon
Norm Clarke's column appears Sunday, Monday, Wednesday and Friday. He can be reached at 702-383-0244 or email him at norm@reviewjournal.com. Find more online at www.normclarke.com. Follow Norm on Twitter @Norm_Clarke. "Norm Clarke's Vegas," airs Thursdays on the "Morning Blend" on KTNV-TV, Channel 13.