Here's how casinos can get millennials to gamble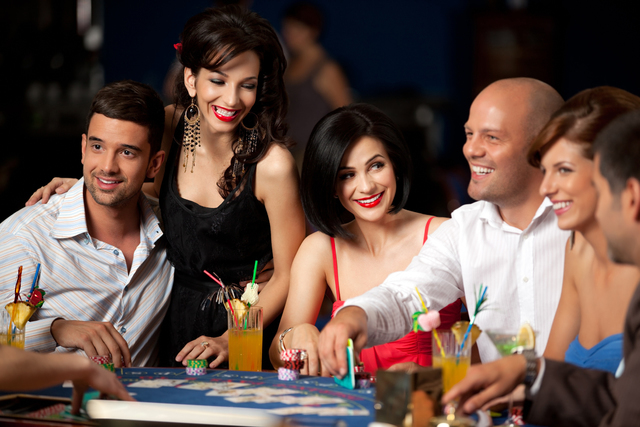 Millennials use four terms to describe slot machines to researchers: "boring," "something for my grandma," "confusing" and "anti-social" — so here are five ways casinos might adapt.
Today's expert is Roberto Coppola, director of consumer insights for YWS Design & Architecture, a firm behind Topgolf, slowly emerging Alon hotel, and other projects.
Experiential payouts: Millennials value collaborative experiences, as you've noticed from their costume-party adventures. They help nightclubs earn upward of $100 million each year.
"Millennials are walking right through that casino floor, not spending a dime on those slot machines, and spending thousands of dollars on that nightclub," Coppola said.
So games of chance could reward experiential gamblers with prizes.
"Why can't (a gambling payout) be a table at Hakkasan (nightclub)? Why can't it be meeting a celebrity? Why can't it be something charitable?" Coppola said.
In a Montreal casino, a sectioned space for younger crowds features games and dancers with the action pointed toward a DJ.
"You feel like you're on a party cruise" there, Coppola said.
"Each of those machines does 30 percent of what a slot machine does on the casino floor, (but) these are people who would never be in that casino, otherwise."
Themed micro-zones: A casino floor is one big vibe.
But casinos could be divvied into micro-zones, or pods, with themes. Each zone would have its own themed food and beverage, retail, entertainment, and games.
This could appeal not just to millennials but to all adult ages, as each zone fits not a demographic but a "psychographic," Coppola said.
One zone could be high-energy with a DJ and dancers.
Another zone could be low key, or a James Bond theme, or any number of branded layouts.
Some casinos are tiptoeing this path. Gold Spike plays it up with cornholing and beds. Encore has a gaming area next to the Surrender club entrance.
Socialization: Casinos should encourage more social media photos and videos.
A TMZ slot takes photos of players and inserts them into the game, not unlike ubiquitous video game tech.
But machines could be personalized by welcoming players with micro-targeted offers in Google Ads fashion, and integrate social media cameras pumping out visuals for Snapchat and beyond.
"How can you make someone sort of famous in the true definition of the word — or famous within their social circles, more importantly. That's more realistic," he said.
Apps: Some hotels let gamers wager via experimental mobile phone gaming.
"Applications like that are going to be a big part of the future," he said.
Maximizing spaces: I still can't believe I can't go to the Palms hotel at 1 a.m. to play online multiplayers of "Call of Duty" or watch "Dr. Who" episodes on those big, beautiful video monitors in the sports book.
If Vegas is a three-shift town, why aren't more spaces turned into three-shift experiences?
Bigger question: What happens if casinos do nothing differently to please millennials?
"They're in trouble," Coppola said. "I think slots are going to continue to decline."
SAD CALVIN
Vegas DJ Calvin Harris and public ex-girlfriend Taylor Swift deleted each other's photos off social media.
This came after Swift was photographed making out with actor Tom Hiddleston in public near photographers, causing some to suggest she's been cheating on Harris, while USA Today smartly asks, "Is this all a publicity stunt?"
Meanwhile, Swift's people said Kanye West didn't ask for permission to rap about her lately (not that he needs permission), but West's public wife Kim Kardashian suggested Swift is a liar and Swift's permission was caught on video.
If Taylor Swift were a sandwich: Bologna, Bunny bread, Cheez Whiz.
TREY SONGZ PARTY
Hip-hop singer Trey Songz, a resident Drai's nightclub performer, reportedly spent $80,000 on a Virginia pool party for 700 people, including women he threw in the pool, and women who engaged in "chick fights."
That's according to TMZ, which pays good money to find this stuff out, and which claimed he spent $25,000 to rent a mansion, $50,000 for the bar, $8,000 for food, and an untold amount on 30 security guards.
Celebrities. They're just like us.
Doug Elfman can be reached at delfman@reviewjournal.com. He blogs at reviewjournal.com/elfman. On Twitter: @VegasAnonymous