Historical European martial arts take stage at Combat Con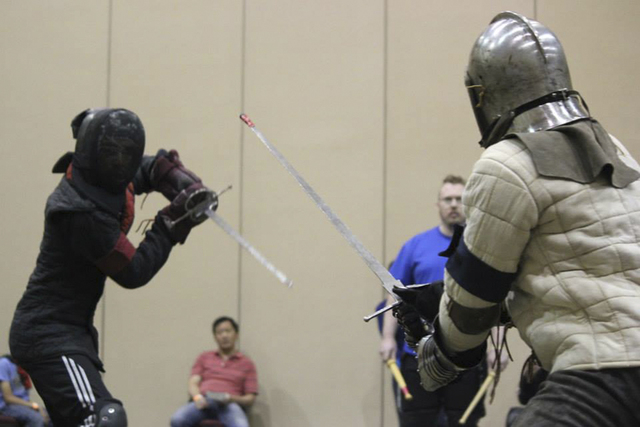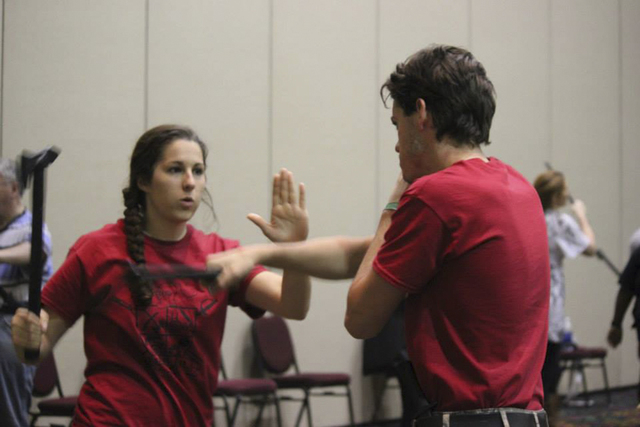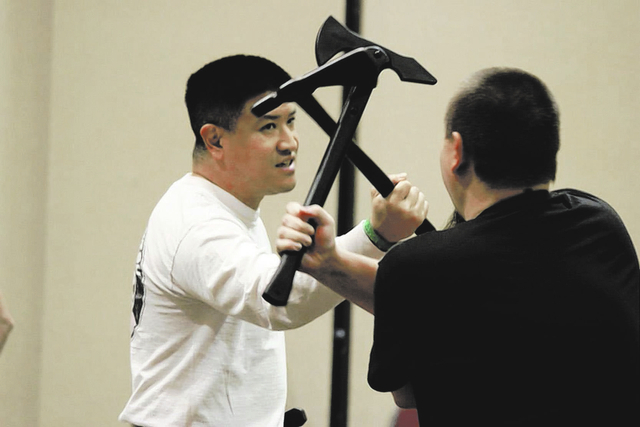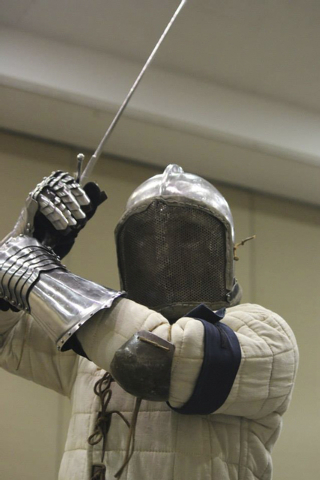 History and fantasy collided this past weekend at the Riviera during Combat Con 2014.
The event celebrates historical European martial arts, or HEMA, and has visited Las Vegas since 2011.
"HEMA is kind of the backlash against Orientalism in the martial arts community. It's like, no, people outside of China and Japan also fought each other, and they also thought about how to do that. HEMA is becoming not so much just European martial arts, but basically anything non-Asian martial arts, like Native American martial arts, Aztec martial arts, African martial arts, those all fall under the HEMA genre, and I think that's neat," said attendee Alex Kostrzewa of Detroit.
This newly blooming subculture is the study and practice of the lost fighting arts of Europe and the ancient world.
Examples of these styles can be seen in such action movies as "Pirates of the Caribbean," "Highlander" and "Sherlock Holmes."
Research for techniques from fencing to hand-to-hand combat can take years of study, mostly from old hand-written manuals, in order to re-create just a few minutes of big-screen action.
"I love getting to see the technical side to the artsy side of fighting and action, you get to see how much hard work goes into what seems like only a few seconds on camera, and I think that gives us a better appreciation," said Julie Priest of Las Vegas, social media director for Combat Con 2014.
"I didn't know that I liked this stuff until I came here as a vendor," Priest added.
Though this three-day-long convention largely catered to the HEMA fans, it also combined elements of steampunk, pirates and fantasy. The steampunk saloon contained a large display of costumes and all kinds of apocalyptic mechanized accessories as well as panels and workshops, including a corset-making class.
Featured on Saturday was a zombie master class, where participants learned the steps of infection, how to act like a zombie, and even how to move in a hoard.
A full-time tournament room showcased the fighting skills of masters from all over the world, sometimes in full armor. Plus there was the Combat Con film festival complete with screenings and a 48 hour-film contest.
The Time Traveler's Ball was a festive delight to the eye, with people dressed up in every conceivable fashion, including a Jedi, Doctor Who, pirate lords, gladiators, 18th century French gentlemen and steampunk princesses.
For gamers, the arcade in the Riviera was on full display as well as a dedicated gaming room set aside for tabletop role playing.
This convention even had its own custom-made dice.
"Events like this allow people to approach martial arts with imagination and the childlike awe that we all have. If they find something they like they can continue, but even if they don't, they still come away with a deeper appreciation and understanding," said Tim Ruzicki of Seattle, program director/vice president of Combat Con 2014.