January 11, 2008 - 10:00 pm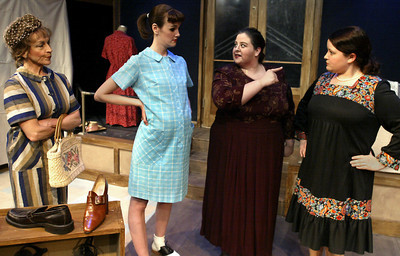 Tennessee Williams certainly has his critics.
Some think the late author of "A Streetcar Named Desire," "Cat on a Hot Tin Roof" and "The Glass Menagerie" is our greatest American playwright. Others find his works morbid, vulgar and sexually decadent.
Walter Niejadlik, who is directing Williams' 1957 play "Orpheus Descending," opening tonight at Las Vegas Little Theatre, is obviously a fan.
"The poetry of his language and the truth and honesty that he reveals in his words speak to me," the Fall River, Mass., native says. "There are (many) lines that you hear and think, "Yes! That is true! I have never found another playwright to express his world view and have it hit home."
"Orpheus" has attracted a lot of top Broadway talent through the years, including Vanessa Redgrave and Maureen Stapleton. A 1959 film version retitled "The Fugitive Kind" starred Marlon Brando and Joanne Woodward.
Like most of Williams' dramas, it takes place in the Deep South, this one in a rural general dry-goods store. A mysterious guitar-playing drifter (Benjamin Watts) shakes up the hot-tempered town when he develops an unusual friendship with the store's proprietor (Barbara King) — whose invalid husband (Joe Hammond) has made her hungry for human communication.
Fans of Greek mythology know that the title makes reference to a legend whose music was said to be so beautiful that it soothed wild beasts. His gifts, though, resulted in a descent to hell followed by a hideous death.
The Pulitzer Prize-winning Williams said shortly before the play's New York premiere, "It's the tale of a wild-spirited boy who wanders into a conventional community of the South and creates the commotion of a fox in a chicken coop. But beneath that now familiar surface it is a play about unanswered questions that haunt the hearts of people and the difference between continuing to ask them … and the acceptance of prescribed answers that are not answers at all."
Niejadlik feels it's essentially a story about loneliness, about the need for intimacy while surrounded by corruption. "There are some very common (motifs): death, insanity, intolerance and sex." And, he adds: "Fun!" He doesn't see the script as morbid.
"That is not the approach I took," he explains. "The specter of death looms over these characters, and they are dealing with life or death issues. Death itself is pretty much a character in this play. But there are some really funny moments, and ultimately whether the characters succeed or fail, they are all striving to live."
Does Williams require anything special from an actor?
"I was looking for a cast that could commit to these characters and make the words Mr. Williams gives us their own," Niejadlik says. "Unfortunately, you sometimes see actors sort of translating him in their heads as they do with Shakespeare. (I think I've found) actors who can speak this beautiful language as their own words. The actors are dealing with big life-and-death emotions, and if it isn't committed to, then it just looks silly."
This is the third Williams script Niejadlik has directed for Las Vegas Little Theatre, and he feels local audiences respond well to the master — if his works are done well.
"I think most people can relate in some way to the characters and these universal themes," he says. He points out that past productions of "Streetcar" and "Cat" have had sold-out runs. But he admits it's easier to sell comedy in Sin City.
"I joked with our board that I was going to advertise 'Orpheus' as the new hit comedy by Neil Simon. We do our best to give our patrons what they want; if we didn't, we wouldn't be in business very long. But at the same time, I think we do the community a disservice if we don't offer one or two plays (a season) that will broaden their view of theater. Tennessee Williams seems to help bridge the gap."
Anthony Del Valle can be reached at DelValle@aol.com. You can write him c/o Las Vegas Review-Journal, P.O. Box 70, Las Vegas, NV 89125.
what: "Orpheus Descending" when: 8 p.m. today, Saturday and Thursday, 2 p.m. Sunday (through Jan. 27) where: Las Vegas Little Theatre, 3920 Schiff Drive tickets: $19-$22 (362-7996)