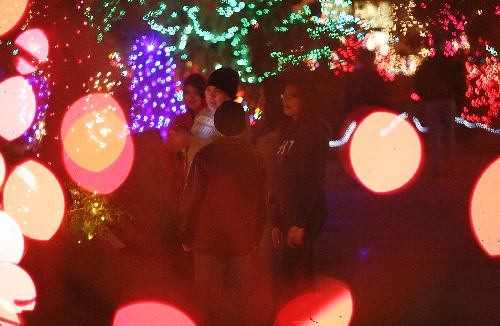 Today is Thanksgiving, and that makes it official: The 2010 Christmas season is here.
That means those Christmasy commercials that started airing before Halloween no longer will seem as annoying.
Even better, it means many of Southern Nevada's favorite yuletide attractions are up and running.
Perhaps the most well-known, and certainly one of the longest-running, yuletide attractions here is the Magical Forest at Opportunity Village, which this year celebrates its 19th anniversary.
Last year, about 150,000 people visited the Magical Forest, said Stephen Miller, Opportunity Village's special events manager.
This season's rides again include trains, the Alpine Slide and the antique carousel, and visitors may visit Santa Claus and view an extensive array of trees, lights and holiday decorations.
New this year, according to Miller, are a few outside vendors — Ethel M, The Cupcakery and Scentsy — a holiday-themed miniature golf course and a hay bale maze.
Meanwhile, visitors may enjoy the forest's classic funnel cakes and hot cocoa and hot apple cider, Miller said.
The annual event raises funds for Opportunity Village, which serves people with intellectual disabilities. Along the way, it has become a holiday tradition for thousands of Southern Nevadans.
"In fact, we get calls from people wanting us to stay open all year around," Miller said.
"It's tough to get a sense of the holiday in the desert. But when you walk around the forest, you see we have about 3 million lights. And when you see those lights, it kind of instantly gets you into the holiday spirit."
The Magical Forest at Opportunity Village, 6300 W. Oakey Blvd., is open from 5:30 to 9 p.m. Sundays through Thursdays and from 5:30 to 10 p.m. Fridays and Saturdays through Jan. 1. General admission is $9.75 for adults and $7.75 for kids 12 and younger (younger than 2, free). A passport, which covers admission plus unlimited rides, is $16.25 for adults and $14.25 for children (for more information, visit www.magicalforest.org).
By the way: This year's Las Vegas Great Santa Run, which also raises money for Opportunity Village, is scheduled for Dec. 4 at Town Square, 6605 Las Vegas Blvd. South.
The run will feature a one-mile walk and run, a 5K walk and run, live music, a tasting village, breakfast with Santa and, above all, a chance to set a new world's record for the most Santas gathered in one location (for further details, visit LasVegasSantaRun.org).
Another longtime local yuletide favorite, Ethel M Chocolates' annual Holiday Cactus Garden, this year celebrates its 17th season.
The garden boasts an impressive sampling of cactuses all year. But, add a few thousand lights and a suitably Christmasy vibe, and the garden becomes a desert-friendly spin on classic Christmas vegetation.
Last year, more than 100,000 people viewed the holiday garden, said Jennifer Gudgel, Ethel M's director of gourmet chocolate.
This year, visitors can choose to experience the garden via 3-D glasses. The glasses, which can be purchased for $2 in the Ethel M store next to the cactus garden, make the lights resemble snowflakes, Gudgel said.
This year's display features close to 600,000 lights, according to Gudgel.
"What we've been doing is taking out a lot of the lights over the years and changing them to LED lights. What's cool about that is you get these really vibrant colors of purples and pinks and greens and blues. They just shimmer out there."
Nightly entertainment will be provided by local school choirs performing holiday selections, and Santa Claus will be in attendance on Friday, Saturday and Sunday evenings through Dec. 23.
"I love the garden because you can really see how beautiful the Southwest landscape can look," Gudgel said, "but lighting it up, I think, melds our desert culture with Christmas."
Ethel M's Holiday Cactus Garden, 2 Cactus Drive, Henderson, is open daily from 5 to 10 p.m. through Jan. 1. For more information, visit Ethel M's Facebook page. Gudgel said visitors are encouraged to post their photos of the garden on the page.
Then, she said, "we'll do a little contest through the season for the best picture each week."
Contact reporter John Przybys at jprzybys@review journal.com or 702-383-0280.
Things to do
Here is a sampling of some other valley holiday events.
Santa Claus appearances
• Kids can take photos with Santa at Santa's Norman Rockwell House at Town Square's Town Square Park. (10 a.m.-9 p.m. Mondays through Saturdays, 11 a.m.-7 p.m. Sundays)
• "Claus & Paws Pet Photos," also at Santa's House at Town Square Park, will offer dog and cat owners (and dogs and cats only) the chance to score a photographic keepsake, too. (10 a.m.-9 p.m. Wednesdays)
• The Meadows mall, 4300 Meadows Lane, will present "Story Time with Mrs. Claus" 5-6 p.m. on Dec. 3, 10 and 17. Santa's better half will read holiday stories and distribute toys to kids (while supplies last).
Family events
• "Snow in the Square" at Town Square's Town Square Park is a choreographed show featuring holiday music. (7 p.m. Mondays through Thursdays, 7 and 8 p.m. Fridays through Sundays)
• "Holiday Nights & Lights Community Showcase" at Town Square's Town Square Park is a concert series featuring local choirs and music groups from valley schools and community organizations. (6 p.m. Wednesdays through Dec. 22)
• The Western pioneer-themed "Mystic Falls Park" inside Sam's Town, 5111 Boulder Highway, features among its yuletide trappings garland streams, snow-covered lampposts and more than 50 light-covered trees. This year's attraction also features three new polar bear scenes and a new river scene, along with the traditional light and water effects keyed to music. (6, 8 and 10 p.m. daily)
• The Springs Preserve's Holiday Spectacular features holiday arts and crafts, Santa photos, train and reindeer (pony) rides for kids and, even, snow at 333 S. Valley View Blvd. Entertainment will include daily performances by high school madrigal singers. (5-9 p.m. on Dec. 4 and 5, 11 and 12, and 18-23. Admission is $8 for adults, $4 for children ages 5 to 12, and free for ages 4 and younger.)
• Ice skating returns to the floating ice rink on Lake Las Vegas for another season of incongruous desert recreation. (3-9 p.m. Mondays through Fridays and noon-9 p.m. Saturdays, Sundays and during school vacations and on holidays. Fees are $15 for adults and $12 for children 12 and younger.)
• Bellagio's Conservatory & Botanical Gardens again this year will present its holiday display. Among this year's offerings will be a 42-foot-tall Shasta fir decked out with more than 7,000 lights and 1,800 ornaments, 15-foot-tall toy soldiers, a 7-foot-tall sculpted rocking horse, a toy train and menageries of reindeer and penguins, all of which will be accompanied by holiday-themed music. The display runs Dec. 3 through Jan. 2, and can be viewed 24/7.