Holly Madison talks marriage and motherhood
February 13, 2017 - 12:01 am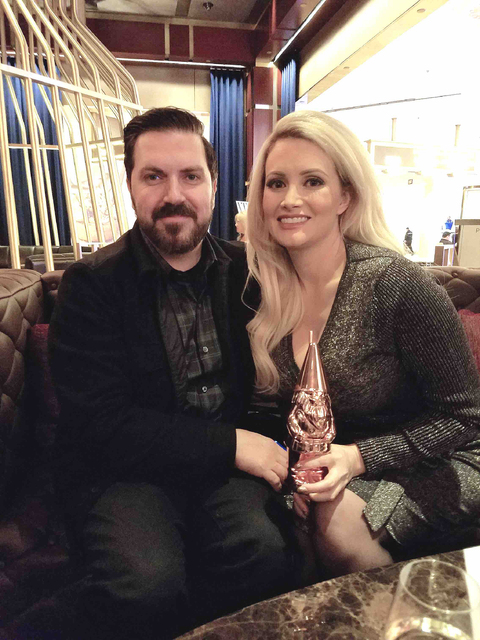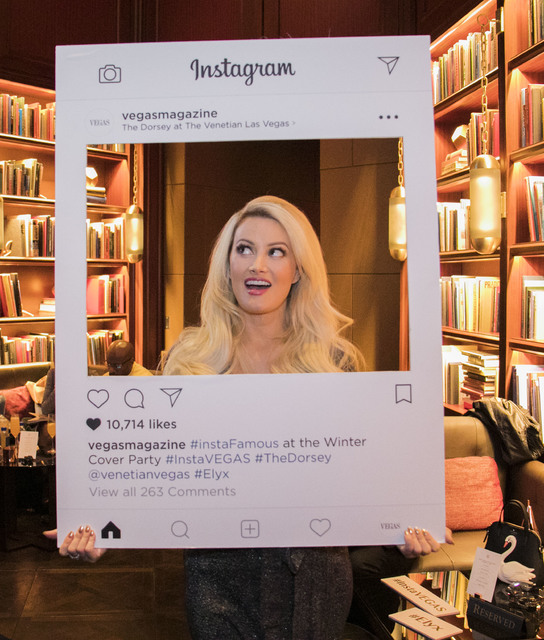 For the first time, former Playboy centerfold, "Peepshow" headliner and reality-TV star Holly Madison has talked candidly about being a wife and mom to two young children.
The 37-year-old blonde bombshell has become "The Queen of EDM" as the wife of Insomniac founder Pasquale Rotella, who produces the annual Electric Daisy Carnivals, and joyful mom of daughter Rainbow and son Forest — all Las Vegas residents.
In an exclusive sitdown interview at The Dorsey at The Venetian, Holly told me: "I have an amazing husband, kids and family. I just feel like anything else that I can do after that is just icing on the cake."
You're now a mommy twice over. How is it the second time around?
It's great! My baby boy is 5 months old and just started sleeping through the night, although last night he didn't want to go to sleep. I'm hoping that he gets back on track tonight. It's a big deal once they start sleeping.
And how old is Rainbow now?
She's almost 4. She turns 4 next month, and she's over in The Meadows School in their preschool program. She loves it and is doing great.
Did she give a warm welcome to her new baby brother?
Yes! We'd been talking to her about a sibling even before I was pregnant just to get her ready for the idea, and she really loves him. There hasn't been any jealousy so far, thank God!
Is this whole experience the ultimate reward for you? Is it what you wanted all along?
Yes. I have an amazing husband and kids and family. I just feel like anything else that I can do after that is just icing on the cake.
Plans for more children? Or should I ask Pasquale?
I think we definitely want more kids, but I want to wait a couple years and get used to what we have and do other things. Even if it's when I'm older and we adopt kids, that'd be great, too.
Life has drastically changed for you from being single to married and playing mommy. Any regrets about missing life at The Playboy Mansion and in showbiz? Or do you still have your fingers in show business?
No, I think I did everything I did at the perfect time I did it. I did a reality-TV show back when it was exciting doing reality-TV shows. I did "Peepshow" at Planet Hollywood back when a show of that size could thrive here. You don't see a lot of things in those 1,500-seat theaters now.
I'm working on another book right now. It's a different type of book than what I've done previously. It's a young-adult book. I'm really excited about that — I like to switch it up and do something different every five years or so. I'm just really happy with what I've done and that I got to do it during the time periods that I did.
So we may see you back in five years on television?
Yeah, you never know the next thing I'll do after this book series.
Are you actively seeking it, or is it if it happens, it happens?
No, I have a few behind-the-scenes things I'm pitching, but I really want to focus on this next book series, so anything I do TV-wise, I just want it to be behind-the-scenes for a while. I'm working on a young-adult book, a kid's book. It's like a book like "Harry Potter," "Hunger Games," that age demographic.
You've led an extraordinary life, from Hooters waitress to Hawaiian Tropic modeling to "The Girls Next Door" six-year run on E! Entertainment with Kendra Wilkinson-Baskett and Bridget Marquardt and the four-year run in "Peepshow." It looked as if you would marry Hugh Hefner until you broke up in 2008. You've written two books. What advice would you give women your age?
I just say life is so short, just go for what you want, go for everything you want, let yourself know you can have it. That's the first step.
How much do you think you've grown since you landed in Las Vegas?
A lot. When I first came here, I was 29, but I felt like I was 20. I feel like I spent my 20s in an incubator and sheltered in a way. So when I came out here, I really just lived life to the fullest for five years. I feel like I've grown a lot and learned a lot, so it was really perfect.
Now married to Pasquale, the king of EDC, you are the queen of EDC?
That's a lot of fun, and we're looking forward to the festival this year (June 16-18 at Las Vegas Motor Speedway). He's bringing the festival to Japan for the first time in April, so I'm really excited to go back to Japan. I'll be at the one here in June, then back to Orlando in November. We've made it a tradition to take the family to Disney World for a week every year, and that's one of my favorite times of the year.
Your trips to Disneyland indicate that it's still the child in you. The two of you were even married at Disneyland in 2013!
I've always been a huge Disney fan, and I'm always keeping up with the parks. One of my goals is to finally go to China so I can say I've been to every Disney Park in the world. It's been my goal for a while.
Do you think that for a certain time in your life, you were lost, and then a real romance and marriage came along, and you found yourself?
I feel like that's what I was always looking for all along, but, as I was growing, you learn that you have to find yourself first. The right person isn't going to come along until you're confident, until you've gone out there and lived life. I'm glad that it happened that way.