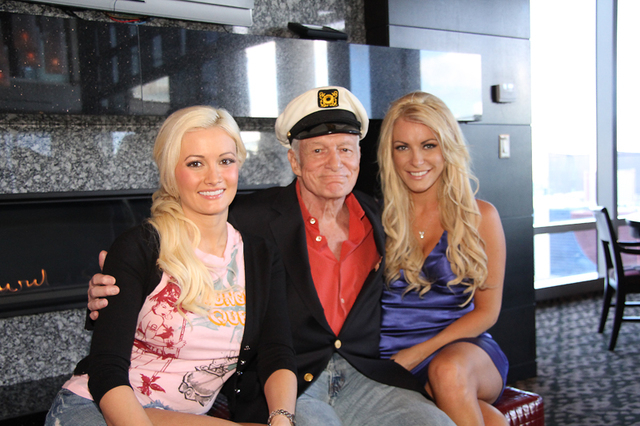 Holly Madison is burning her Playboy legacy to the ground, launching a scorched-earth war of words against Hugh Hefner, who she paints as a vile king of manipulation, and herself as a willing pawn.
Here are highlights of the Las Vegas mother's attacks on her ex, Hefner, hitting the international press just hours ago.
[] The London Mirror: Madison thought she might "drown herself after becoming depressed at the mansion" in 2002 but instead, she stayed for years, according to her memoir, "Down the Rabbit Hole," which comes out Tuesday.
Hefner's women washed their feet and wore matching flannel pink pajamas before climbing into bed. And the sex?
"I have never had a more disconnected experience. There was zero intimacy involved. No kissing, nothing. It was so brief that I can't even recall what it felt like beyond having a heavy body on top of mine."
[] The Daily Mail of London: "One day, in an effort to do something with her time, she decided to clean up Hefner's filthy room. However in her organizing she came across a video that was labeled 'Girl and Dog'."
[] International Business Times in India: "(S)he was allegedly tortured both emotionally and verbally by Hefner."
[] New York Daily News: A different Hefner girlfriend "who was most eager to recruit nubile young blonds for Hefner, was also turning out his other paramours and Playmates for a notorious Hollywood prostitution ring, Madison writes."
[] The Sydney Morning Herald of Australia: "According to Madison, the carpet in (the) mansion was stained with urine from Hefner's nine dogs."
[] Cosmopolitan magazine: "After twice weekly drug- and alcohol-fueled club nights in Los Angeles, Hef's girlfriends and whoever else they could recruit to join them, would gather for what can perhaps only loosely be described as group sex."
Madison told Cosmo, "all the girls hated it and tried to get it over with as quickly as possible."
Madison writes in the book that Hefner said, "Usually I don't approve of drugs, but you know, in the '70s they used to call these pills 'thigh openers.'"
She writes, "We had a curfew, we had to be back in at a certain time, and we weren't allowed to have jobs away from Playboy so we didn't have lives, really."
Madison, facing tough personal finances, asked to move into the mansion after her initial bad sex experience with Hefner, even though she felt ashamed. Cosmo asked why she did this.
"Because I felt like I made a really big mistake that night and I wasn't going to just have done that and not get what I wanted out of the situation."
Why did she stay?
"I genuinely liked him, and I fell for his gentlemanly act. I wanted to think of myself as somebody who had his best interests in my mind at all times, and I wanted to be the only girlfriend."
[] Her E! interview: "Girls talk to me all the time about wanting to pose, but these days I kind of advise against it."
[] People magazine quoted Hefner's response: "Over the course of my life I've had more than my fair share of romantic relationships with wonderful women. … Many moved on to live happy, healthy and productive lives and I'm pleased to say remain dear friends today. Sadly, there are a few who have chosen to rewrite history in an attempt to stay in the spotlight."
[] "Entertainment Tonight" gave Madison the last word of the moment:
"I don't really care about his response. I wanted to share my story to inspire other women who might be in a bad relationship to get out, or not be branded by bad decisions they've made, and take charge of their lives and move on."
I haven't read the book but it seems from these news accounts Madison didn't detail gruesome conduct undertaken in the mansion by celebrities.
Contact Doug Elfman at delfman@reviewjournal.com. He blogs at reviewjournal.com/elfman. Find him on Twitter: @VegasAnonymous.