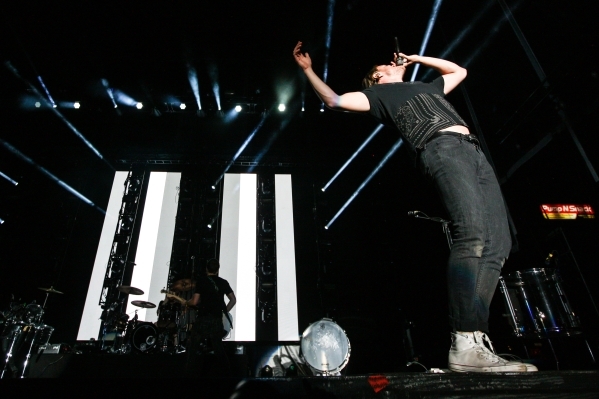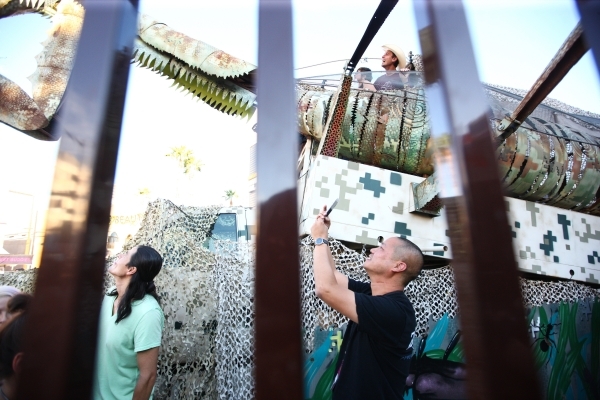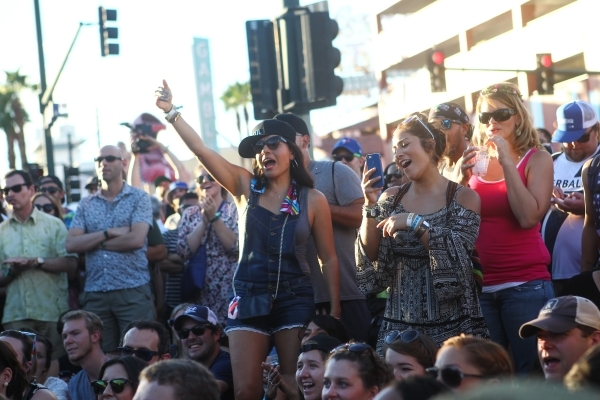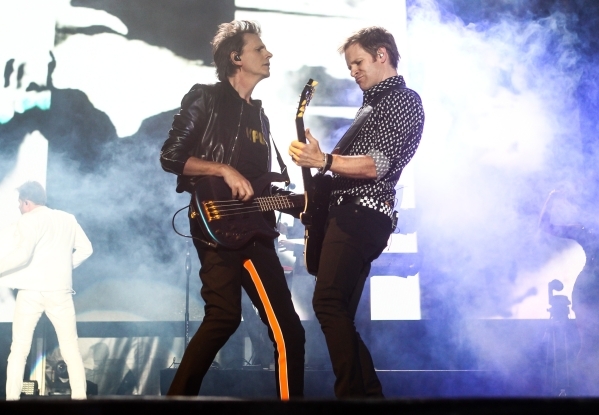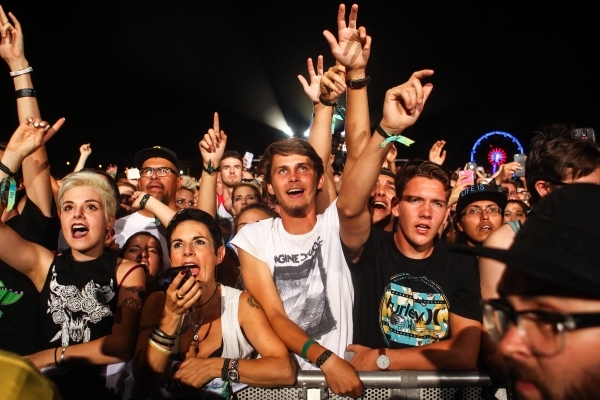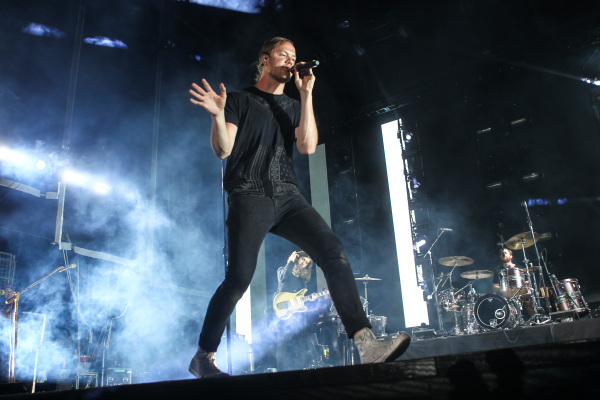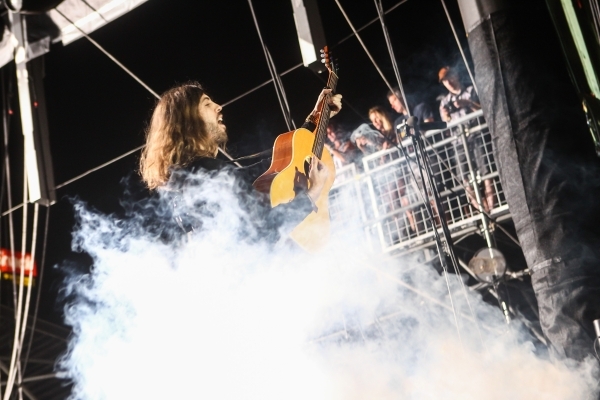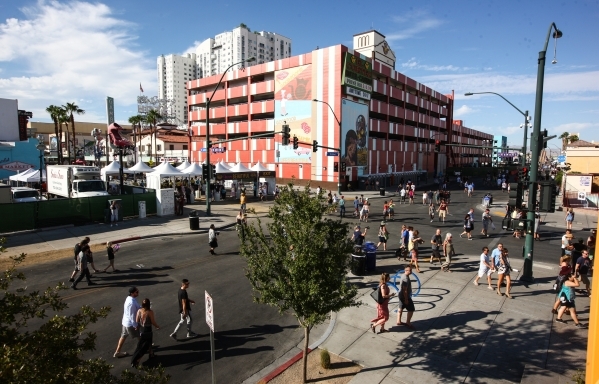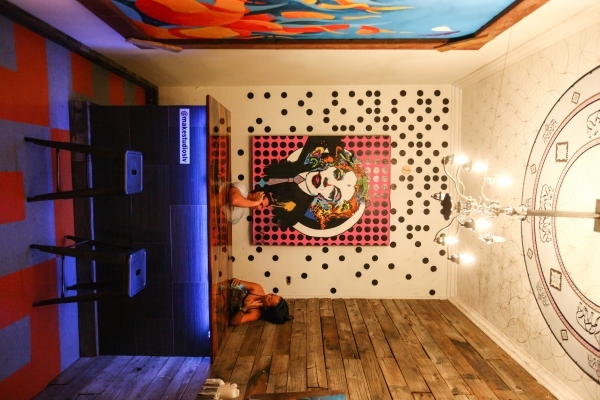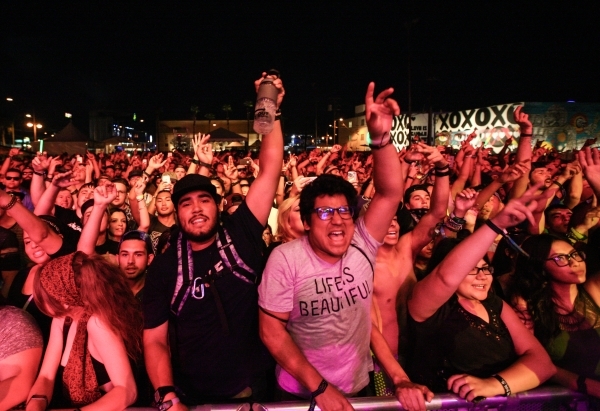 Manners will take you places money can't, someone, somewhere, once mused. The same can be said for graciousness — and for Imagine Dragons, for that matter. Closing out the second night of Life Is Beautiful on the Downtown Stage, the Las Vegas act devoted the better part of its set in between songs to expressing gratitude to the city that made them.
"This is a very special day for us," he declared effusively two songs into the set. "We grew up in this city. I went to R Guild Gray for elementary school. I went to Kenny Guinn Middle School. I went to Bonanza High School. I went to UNLV here in Las Vegas. This is where our band started seven years ago, and I can tell you that we would not be here today if it wasn't for all the support of Las Vegas. This means a great deal to us to be here on this stage today. I just want to say thank you. Thank you so much, Las Vegas. We owe this all to you. This is a song we wrote about growing up in Las Vegas.
With that, the Dragons launched into "It's Time," the lines of which Reynolds and company clearly embody: "I don't ever want to let you down/I don't ever want to leave this town/Cause after all, this city never sleeps at night/It's time to begin, isn't it?/I get a little bit bigger, but then I'll admit I'm just the same as I was/Now don't you understand/I'm never changing who I am."
Unlike some other breakout bands from other cities who've risen to prominence and never looked back, Imagine Dragons clearly hasn't forgotten its roots, and Reynolds took time to personally acknowledge and thank all of the people and places that carried them to their professional peak, a lengthy list that Reynolds delivered like an academy award speech.
Over the course of the set, Reynolds made sure to thank everyone, from his parents to a friend who took the band's pictures for free back when the Dragons' career aspirations were still imaginary, and he gave props to O'Sheas, Mandalay Bay, Caesars Palace and even the First Friday on Fremont, places where the act played covers seven years ago when it was first starting out.
Reynolds also gave a shout out to all the publications that devoted ink to the band including, the Weekly, "who talked about a very small band when we didn't deserve any press" and the Review Journal for "coming out and covering us in our early gigs," and all the people "putting in their heart and soul downtown to bring more culture to Vegas," First Fridays, Container Park.
"I can't tell you how many people there are in this city that do so many things and are never ever told 'thank you' for bringing that kind of culture to Vegas. That means so much to me, someone who was born and raised through third generation. To see that culture means everything. Thank you!"
He followed that up by praising the folks at Life Is Beautiful "for bringing this incredible festival to Las Vegas," and gave it up to the Bunkhouse and then he even gave thanks for a blue shirt someone must've tossed on stage. A little later, he recognized a fan in the front row who had traveled all the way from Italy to see the show. Reynolds invited her on stage, where he extended his gratitude.
"I had someone tell me very early on in my career — it was a critic — he said, 'You know the Dragons are OK, but the singer says 'thank you' too much on stage,'" Reynolds recalled. "And I've got to tell you, I really do not give a damn. This is the reason that we're able to do this every day, fans like this who support us, everybody who's here tonight. Thank you for allowing us to do this. This is the greatest job in the entire world, and we don't take it for granted."
Every time Reynolds spoke into the mic in between songs, his sentiments seemed heartfelt and genuine. And with such displays of humility and poise, it made it incredibly easy to root for the guys, even for casual fans, which in turn made the music — which is already plenty anthemic and arena-ready on its own — resonate that much more on this night.
The emotional performance found Reynolds and company earnestly reaching for U2-level heights at times and covered more than a dozen songs, including a cover all of "I'm Gonna Be (500 Miles)" by the Proclaimers, a nod to their days as a cover band, along with all of the outfit's most popular songs, "Shots," "It's Time," "Roots," "Top of the World," and "Radioactive," which served as the encore with the band closing out night two as a shower of confetti rained down on the adoring crowd.
Fittingly, Imagine Dragons' set ended up being the highlight of Life Is Beautiful day two, which was teeming with a towering array of talent. Among Saturday's most notable acts, Leikeli47 had to be the hottest — no, literally, not only did she don her trademark ski mask, but she was clad in a long sleeve, camouflage, Carhart-like coveralls. Did we mention it was near triple digits by then? Talk about effing the summer up!
Meanwhile, across the street on the Downtown Stage, Royal Blood got the crowd riled with its Clinton-era take on hard rock. With a configuration that recalls a vast number of other duos like Local H, the White Stripes and Black Keys, the group made a massive noise that belied its meager bass and drums setup.
Big Data turned in an impressive set of electro pop on the Ambassador Stage, evoking a modern, more dance-oriented Animal Logic. Speaking of surveying '90s terrain, Meg Myers turned in an impassioned performance that harkened to other visceral performers like Fiona Apple and Tori Amos; Myers moved the crowd with the primal energy she presented on songs like "Heart Heart Head," which pivots on pained lines like "How do I fake it with another man?/How do I love him on the weekend?/How do I listen to another man?/How do I get off on the weekend?"
Elsewhere, Jauz turned in a scorching EDC-worthy, bass-heavy performance at the Troubadour Stage, Snoop Dogg brought the party as expected to the Ambassador Stage, which drew a crowd so thick that it spilled out onto Fremont all the way to Atomic Liquors. Just like it's guaranteed that he will absolutely bring the party, it's a given that you'll hear tried and true Snoop staples like "Nuthin' But a 'G' Thang" and "Gin and Juice," and the Doggfather did not disappoint. Newer West Coast ambassador Ab-Soul attracted a solid crowd at the Huntridge Stage, which he had rocking, singing and chanting along in earnest.
Duran Duran was in top form on the Downtown Stage as it ran through a set of more than a dozen favorites that included "Reflex," "View to a Kill," "Come Undone," "Notorious," "Wild Boys" and "Rio," interspersed with songs from "Paper Gods," the band's new album. Compared to the sampler-plate of a set the act offered up last weekend at the iHeartRadio Music Festival, this showing was infinitely more satisfying.
Read more from Dave Herrera at reviewjournal.com. Contact him at dherrera@reviewjournal.com.