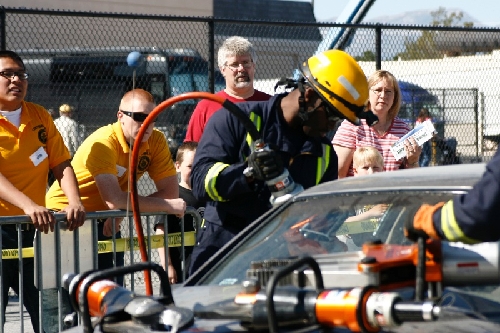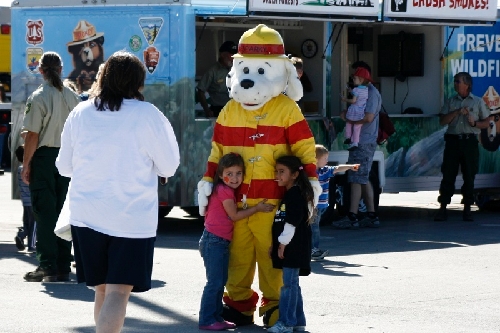 With the possible exception of an actual, breathing dinosaur, nothing, but nothing, is cooler to a kid than a real, life-sized, working truck.
It's just that aspect of childhood life that will be addressed Saturday when Touch-A-Truck 2010 takes place at the Orleans Arena's northwest parking lot.
Touch-A-Truck is as straightforward as it is savvy: Park a bunch of trucks in a parking lot, then let kids climb on, in and around them, honking horns and marveling at the metal monsters they otherwise never get to see close-up.
This is the sixth year for the event, which serves as a fundraiser for Family to Family Connection, Las Vegas West, a nonprofit agency that offers free classes, support and information to Southern Nevada kids, parents and families.
Since its more humble beginnings in a school parking lot, "it's just been getting bigger and bigger," says Shannon Bilbray-Axelrod, board of directors vice president of Family to Family Connection, Las Vegas West.
This year's event will include close to 100 vehicles, Bilbray-Axelrod says, including the Regional Transportation Commission's new ACE vehicle. That follows last year's appearance by a Deuce double-decker bus, which turned out to be very popular with kids, she adds.
"My daughter, in the Deuce bus, was going up and down the stairs for 30 minutes," she says. "I think it's pretty cool, too, between you and me."
Also scheduled to appear this weekend will be a hot-air balloon that'll be turned on its side and inflated so kids can walk inside, as well as flatbeds, police vehicles, firetrucks, ambulances, military vehicles and construction rigs.
Some participants will present demonstrations — a Jaws of Life demonstration, for example — and Bilbray-Axelrod notes that all invariably are happy to give kids autographs or pose for photos with them.
Food and drinks will be available, as will activity tents where children can do a bit of coloring or hear a story, among other things. A visit by University of Nevada, Las Vegas cheerleaders and a remote radio broadcast also are scheduled.
While kids are welcome to honk vehicles' horns to their eardrums' content, a horn-free hour for children with special needs is scheduled from 8:30 to 9:30 a.m.
By the way, Bilbray-Axelrod adds, "we sell earplugs there."
"It can be a loud event," she explains. "The kids love to lay on the horns."
Touch-A-Truck is designed to be a "true community event," Bilbray-Axelrod says. She notes that coupons good for $1 off the regular $6 admission price for up to four people can be printed from the event's Web site (www.TouchATruck.com). She suggests that parents also can save time at the admission gate if they print out the liability waiver from that site and bring it along with them.
"I don't know where else you can take a family of four for $20 for an afternoon of fun," she says.
And here's another, albeit totally unofficial, attraction of Touch-A-Truck: After a few hours spent climbing on the show's heavy machinery, Bilbray-Axelrod says, "boy, will (kids) nap when they get home."
Contact reporter John Przybys at jprzybys@reviewjournal.com or 702-383-0280.
Preview
What: Touch-A-Truck 2010
When: 9:30 a.m. to 2 p.m. Saturday
Where: Northwest parking lot, Orleans Arena, 4500 W. Tropicana Ave.
Tickets: $6; younger than 2 free (870-9583)