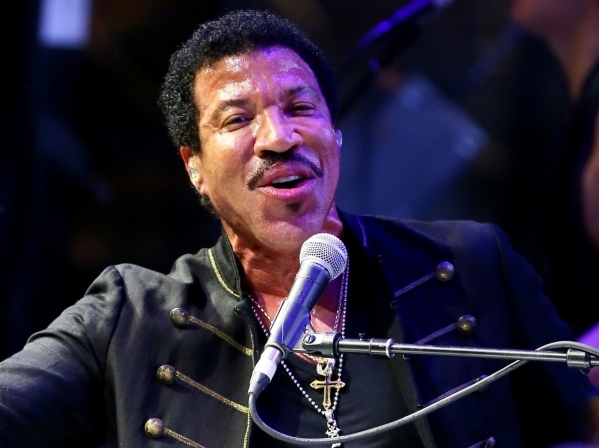 If you ask folks, Life Is Beautiful — the third installment of which kicks off Friday afternoon — is a great thing for the city of Las Vegas. Music fans certainly agree, and so do a sampling of festival founder Rehan Choudhry's peers. We recently spoke with three prominent figures in the Las Vegas entertainment scene — Bobby Reynolds, vice president of booking at AEG Live Las Vegas, Billy Conn, vice president of entertainment and special events at the Palms, and Chas Smith, vice president of entertainment at the Hard Rock Hotel — about the impact the festival has had since launching in 2013, how it differs from other festivals and some of their favorite Life Is Beautiful memories.
How important is Life Is Beautiful to the community?
Bobby Reynolds: I think it's great for the community. I lived downtown for a good amount of time that I've lived in Las Vegas. I love that area. I think it's a really authentic part of the city. And bringing in a music festival, culinary festival, a celebration of the arts — which I think Life Is Beautiful really is — I think it's great for the community.
Billy Conn: I think anytime you can advertise Las Vegas and bring in the amount of people they bring in, I think it's extremely important. The more people you can expose to music and to Las Vegas and culturally in downtown, it's always a positive.
Chas Smith: It's really important to the community. I really think when it first started a few years back, I thought it was one of the greatest things the city has ever received or taken on. You know, we're the entertainment capital of the world over here, and to do homegrown stuff and really put on a great event really shows that we are still the place to be to come see great entertainment.
What sort of impact do you think it's had on the music scene?
Bobby Reynolds: I think for the first real time, it gathered people, not around a casino property, not having the trips through a casino to go to a show. I think it added an element of authenticity by doing that and making it about the celebration of all the culinary activities down there and obviously the music.
But making it about experiencing Las Vegas and not having to go through a casino, I think is a really interesting element. And I think fans do appreciate that. Entertainment in this town wears so many hats, whether it's music, comedy — I consider fine dining to be something like that — and you typically go through a casino. I like that in many ways. I happen to like that.
And I often go to other cities to see music festivals, in those cities. Going down to Life Is Beautiful reminds me of that a little bit. It's not often that I go to a concert in this town and I don't walk through a casino. As I'm walking around Life Is Beautiful, that kind of dawns on me, and I think that's a really cool element.
Billy Conn: I think it exposes people to bands that probably would not be able to tour and come to Vegas, meaning there are some new bands that can afford to start a tour because of the festival. And then when you get to play in front of a stage — in front of an audience, I should say — of the 25,000-30,000 each day that they're hoping to get, I think it's always a positive.
And then you can expose those people for the first time to what these bands are like live. So hopefully when they come around and they headline in a smaller room or medium-sized room, people can remember that they saw them first at Life Is Beautiful, and say, "Yeah, I would love to see that group in a smaller room," or at least a full set, an hour or an hour and half of them in more of an intimate setting, like the Pearl — that was cheap plug, by the way.
Chas Smith: I think it had … again, the impact that I believed it had is that it brought the attention of a lot of the culture that we have going on in Las Vegas — not only with the good bands, but it's the art side of it, it's the culinary side of it.
I really do believe that when everybody thinks of Vegas, they think of showgirls and they think of nightclubs and every once in a while a big boxing event. But to actually show everybody that we're much more than that — we've got a lot of homegrown culture going on here.
And I think that was the biggest impact that we could've made on the American people, so to speak, to just show them that, hey, we're not just all feathers and lace, but we really, really have got a lot of good stuff going on and a lot of good culture here in Vegas, as well.
Do you think it's had a tangible effect on business?
Bobby Reynolds: There's no doubt about it. I like so many things about Life Is Beautiful, but as a concert promoter, it takes a certain amount of artists out of potential booking scenarios for me, right. Many artists at the Life Is Beautiful festival could play one of the several venues that we book in town. But because they're playing Life Is Beautiful, they can't play for me.
So, and that stands to reason for all the festivals in town. The festival business in this market has had a massive impact. I think there's good and great things about it, both for the town and for the individual. It gives you another way to experience music, experience art and festivals, but as a businessman, it's had a tangible effect. It means that we have to create more opportunities to keep our venues busy.
Billy Conn: It's obviously (created) more jobs for people. I think it's created a lot of opportunities for people down there and for Vegas, in general, 100 percent. It's definitely impacted the city in a good way. It's another event, and you can see that Las Vegas Events is backing it, as well, this year, because they see value in it.
Chas Smith: I do, to an extent, yes. I do believe on the entertainment side of it, which is what my forte is, I do believe that it's raised the bar, as far as all of us bringing in good quality acts and living up to what they're doing down there. I believe with all these up-and-coming bands and these young kids that are getting their chance, that the guys over there are giving them, gives us an opportunity, as well, to get these younger bands up and running and get them some exposure.
How do you think the scene has changed since it launched?
Bobby Reynolds: I think the downtown scene has changed. You know, other events pop up down there. I think people are more … they become more accustomed to going downtown, even if it is an additional three days per year, that Life Is Beautiful gets you down there. So I think it's exposed people to going down there more frequently and more regularly. I think the festival is really fun and shows people a part of the city they don't often see.
Billy Conn: I think they're just trying to build its brand. You know, I've been lucky to go for the last two years, and they've made a significant change to the better last year; and what I mean by that, their blueprint, their footprint, was very large, I remember, the first year. And last year, they really listened to their paying customer, and they made the blueprint even smaller.
It's a little more intimate and a little more convenient, like for the food next to the bands. They got rid of the stage, I believe, and just made it a little more intimate. So I think they're just trying to home in on what the festival really is and listen to people and just really making it a better experience every year, and I would expect them to do the same this year.
Chas Smith: I think, as far as the scene, again, besides people looking forward to it and seeing what different aspects of the event that they're bringing down there, again, I think it's something to look forward to, so to speak. It's something to look forward to every year, just to see what's new, see who's doing what and kind of just understanding what's going on in our area.
What have been some of your favorite moments of the festival?
Bobby Reynolds: I love seeing the first year when Imagine Dragons came on. That was an awesome, awesome moment. I loved seeing Alt-J at that secondary stage — the proper name for the stage escapes me for a second, but not the headlining stage, is where Alt-J was — that was probably the most fun I've had at Life Is Beautiful.
Billy Conn: You know, for them to bring the Foo Fighters, I just thought it was the perfect timing. It was right when "Sonic Highway"… they were doing their "Sonic Highway" tribute, per se, or unveiling. And to see Dave finally come to Vegas — because I believe it's been a good four or five years — to see that and the Arctic Monkeys — and then watching Lionel Richie and how that permeated with an older clientele, too. You've got Alt-J playing on one stage and then Lionel Richie on another … I thought that was great.
My daughter's younger, and she disappeared to go see Skrillex. I lost her. She was like, "Who are these … Foo what? I'm going to go see Skrillex at the other stage. So I really liked again how they incorporated where they did some of the VIP booths. I'm lucky enough to go to a bunch of festivals in the country and to have one in my own backyard without traveling anywhere and without walking in dirt, it was just nice to see. And I thought that was a great moment last year to see them.
Chas Smith: One of my favorite moments was being down there for Lionel Richie last year and actually having my family with me. And seeing my kids dance around to Lionel Richie, which I never thought would ever happen in a million years. You know, it's just one of those things, where you have a 10- and a 7-year-old, and they're like, 'Wow, this song's cool!' But overall, just the overall experience of the family values of the event and just having something for everybody down there. To pinpoint one or two items, I really don't know if I could do that. The overall experience itself was just great.
How does it differ from other festivals to you?
Bobby Reynolds: That's a good question. Of course, the main difference for me is I don't go back to a hotel afterward. I do go back home. I like staying at a hotel and kind of escaping it; it's just not another weekend I want to stay downtown. But how it … it differs because I just feel … I keep using the word "authentic" — I don't want to overuse that word — but the fact that it's in a city, on city streets, there really is something cool about that.
The other festivals I go to — Coachella, for an example — you know, yeah, I like walking on grass. I like being separated from kind of all that's going on around you. Once you're at Coachella, you're in there. You don't really leave, unless you're going back to your hotel. And Lollapalooza in Chicago. It's in the middle of the city, but not on the streets.
It's cool to see other functioning businesses and other businesses around you and just seeing how, truly, a festival is carved out of a city and people just walk around there. The other festivals that I happen to go to really aren't like that, you know. I've been to Austin City Limits, Lollapalooza, EDC, Coachella, and they're all on a park or a racetrack or a field, and this is literally carved out of a city.
And I think that landscape, when you're looking around, it's really apparent then. You're like, 'Holy s—! I'm at a festival right now, but I see all these buildings in a different way.' It's hard to describe, but I've always found that to be pretty cool and unique.
Billy Conn: You know, I'm very biased. I'm from Chicago, so I loved going to Lollapalooza, because it's home, and I love seeing the city right there. It's different because it's downtown versus an outside field or a park or anything. So to have people — because Vegas, obviously, is a 24-hour town — so hopefully people will keep supporting it, they'll keep the longevity of it, too.
Chas Smith: Well, I'm a big fan of the homegrown stuff, again. I'm a big fan of the local businesses being involved, the local artists and restaurants and some of the bands that are all local, you know, versus going to all these big festivals, such as the Rock in Rio and the stuff that happens at the other lots. You know, these are big national acts that come in, they get paid and they move on. But having that local element and really supporting the locals, to me, is the most important part of it all.
Who have been your favorite performers in the past three years?
Bobby Reynolds: Look, I love seeing Imagine Dragons. It's certainly a connection I have with them. It's certainly the hometown … rooting for the hometown guys. But I'm always excited to see their show, and I'm excited to see how they've progressed, as artists, from when I first saw them to them now legitimately headlining one of the great festivals in the country. I'm super psyched for that. And part of what excites me for that is knowing how proud and how happy those guys are to be in this place doing that. That's super cool!
Royal Blood is an artist I've never seen before, and I'm really curious to see their live show. I hear great things about it. I can't wait to judge it for myself. And Kendrick Lamar is someone that, you know, I, personally, am not the biggest Kendrick Lamar fan, but he's another artist who I hear is fantastic live.
So that's the beauty of a festival: I may or may not be a ticket buyer for Kendrick Lamar, but I would be … I am a ticket buyer for Life is Beautiful — ticket owner, at least. And so it provides me with the perfect opportunity to see Kendrick Lamar.
Billy Conn: Well, I loved the fact … well, this is another shameless plug, but they were dying to get, the very first year, Alabama Shakes, and I got Alabama Shakes before they did. And so, it was funny, they were trying to negotiate — because they were dying to announce Alabama Shakes for … to get it out to sell more tickets even the first year. So I liked getting the first coup on there.
But to answer your question, I just like seeing a group that came out of pretty much nowhere to luckily play our room first but then to see them on a bigger, grander stage — our show was in April, so it was October — so to see six months later and to see everyone singing Alabama Shakes, you know, Brittany Howard, her music, that was really, really cool. Brittany is just a superstar herself, and now singing with McCartney now and everything else at Lollapalooza this year — so to see some group that just came out and vaulted into the thing, I really enjoyed watching that.
Chas Smith: Obviously, Lionel Richie. I'm really looking forward to the Dragons. As you know, we've had them here a few times. There are so many good ones. Again, to me, the whole experience all together is really (what had) the biggest impact to me, myself.
Where would you like to see it go, if you had the ability to forecast its progression?
Bobby Reynolds: You know, I like what they do down there. I like, as I said before, I like how it's carved out of the city. I think to move forward to make some of the progress that they could enhance on what they do or grow it out and take over a bigger part of downtown. But I like where they're at. There are some things about being carved out of a city that I don't necessarily enjoy — that's me speaking.
Walking around the blacktop and walking around curbs, it does get a little bit difficult sometimes. But I'll pick the authenticity, again, and the fact that it's carved out of a city versus walking on a grass field, for sure. I really enjoy the charm that it has down there. And if it can integrate more of downtown and spread further, if demand were to warrant that, I think those guys should really consider that a real success.
Billy Conn: You know, when you go to some of these other festivals, I like — believe it or not, it is an intimate setting for a festival. So I think it's just really honing on their entertainment, and again, I like the blueprint. So the answer to your question, I just think … I'm hoping they just keep getting the numbers that they need to do.
I think it's a great brand for Vegas. I like what Rehan and Tony Hseih has done is incorporating the food and creating some kind of culture, because, you know, we all need culture here in Vegas. We honestly do. So I dig the whole food, art and music, and as long as that blueprint feels comfortable like it did last year — and I'm sure it's going to be better this year — I think they have a future with it.
I really do. And I'm curious to see if moving this up another month if this was helpful, too, because it's a very muddied festival schedule out there. I don't even know what the real number is, but I think there's something like 150 festivals, just in the United States alone. So there's a lot of competition for them as promoters to make this a destination. If more people can come out to Vegas, I'm happy because hopefully they'll return back.
Chas Smith: I would definitely like to see it grow. I don't know how much room there is for it to grow, but I just really like the format of it. That you can put such a great event in such an area down there — and again, when I say "grow," I don't mean physically grow, but just get more popular and get more eyes on it and get more notoriety for it, I think, would be the best thing for that.
— Read more from Dave Herrera at reviewjournal.com. Contact him at dherrera@reviewjournal.com.