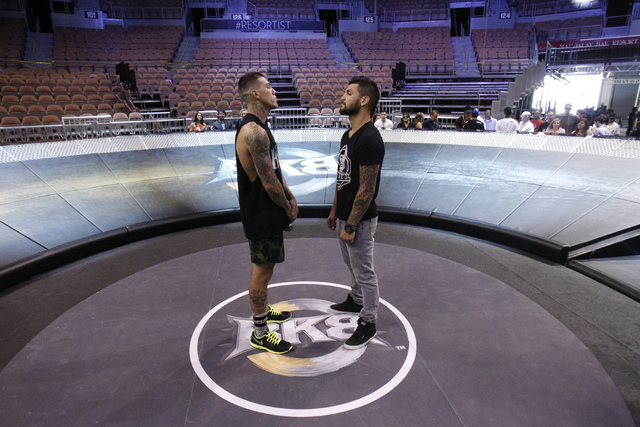 A wild form of boxing takes over Mandalay Bay Events Center today. One fighter says there will be blood in the no-rope, circle-arena of Big Knockout Boxing.
"You're gonna see a lot of action, probably a lot of blood. Everybody's going to get their money's worth," boxer Bryan Vera told me.
There's "nothing but tough guys on this card," said boxer Kendo "Tremendo" Castaneda. "I'm nuts. Everybody who's in this card is nuts."
But boxers, nuts or not, are human beings with feelings, so I asked them questions about their hearts and emotions.
I asked Castaneda what his favorite movie is.
"I love 'The Notebook,' man. Ryan Gosling did a great job. So did Rachel McAdams. I have a crush on her," said the undefeated brawler who could knock me into tomorrow (but it was hard to tell if he was joking).
"It's a beautiful movie. It'll change your life. You'll want to have kids and stuff," he said. "Nah, I'm just messing with you."
But, for real, Castaneda is a top boxer in video games.
"I'm actually worldwide ranked on 'Fight Night Champion.' On PS3, my ranking's been up to, like, 12."
Then there's boxer David Estrada, who revealed to me he is a secret graffiti artist in Chicago.
"They don't know what my tag is, so I'm not incriminating myself," he said.
The thing Estrada likes most about graffiti art is its individualistic, interpretative freedom.
"An artist paints a picture, but he or she never really tells you exactly what it means," Estrada said.
"It's up to the person that's looking at it. One person might look at it and say, 'This makes me sad.' Another person might look at it and say, 'This makes me happy.' "
I asked top-billed Gabriel Rosado what he does in his spare time.
"I just like to spend time with my daughter. She just turned 5," Rosado said.
"I didn't get to spend her birthday with her. She is in Philadelphia. I was in camp in L.A. That was hard for me. But I'll make it up for her. After the fight, I'm going to take her to Disney."
Rosado watches "SpongeBob SquarePants" with his little girl.
"Sometimes, there are movies that are kiddie movies for her, and I'll go to the theater and use her for an excuse to watch the movie," Rosado said.
"There'll be like 30 minutes left in the movie, and she's like, 'Let's go, Dad,' and everybody can hear her, and I'm like, 'Shh.' She's blowing my cover!" Rosado said and laughed.
Rosado is training to be an actor under the guidance of Leonardo DiCaprio's teacher. He has a Vin Diesel aura about him.
I asked Rosado what his favorite boxing movie is.
"How can you not go with 'Rocky'?" he said. "I actually just bought the whole collection on Blu-ray."
He said the craziest thing was seeing Arnold Schwarzenegger and Sylvester Stallone watching him in the ring at training camp.
"I came in the (training) ring with "Sugar" Shane Mosley. And I look to the side, and sitting ringside is Arnold and Rocky. I'm like, 'Damn! The Terminator and Rambo are sitting ringside!' "
Rosado will be fighting Vera, who also cited "Rocky" as the reigning movie champ.
"The Rocky movies, they get you going," Vera said. " 'The Cinderella Man' was a good boxing movie with Russell Crowe," too.
"He was the underdog many times and he overcame situations. I'm the underdog all the time (and) I overcame," Vera said. "So I feel like it's part of what I do, too."
I asked Vera my silliest questions. He rolled with them.
"Could you give (Floyd) Mayweather a run for his money in terms of making it rain in the strip club?" I said.
"Absolutely not," an amused Vera said, and then joked, "I'd be looking like one of those girls grabbing the money, man."
"If I gave you enough money for a boxing match, would you go buy a tiger or a lion?" I asked.
"I'm not Mike Tyson, man. I wouldn't do anything like that, because that would probably be the last time you'd probably see me. With my luck, I'd get eaten!"
Doug Elfman's column appears Tuesdays, Thursdays and Saturdays. Email him at delfman@reviewjournal.com. He blogs at reviewjournal.com/elfman.