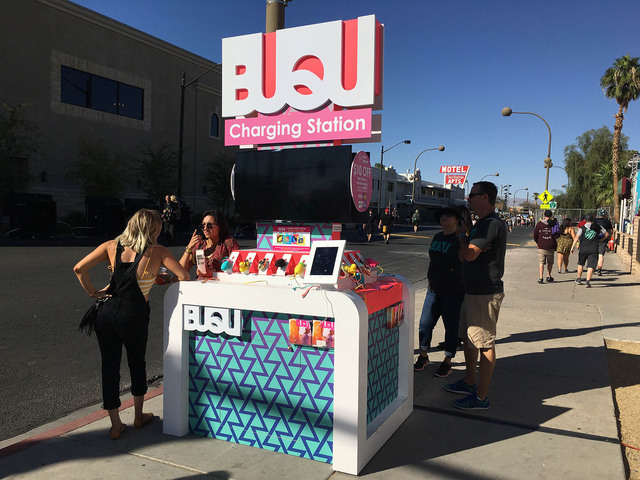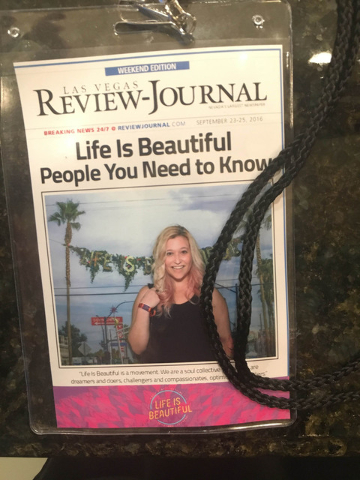 At $285, the Life is Beautiful 3-day pass isn't cheap. Add an average of $8 a drink and $12-17 for a meal and you might eat your way through the price of admission.
But scattered around the festival grounds are a number of goodies — even food — you can get for free.
The Zappos Evolve Experience is easily identifiable by the giant fluttering butterfly. Inside, get in line early for free body marbling. An associate from Black Light Visuals will create a palate based on your favorite color and hydro-dip your arm into the paint. Bonus: it will glow once it gets dark out.
Once your arm is marbled, walk across the lawn and get a complimentary snow cone.
The Vita Coco Beach is located just past the "Big Rig Jig" and is a perfect spot to beat the heat. Upon entering, stop by the bar for a free box of cold coconut water. Inside, kick back in one of the shaded hammocks, swings or lounges. And if you really need to cool down, go for a ride down the 300-foot tall water slide.
Slip or slide, come keep cool at #VitaCocoBeach at #LifeIsBeautifulFest! pic.twitter.com/HhlQpsxlO3

— Vita Coco (@VitaCoco) September 23, 2016
Instead of spending money on water, bring an empty bottle or hydration pack. Five water-refilling stations are set up throughout the festival grounds.
Forgot your water bottle? Visit the MissTravel swag booth inside the Western Hotel and they'll give you a promotional one.
Want in on THE QUEST?? Find our lovely brand ambassadors @lifeisbeautiful & strike a pose!! #MissTravelQuest #lifeisbeautiful #MissTravel pic.twitter.com/S35E9jPhMI

— MissTravel.com (@DateMissTravel) September 24, 2016
And if you plan on posting to social media as much as we are, you can charge your phone in one of the many free BUQU charging towers. They even have the cables for you.
For free food, visit the Clif Bar tent near the Ferris wheel and someone will offer you a free bar.
Craving chocolate? Someone at the Dove Chocolate tent near the food trucks will direct you toward a large bowl and encourage you to "take more than one." They also have a fun photo booth in the back that will stitch together pictures of you jumping on a trampoline.
For another photo opportunity, visit the Las Vegas Review-Journal tent. After taking a selfie, your face will be superimposed onto a "newspaper" and strung in a lanyard.
Need sunglasses? The Chic-fil-A tent doesn't have any chicken, but they do have koozies, footballs and sunglasses to give away.
Contact Janna Karel at jkarel@reviewjournal.com. Follow @jannainprogress on Twitter.
RELATED
Our top 5 picks for what to see and do Friday at Life is Beautiful
Life is Beautiful's art ranges from Cirque's street performances to 'Crime on Canvas'
Your Life is Beautiful survival guide
The bands you need to see at Life is Beautiful