Humane Society takes behind-the-scenes look at Safari Club International meeting in Vegas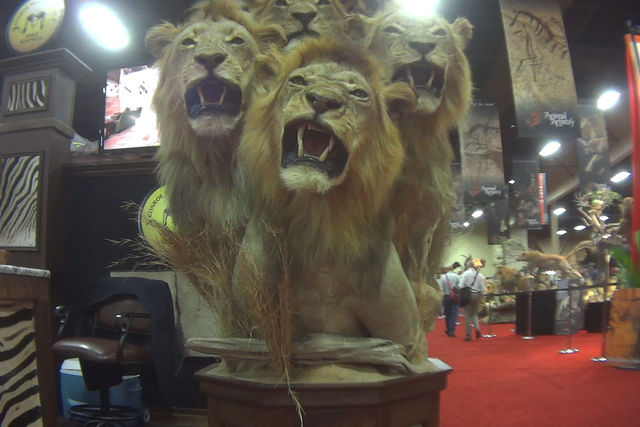 Oh those pesky hidden cameras.
The Humane Society sent an undercover videographer to the Mandalay Bay-hosted auction where 20,000 trophy hunters were interested in giraffes, monkeys and lions.
"Do you ever do monkey?" the undercover Humane Society agent asks a man at Safari Club International's February convention.
"Yeah," the conventioneer says.
Dead trophy animals are often taxidermied for home displays, or cut up into such regalia as elephant-tail necklaces and decorative mantel tusk arches.
"You'd be surprised at how many genital parts are used" from big game, Maria (Masha) Kalinina told me Thursday. She's an international trade policy specialist with Humane Society International.
Prey tell, for what purpose are elephant penises employed?
"I'm almost afraid to Google it," said Kalinina.
February's convention drew public ire, coming after the death of Cecil the lion at the hands of a dentist, which itself sparked national rebukes from everyday Americans, including a tearful plea from former Las Vegan Jimmy Kimmel, and emotional outpourings from the likes of Ricky Gervais, Newt Gingrich, Amy Poehler and other prominent Americans of different political stripes.
In the hidden camera report, a conventioner laughs at his own joke:
"Yay, Cecil, eh? Yeah, we're looking for his brother now."
Hunting dogs die during hunts, too, another convention exhibitionist says in the video.
The secret filming was first reported Thursday by Vice's Motherboard news outlet, with faces of trophy hunters blurred in the video.
The trophy hunters' entertainment schedule at Mandalay Bay listed Mirage headliner Ron White, and the band with the contextually appropriate name, Blood, Sweat & Tears, although it is unclear if either performed, seeing as fellow headliners the Doobie Brothers and Huey Lewis and the News canceled.
All of this killing-big-animals stuff is legal. Safari Club espouses itself as a nonprofit conservation group, one of the inferences being that animals must be killed to be saved.
The Humane Society says more money is raised for conservation through ecotourism, the nonkilling tours whose goals are for big animals to be left alive in front of cameras.
Baiting was another revelation discovered by the Humane Society, but which was not shown in the video, Kalinina said.
"We're shocked that baiting is so prevalent," she said.
What's baiting?
Some big game companies around the world breed leopards and other big game in a fenced-in area, dangling animal carcasses (bait) on trees for days for big game to feast on, until a hunter one day pays tens of thousands to be escorted there to shoot them dead.
The Humane Society has investigated lion breeding, but said there were no lion breeding hunts sold in Vegas, because the United States has restrictions on lion imports. Lion exhibitors were at Mandalay Bay, behaving under the law, Kalinina said.
Many nonhunters regard trophy hunting practices as distasteful or repugnant.
There is even an ethical divide among hunters, between those who see "hunting" as scavenging through nature for days and weeks, versus those who'd rather be driven to a site, shoot, smile, pose for pictures, and return to America to tell colonialistic tales of wild African adventures.
Such bravery.
WHITNEY'S BACK
Comedian Whitney Cummings just finished shooting a pilot for HBO, after having debuted a successful stand-up special on the cable network this year.
All this week, Cummings (who performs Saturday at The Venetian) was still in the editing bay, and spoke by phone, during a five-minute break.
Cummings didn't reveal details of plot, characters or production, only that she'll turn it in to HBO and wait to hear if it gets picked up as a series.
"Fingers crossed," she says.
Cummings, co-creator of the sitcom "2 Broke Girls," visits Vegas frequently for gigs.
"I'm in and I'm out," she said. "I sort of see everybody when they're happy, and drinking, and celebrating, but not the next morning when everyone's hungover, sad, and going through a divorce."
WHAT IS IT WITH TOPGOLF?
Very clearly, the place in Las Vegas notching the most celebrity sightings this season is Topgolf.
It keeps appearing here, though I promise I'm not on their payroll. It's just a sudden star magnet, probably because it's new, different from the usual clubs and restaurants, sort of elegant, an activity in shaded suites with security where stars can congregate (I was thrown out of one of those star suites recently), it's right next to MGM with its own valet, and it's full of extras such as a pool.
Anywho, the latest at Topgolf: Singer Ashanti, baseball figures Pete Rose and Frank Thomas, and N9NE Steakhouse chef Barry Dakake.
A DISNEY VEGAS VACATION
Disney star Kelli Berglund, the bionic girl from "Lab Rats," is just 20, so what does an underage-for-Vegas Disney actress do on the Strip for fun?
She took her family to see Disney's most famous contemporary human invention, Britney Spears, at Planet Hollywood.
Beforehand, the family dined on romaine salad with doughnuts (you read that correctly), cookies, and scallops, at STK Steakhouse in The Cosmopolitan.
Doug Elfman can be reached at delfman@reviewjournal.com. He blogs at reviewjournal.com/elfman. On Twitter: @VegasAnonymous