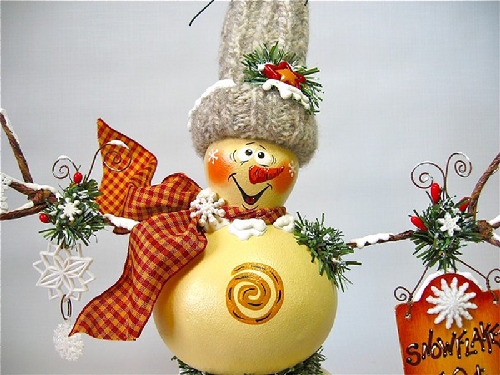 If you go to Cashman Center this weekend, you're sure of a big surprise.
If you go to Cashman Center this weekend, you'd better go in disguise.
For every bear that ever there was …
Well, OK, maybe not every bear. But lots of bears will be there – not for a teddy bears' picnic, but for a teddy bears' tea.
The tea is just part of the Las Vegas Harvest Festival Original Art & Craft Show, which is marking its 25th year (and 40th year for its parent event in San Francisco).
The festival, which runs Friday through Sunday, will have more than 200 exhibitors showing such things as soy candles, wood crafts, fiber crafts, scented items, artworks made from natural materials, foods, Christmas decorations, pet accessories and on and on.
"There's always a mix of some new items," said Brenda Meehan, show spokeswoman.
And while moms and dads peruse the merchandise on exhibit and for sale, the kids won't have to tug on their hands and lament their boredom. That's because they have their own activities to look forward to – and those activities benefit charities.
The Royal Tea Society will present the Teddy Bear Tea Party from 11 a.m. to 5 p.m. Saturday. For $5, kids can participate in teddy-bear story time and other activities including the creation of an edible teddy bear garden.
All proceeds will benefit Operation Christmas Child, which distributes more than 8.5 million shoeboxes filled with gifts, hygiene products and "all sorts of things" to more than 130 countries, Meehan said.
Additionally, Operation Christmas Child will have a booth with free activities for kids, such as wrapping shoeboxes and playing a football-themed game and peeling themselves off of a Velcro wall.
Meehan said the Sunrise Children's Foundation will sell shopping bags for $1 and will have a package-check area near the center of the show space so shoppers don't have to continuously carry their purchases.
"They will hold it for you inexpensively," Meehan said. "They'll help you out to the car – sort of like a Harvest Festival concierge."
The foundation also will have a make-it-and-take-it craft area for kids, and all proceeds from the bags, package check and crafts will go to the foundation.
The Harvest Festival also will help Safe Nest, a temporary shelter for at-risk mothers and their children, by collecting nonperishable food items, paper products or baby products. Those attending the show who bring items to be donated to Safe Nest will receive $2 off admission.
"We really help to fill Safe Nest's pantries for a year," Meehan said.
She said show exhibitors also donate items to Safe Nest, whether as direct donations to the charity's clients or to its silent auction.
Contact reporter Heidi Knapp Rinella at hrinella@ reviewjournal.com or 702-383-0474.
Preview
Las Vegas Harvest Festival Original Art & Craft Show
10 a.m. to 6 p.m. Friday and Saturday, 10 a.m. to 5 p.m. Sunday
Cashman Center, 850 Las Vegas Blvd. North
$9 for adults, $7 for seniors 62 and older, $4 for youths 13-17, free for kids 12 and younger (valid for re-entry all weekend); $2 off with a food, baby-formula or paper-products donation to Safe Nest. (800-346-1212 or www.HarvestFestival.com)