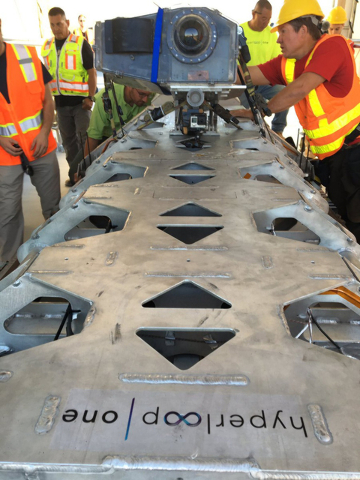 IMAX moviemakers are filming the futuristic Hyperloop under construction in North Las Vegas.
The revolutionary Hyperloop is designed to transport people and cargo in tube cars at a potential 760 mph — faster than commercial jets — using solar-powered electromagnetic motors.
Futurism supergenius Elon Musk launched Hyperloop with engineers from SpaceX and Tesla. The first successful use of its test tubes came in May. The company hopes to build a full line for cargo by 2019 and for passengers by 2021.
IMAX's all-ages film "Dream Big: Engineering Wonders of the World" is meant to give viewers an inside look at how creative engineers are changing the world via science and tech, as connected to what academics and pros call "STEM" studies, or science, technology, engineering and math.
The only movie information IMAX and Hyperloop would give us Tuesday is a movie trailer.
Many people hope Hyperloop builds speedy transportion from Vegas to Los Angeles. But it's bigger than that.
Hyperloop execs have announced feasibility plans (with big-money partners) to build in Dubai, Sweden, Switzerland, Russia and Finland, along with L.A. and Long Beach in California and submerged-floating Hyperloops for shipping.
MARIAH CAREY RETURNS 2017
Caesars Palace headliner Mariah Carey startled a few fans by bidding adieu in an Instagram post by writing, "vegas i enjoyed ya."
Some misinformation on social media even said Carey's residency had ended.
But Carey is going on tour to Latin America.
In November, she'll star in an eight-part "E!" "docuseries." Cameras followed her in Vegas and on her last tour.
Next, she'll probably do some Christmas stuff. She loves Christmas stuff.
Then she's scheduled to resume Caesars shows in 2017.
DRAKE + RIHANNA = ?
Rihanna was spotted backstage by pretty much the entire online world at Drake's T-Mobile Arena show on Sunday.
Onstage in L.A., he told her he loves her. She followed him to Vegas for his Sunday gig. Then the physically engaged couple took up a VIP booth at Hakkasan nightclub, where Drake danced to a few of his songs.
OLYMPIANS UNITE
Women who just won Olympic gold medals for water polo saw Cirque du Soleil's water show "O."
And they played friendly water polo with art-athletes in "O's" home water turf.
Cirque employs a dozen former Olympians, eight in "O," two in "Mystere," one in "Ka" and another in "One."
And speaking of Olympians, Vegas-grown Olympic swimming hero Cody Miller saw "O" with his mom and fiancee.
BIG MUSCLES
Vegas is a mecca for body people, so it naturally plays home to Mr. Olympia, running Thursday-Sunday at The Orleans and the Las Vegas Convention Center.
You want a taste of who'll be there? Go search on Instagram for thewesttwins. They could beat me up with their pinkies.
MANY NAMES AT ANGEL FUNDRAISER
Monday night saw a big turnout at Criss Angel's cancer charity event: Imagine Dragons, Jerry Lewis, Tony Orlando, Vince Neil, Gary Oldman, Siegfried and Roy, Mike Tyson, Cory Feldman, Debbie Gibson, Dee Snider, Richie Sambora, Sebastian Bach, Orianthi, Klayton, and Randi Heisler.
The event raised money for Angel's 501(c)(3) named for his son who is battling cancer, the Johnny Crisstopher Charitable Foundation.
SIGHTINGS
Actress Kaley Cuoco ("Big Bang Theory") cheered her sister Briana Cuoco in her starring role at "Baz — Star Crossed Love" in the Palazzo Saturday.
Marie Osmond met fans at Madam Tussauds while hand-covering the waxy face of her brother for humor.
Former Los Angeles Dodgers manager Tommy Lasorda ate at N9NE Steakhouse Saturday and ran into those water polo Olympians Ashleigh Johnson, Maggie Steffens, Kaleigh Gilchrist, KK Clark and Sami Hill.
And comedian Heather McDonald, previous Venetian "Lipshtick" headliner, dined at STK after hosting its fourth annual white party.
Doug Elfman can be reached at delfman@reviewjournal.com. He blogs at reviewjournal.com/elfman. On Twitter: @VegasAnonymous