'In the Heights' powerful mixture of music, dance
February 22, 2014 - 9:39 am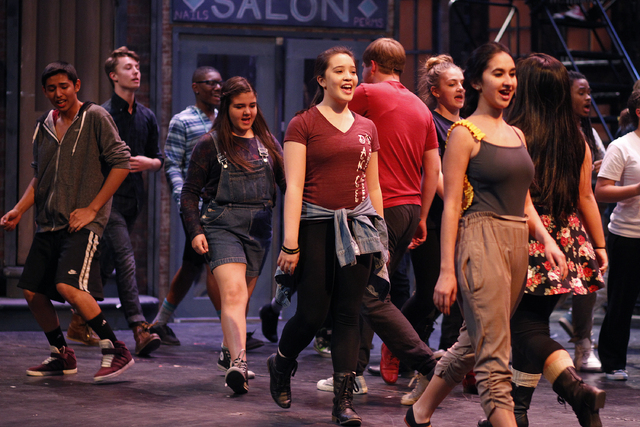 The 2008 Tony Award winner for best musical, "In the Heights," makes its Las Vegas premiere at Las Vegas Academy. And rightly so.
The show is a magical blend of standard Broadway-style music and spicy hip-hop. The former to appeal to the typical theatergoer, the latter meant to engage young audiences. And engage it does.
Patrick Weaver's detailed set puts us right into the Washington Heights neighborhood of northern Manhattan that has seen vast cultural shifts, and where composer Lin-Manuel Miranda (music and lyrics) grew up. It was built first as a fort during the Revolutionary War. By the turn of the 20th century the Irish had settled, giving way to a large Jewish community in the '30s and '40s who were displaced by Greeks in the '50s and '60s. Today the neighborhood is dominated by Dominicans.
The book by Quiara Alegris Hudes brings to life the struggle of immigrants fighting against the encroaching gentrification of the place they've now come to think of as home, even as they want to escape.
Director Megan Ahern filled the stage with a huge cast of well-developed characters but moves them adroitly, never losing purpose or focus.
Jekyi Post, as Usnavi, the owner of the local bodega, fairly explodes onto the stage in the opening number with an energy that spreads through the ensemble like a wildfire that never goes out.
Briana Lowe plays Usnavi's love interest, Vanessa, with an underlying spark that proves her spirited character will survive no matter where home is.
Aurora Watts-Esquibel plays Nina Rosario, the girl most likely to succeed who disappoints by dropping out of Stanford and returning. Watts-Esquibel brings a beautiful melancholy that gradually morphs into adult confidence and determination. Her voice is smooth as velvet and then soars to the beams.
Nate Harlan's Benny, Nina's non-Hispanic love interest, evolves so fluidly from being accepted to banished with such completeness that his every shift of body informs us of his internal conflict. Harlan and Watts-Esquibel's voices meld effortlessly, particularly on the touching "Sunrise" and "When the Sun Goes Down."
Tatiana Louder and Melissa Mihovich, as Daniella and Carla, both bring comedic sass to the beauty salon of the community. Despite their age, Samuel Garnett and Maddi Albregts bring a mature quality to their roles of Nina's hardworking parents, Kevin and Camilla Rosario. Diego Miguel plays Piraqua Guy with the appropriate pride and slumped shoulders of a man plugging along, scraping out a living with his cart.
Tatum Rajsky, as neighborhood matron Abuela Claudia, nearly stops the show with a tour-de-force performance on "Paciencia y Fe (Patience and Faith)."
Thomas DiSabato's choreography establishes a perfect match to the score with a mixture of hip-hop, Broadway and salsa. The entire chorus pulls off every move with the required energy and flare, not an easy feat in rubber-soled sneakers.
The disappointments come at the expense of the entire audience. Lyrics further a storyline, and the orchestra should underscore and support the vocals not overpower them, as happened frequently on big ensemble numbers. Act Two began before most patrons had returned to their seats; the flood of scrambling bodies pulled focus. Hopefully, these were simply opening-night glitches.
REVIEW
What: In the Heights
When: 7 p.m. Thursdays-Saturdays through March 8; 2 p.m. Saturday, March 1
Where: Lowden Theatre for the Performing Arts, Las Vegas Academy, Ninth Street and Clark Avenue
Tickets: $18 (702-380-9729; www.lvacademytheatre.org)
Grade: B