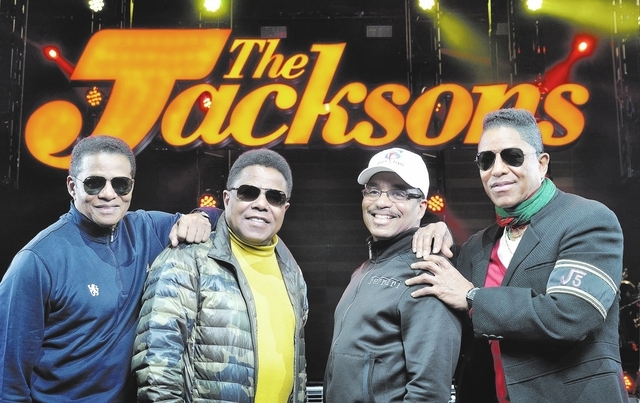 Is it destiny? Or was that just an album title?
Time will tell, but 40 years have brought the Jacksons from the old MGM Grand — where they played the Celebrity Room that was torn down to connect Bally's to Paris Las Vegas — to a short walk next door at Planet Hollywood Resort.
"Even back in the time of Gary, Ind., you dreamed. You saw Las Vegas on television and said, 'Wow, I'd love to get here and do this and do that and be part of the history,' " says Tito Jackson, now 60. "It was a great feeling. Being an entertainer it was one of the places you would love to be in, and be a part of, and work in."
But a few things happened in the intervening years. One in particular: Michael Jackson.
He was always the focal point of the Jackson 5, who had actually become six by the time 11-year-old Randy sang with the brothers at the MGM Grand in August 1974.
Still, things really changed after the Jacksons' "Destiny" album in 1978. Michael released "Off the Wall" the next year and "Thriller" in 1982. By the time of the "Victory" album and tour two years later, the older brothers were almost irrelevant, and sometimes — especially Tito, who had the funniest name — even a late-night talk show punch line.
But in June 2012, Jermaine, Marlon, Jackie and Tito reclaimed the family name, regrouping for touring that took them around the world.
"What made us want to do it was my brother's passing," says Jackie, 62. "All of the fans started sending us emails requesting us to go back out. Do it for Michael and do it for them."
Now Jackie and Tito have bought houses in Las Vegas, which at various points has also been home to father Joe and sisters Rebbie and La Toya. The brothers hope to have an ongoing presence on the Strip with the new showcase that launched this week.
It's branded alongside Meat Loaf — with whom they share the theater until at least early April — as part of producer Adam Steck's "Rocktellz and Cocktails" series, inspired by "VH1 Storytellers."
That means slight changes to the "Unity" tour that brought the four to the Cannery in 2012, and resurrected some neglected hits such as "Can You Feel It" and "Heartbreak Hotel." This time, the Jacksons plan to connect old favorites with career anecdotes.
"There's gonna be some fun stuff, you're gonna be laughing (at) some stories we never told," Jackie says. "We're gonna let the cat out of the bag now." Perhaps literally, as one of the stories they plan to tell is how Michael befriended Siegfried and Roy during those MGM years when the magicians' "Hallelujah Hollywood" was next door to the Celebrity Room.
"We're musical so we're gonna keep it musical, but there are going to be storytelling moments," Tito says, promising memories of Diana Ross, Berry Gordy, Sammy Davis Jr. and other stars, "all the way up to today's celebrities."
"We've been in the business a long time," he adds. "We have a lot of friends."
In separate phone conversations, neither Tito nor Jackie made a big deal out of a professional reunion that came close to 30 years after the "Victory" tour.
"We saw each other all the time, we just hadn't performed together onstage," Jackie says. "Once we got together in the rehearsal hall, striking the band up and started singing the songs, it felt so good. Things started coming together. It was easy."
"We've always had the fever," Tito said. "We've never lost the fever and the love for it."
The Jackson 5 formed after father Joe discovered young Tito's emerging guitar skills. But, he points out, "I was the only brother who never put out a record or went out on my own. Instead of having a solo career I was working with my sons and forming their band."
But when his three sons moved beyond their group 3T, Tito started a blues band and "traveled all over the place. I was tired of not going on the road. I'm a musician. I wanted to play."
Tito says the brothers first planned to join Michael for a guest segment in the later dates of the 50 "This Is It" concerts he planned for the 02 Arena in London before his death during rehearsals in 2009.
"It was sad because we were always wanting to go out on the road and do our thing, but we wanted to go out as the Jackson 5 … which would include Michael."
The plan to start at the 02 was never made official by a contract, but "it was something all the brothers had agreed to, and that's all you need basically to get the ball rolling," Tito adds.
Instead, the brothers waited three years after Michael's death and the family's wrongful death lawsuit that followed.
"We didn't know what was going to happen," Jackie says. "Once we got together in the rehearsal hall and got together, everything just fell in line. We just fed off each other. It felt like Michael was onstage with us at the same time.
"Any given time we knew where he was going to be. Although he's not here, we just felt his spirit onstage with us. That's how it was."
But unlike Michael, for whom "This Is It" was to be both comeback and swansong, his four brothers plan to keep singing.
"I think we're going to do this as long as we can," Tito says. "Just like the Sinatras or Sammy Davis or George Burns, (who kept going) all the way to their grave site. That's how much they loved what they do."
Contact reporter Mike Weatherford at mweatherford@reviewjournal.com or 702-383-0288.
Preview
The Jacksons
9:30 p.m. Thursday-Sunday
Planet Hollywood Resort, 3667 Las Vegas Blvd. South
$54-$129 (800-745-3000)