Jacksons planning Las Vegas tribute to Michael
February 20, 2014 - 3:33 pm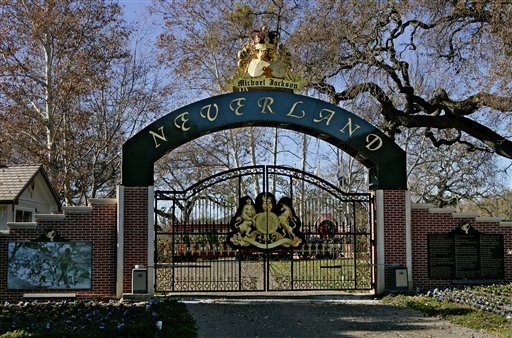 Michael Jackson's siblings reportedly wanna be startin' somethin' that would be to Las Vegas what Graceland is to Memphis.
The pitch involves a replica of Neverland, including an auditorium for occasional performances, and a gift shop.
"They've been shopping the idea to the biggest hotels on the Strip for two years," a source said. "They want to emulate Graceland."
The concept bears a close resemblance to the pop singer's vision described in this space by the late dealmaker Jack Wishna before Jackson's death in June 2009.
Jackson brothers Jackie, Tito, Jermaine and Marlon currently have a foothold on the Strip with their 40-show "Rocktellz and Cocktails" deal at Planet Hollywood. They're looking for a venue that offers high- volume foot traffic for the Neverland project.
Jackson owned Neverland, named after the fantasy island home of Peter Pan, from 1988 to 2005. Jackson's parents reportedly own the property, which has remained closed since Jackson's death.
Graceland Mansion, the home of Elvis Presley, became one of the most-visited private home attractions after Presley died Aug. 16, 1977.
RENO CELEBRATION
Kim Wagner, half of the "Wakeup with the Wagners," hosting duo at KSNV-TV, Channel 3, returned to Reno, her hometown, to cover the celebration for David Wise's Olympic gold medal in the freeskiing halfpipe.
Because of KSNV's NBC affiliation, Wagner had interviewed Wise three weeks ago in Park City, Utah, home of the U.S. ski team.
She joined Wise's family members at a sports bar for NBC's primetime airing of the Olympic highlights. She had live shots during the 11:30 p.m. newscast and during "Wake Up with the Wagners," which she co-hosts with husband Dana.
It's not every day a reporter gets to return to one's hometown to cover a same-day Olympic gold medal triumph.
She was born in Reno and attended grade school there before the family moved to Los Angeles, Chicago and Florida. Her late father, Don Capozzo, was a star linebacker at the University of Nevada in the late 1960s, when quarterback Chris Ault was finishing his playing days at the school.
Favorite memory from her interview with Wise?
"When I was there, he was so chill, so laid back. He had just shot a Pampers commercial."
"He's going to be an endorsement darling," she said.
Other media notes:
Chris Saldana has joined the morning news at KVVU-TV, Channel 5, as a reporter. Saldana was a weekend anchor at CBS affiliate KLAS-TV, Channel 8 for 6½ years. Believed to be the city's first openly gay anchor, Saldana left in late 2012. Among the reasons he cited for his departure was not being given a chance to pursue the afternoon anchor job vacated by Gary Waddell. …
Veteran investigative TV reporter Glen Meek will become a member of the KLAS I-Team on March 3, it was announced Tuesday. He previously worked for Channel 3, Channel 13 and most recently was a criminal defense investigator for the federal public defender in Las Vegas. …
Food critic Al Mancini is giving up his signature mohawk for a good cause on March 1 at Ri Ra at Mandalay Bay. He's had the colorful 'hawk for 15 years. He vowed to shave it off if he received $2,000 for the St. Baldrick's drive to fight childhood cancer. He met his goal quickly. Mandalay Bay chef Rick Moonen will be handling the clippers. Mancini will shave Moonen's head if the latter raises $3,000 for the cause. …
Las Vegas wine guy Chris Hammond has a family connection with the Sochi Olympics. His father, Tom Hammond, is the lead broadcaster for NBC's figure skating coverage team with Scott Hamilton and Sandra Bezic. It is Tom Hammonds' 11th Olympics assignment. The son is president and founder of the Rock 'n Roll Wine events. He moved to Las Vegas in 2000 after leaving the Montreal Expos as GM of their Class A Florida State League team and coordinator of the Expos spring training. …
Former KLAS anchor Charlotte Evans has joined public relations vet Tom Letizia to work on his PR and political campaigns.
THE SCENE AND HEARD
Mirage headliner Terry Fator is in New York this week on a media blitz to promote his new DVD "Terry Fator: Live in Concert." He will appear on "Fox & Friends" Thursday morning and the "Late Show with David Letterman" that night.
SIGHTINGS
Actress Kristin Cavallari, who is married to Chicago Bears quarterback Jay Cutler, at the MAGIC show, promoting her Chinese Laundry line of shoes at the Las Vegas Convention Center. She is expecting their second son soon.
THE PUNCH LINE
"It happened again — today I get a call from my mom. She says, 'David, did something happen to Jay?' " — Letterman
Norm Clarke's column appears Sunday, Monday, Wednesday and Friday. He can be reached at 702-383-0244 or email him at norm@reviewjournal.com. Find more online at www.normclarke.com. Follow Norm on Twitter @Norm_Clarke. "Norm Clarke's Vegas," airs Thursdays on the "Morning Blend" on KTNV-TV, Channel 13.