Jazz festival to drum up funds for school music programs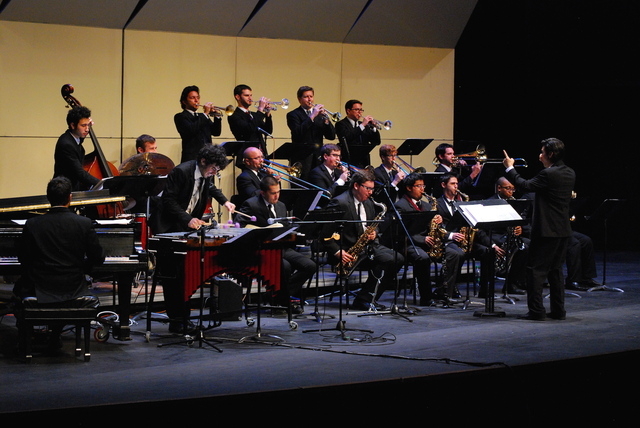 Nine local artists are set to combine music and charity in the name of education.
The Nevada Jazz Education Alliance partnered with Super Summer Theatre to plan the inaugural Spring Mountain Ranch Music Festival from 6:30 to 10 p.m. May 10 and 11 at the ranch, 6375 state Route 159.
Proceeds from the event are set to benefit the alliance, a nonprofit that funds music scholarships and grants for students attending Nevada schools.
"We set this up to really aggressively raise money for school music programs," said organizer Frank Carbone. "The state has no money, and therefore, the programs have no money. This event is important so kids can continue to excel in music."
The event is set to include performances by the UNLV Jazz and Latin Jazz ensembles, The Mass Distractors, Siren Strings, Four of a Kind, Jo Belle Yonely, Ronnie Rose, Gary Fowler and Colors. A surprise guest is also planned May 11.
"There's going to be many different types of music, from jazz to Latin to rock to ska," Carbone said. "We want to introduce people to all sorts of styles so that they can support the cause."
Carbone plans to raffle off gift cards, hotel stays, tickets to shows and dinners. Food trucks are also scheduled to be on-site, although outside food, beverages and chairs are permitted, according to Carbone.
"We expect about 950 attendees, which is not too small or too big," Carbone said. "We want the setting to be somewhat intimate because these are top-notch performers."
The festival's creative director, Uli Geissendoerfer, is set to direct the UNLV Latin Jazz Ensemble and perform a tribute to The Beatles with his quintet Colors.
"(The Beatles) came here 50 years ago, so we decided to make a tribute show," Geissendoerfer said. "It's a way we can reach a wide audience and expose them to new styles. We stimulate them and their creative listening skills."
Originally from Munich, Geissendoerfer moved to Las Vegas in 2009 to be the music director for the Cirque du Soleil show "Viva Elvis." He attended UNLV for his master's degree and began working with the school's Latin jazz band.
"The more music, the better," Geissendoerfer said. "Music is not only food for the soul, but it's at the core of all our lives. You don't have to be a musician to understand music on some intellectual level."
The gates for parking are set to open at 5 p.m., and seating is scheduled to open at 6 p.m. Event vendors will accept only cash or checks. Tickets cost $35 per night.
"It's great to see there's still interesting music being created," Carbone said. "Our tag line is, Support music. Inspire our children, and that's what we aim to do."
For more information or to purchase tickets, visit tinyurl.com/lapqysj. For groups of 10 or more, call Carbone at 702-682-5362.
Contact Southwest View reporter Caitlyn Belcher at cbelcher@viewnews.com or 702-383-0403.