Jeff Beck, Brian Wilson have more in common than long musical careers
October 17, 2013 - 11:28 pm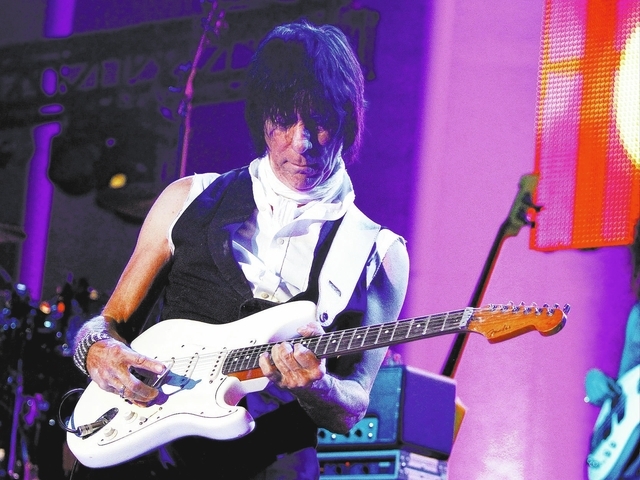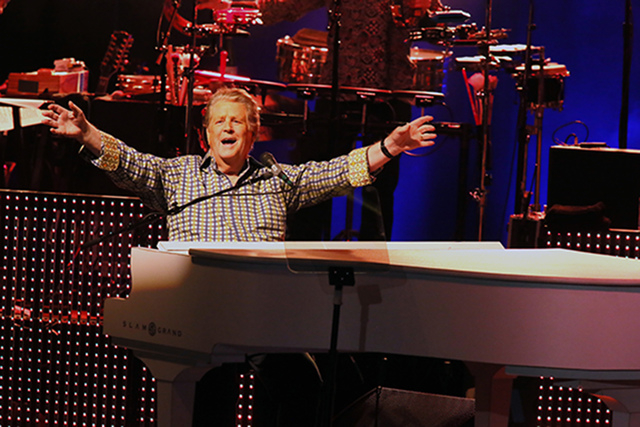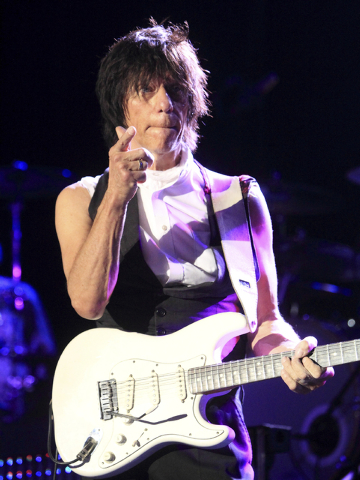 Brian Wilson and Jeff Beck aren't the two classic rockers you'd automatically think to double-bill on a tour.
But if Wilson hadn't written about hot rods? Beck probably would have.
"When you see the cover of the 'Little Deuce Coupe' (album), it's enough to make a 14-year-old go crazy," the British guitar legend says.
OK, Beck was already 19 and playing in bands when that Beach Boys album came out in 1963. And he is only two years younger than 71-year-old Wilson.
But Beck speaks quite eloquently of the Beach Boys imagery that ultimately drove him to be a car collector. It explains the common ground in this odd-couple pairing, which has been drawing strong reviews as a strange idea which somehow clicked.
"It is weird. I had doubts," the guitarist said last month when the tour that stops at the Palms on Friday was still in rehearsals. "The thing is it's about music, if people are willing to open up a little bit and not presume Jeff's gonna shred and all that sort of thing.
"Brian's music is well-loved pop. It's beautifully crafted, and it's very difficult to wedge something in there that doesn't fit," he adds of playing his own set, as well as joining forces in a band that gets up to 17 people (including Beach Boy Al Jardine). "I've been fortunate enough to play guitar with strong melodies, so there is an affinity there."
The team-up is also a reminder that the British rock invasion was reciprocal. Beck's work with the Yardbirds followed the Rolling Stones wave of rockers who fell in love with American blues and sent it back home in a new package.
But on the other side of the pond?
"Everything was better over in the States," he says. "The music, the hot rod culture …
"When you lived where I lived, and it never stopped raining, and all we heard was 'California Girls,' " Beck says. "It was a massive tug. Whatever you have to do, swim, get a boat, get out there."
And when he did? "It unfolded like a surreal dream, really. By the time I hit Vegas, I'd seen my first Bucket T and got taken for a ride in it. The rest is history."
Beck's hot rod obsession pre-dates the Beach Boys. At some point in the late 1950s, he remembers his teen self coming into possession of "a collection of hot rod magazines, a big ol' pile of them given to me, all falling apart. And I just sat and drooled over them.
"I just loved the chromed engines and, just, it was glamorous. How could a car be that glamorous, with white-wall tires, when you had the mundane little soap boxes that we had?"
Then, "We could only just look at the pictures and dream."
Now? "Would you believe I've got all those in the garage. I've done all right. I'm in need of nothing, really."
Perhaps that explains why Beck has always done what he wants, avoiding the nostalgia route to pursue his own muse. His mostly instrumental solo albums range, whether he was exploring synthesized guitar sounds with a power trio on "Jeff Beck's Guitar Shop" in 1989, or chilling with a 64-piece orchestra on "Emotion &Commotion" three years ago.
The guitarist calls it "musical wanderlust, the endless possibilities of the way you can mold sound nowadays. It's really exciting times, really.
"Inadvertently, it makes me slightly different from everybody else but it's not intended directly to be different," he adds. "I don't push stuff down (people's) throat. If it doesn't go over big, I don't do it anymore."
Fans who remember Beck and Rod Stewart all the way back in the Jeff Beck Group were for a time hopeful about Internet reports the two were working on a new project together.
But it fell apart, with Stewart saying Beck didn't like any of the song ideas he proposed. Now it's Beck's turn.
Stewart "wanted to do a 'Truth' number 2," he says, referring to their 1968 album, "and I was all for it, and I made the demos. But they were apparently in the wrong key for him. Maybe I'll get Buddy Guy to do the vocals," he says with a laugh.
Beck still sounds a little bitter about "People Get Ready," the 1985 collaboration that interrupted a period of pop frivolity for Stewart and served as a powerful reminder of his rock 'n' soul days.
"I chose the song for him and kind of produced it," Beck says. But Stewart's manager thought "the influence would be too powerful and we'd be snatching his golden boy away from him.
"Rod then took off, he did the ('Great American) Songbook' and he's huge again, so good luck to him. But you can't suddenly turn around a put a jean jacket on and play blues when you've sold everybody the Vegas stuff."
Contact Mike Weatherford at mweatherford@reviewjournal.com or 702-383-0288.
Preview
Brian Wilson and Jeff Beck
8 p.m. Friday
The Pearl at the Palms, 4321 W. Flamingo Road
$69-$129 (702-944-3200)