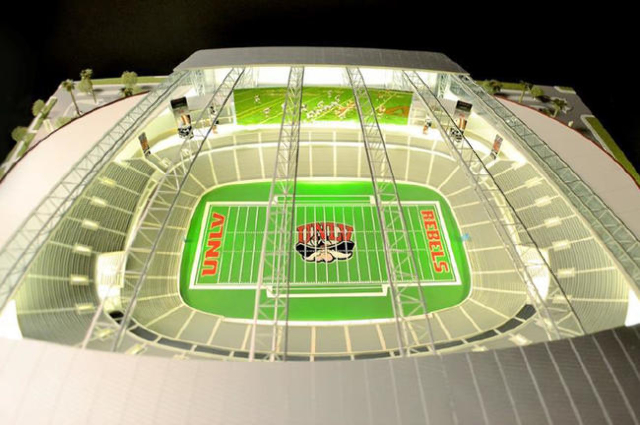 Here are some questions, answers and scenarios about the proposed $1 billion, 65,000-seat stadium based on conversations with sources with knowledge of the situation:
Q: Will jet noise from nearby flight paths at McCarran International Airport be the problem it was at Shea Stadium in New York?
A: State-of-the-art dome technology will suppress the noise. "They're not worried (about) the jet noise," a source said.
Q: What factors went into keeping the stadium capacity to 65,000 instead of the recent erroneous report that it would be a 100,000-seat behemoth?
A: It can't be much bigger than that because they need the parking. Plus they will lose some of the site space because of the flight paths.
Q: How did the talks with the Oakland Raiders begin?
A: Las Vegas Sands Corp. Chairman and CEO Sheldon Adelson and NFL legend Al Davis, longtime managing partner of the Raiders, were friends. Adelson and Mark Davis have remained friends, which led to the conversations about the Raiders becoming tenants in the Las Vegas stadium, which would be built on land owned by UNLV.
Q: What if the NFL refuses to allow the Raiders to move here?
A: Don't be surprised if Adelson plays hardball. He thinks they're a bunch of hypocrites.
Q: What are the chances of the Raiders moving here?
A: If the stadium is built the way we're hearing, it will be among the most deluxe in the world. "They would likely come here," one of the sources said.
Q: Will the team be known as the Nevada Raiders?
A: No. They'll be the Las Vegas Raiders because it represents a combination of two well-recognized brands.
The Review-Journal is owned by a limited liability company controlled by the Adelson family, the majority owners of Las Vegas Sands.
The scene and heard
With all the excitement over local efforts to court the Oakland Raiders, a check with the Department of Motor Vehicles revealed more than 100 variations of Raider license plates. There is R8DUHZ, with the Brooklyn accent of Al Davis, the team's late owner; R8RZROC, R8RNTN (as in Raider Nation), and R8DRFNLV. And, predictably, wherever you find Raider fans there's a R8DRHTR. …
Wednesday's celebration of life for Rene Angelil, the husband and manager of Celine Dion, will be held at 7 p.m in the 4,000-seat Colosseum at Caesars Palace. The event is free to the public but ticketed. Tickets are available only in person at the Colosseum box office, with a limit of four per person. Admission will be first-come, first-served. Doors open at 6:30 p.m. Angelil died Jan. 14.
Media update
Centennial High graduate and golf team member Bailey Mosier has been named to Golf.com's 2016 most beautiful women in golf. Mosier, who works for the Golf Channel, is a co-host on "Morning Drive," played college golf at Old Dominion and earned her master's degree at the Walter Cronkite School of Journalism and Mass Communications at Arizona State University.
On this day
Feb. 2, 2012: Albert Scalleat, co-owner of Dom DeMarco's Pizzeria & Bar in Summerlin, revealed details about a mystery order for a dozen pizzas and 20 cannolis. A curious Scalleat told Vegas Confidential he made the delivery himself to Westin's Element hotel. He figured out it was a major VIP when he spotted men with rifles on a rooftop and helicoptors overhead. After going through layers of "eerie" tight security, Scalleat delivered the order and was told President Barack Obama was a big fan of the pizza brand, which is based in Brooklyn. Sightings
Liz Torres, whom Pia Zadora replaced in "Damn Yankees" on Broadway 40 years ago, joined Zadora on stage at Piero's Lounge on Friday. … Melissa and Joe Gorga of "The Real Housewives of New Jersey" with "Cake Boss" Buddy Valastro and his wife, Lisa, backstage taking photos with the cast of "Jersey Boys" after attending Friday's show at The Venetian. … Dorothy Wang of "Rich Kids of Beverly Hills," celebrating her 28th birthday Friday at 1 OAK nightclub at The Mirage. Joining Wang at Stack restaurant were cast mates EJ Johnson, Morgan Stewart, Brendan Fitzpatrick, Jonny Drubel and Bianca Espada. … Kerry King, guitarist and co-founder of the thrash metal band Slayer, at "Absinthe" on Thursday at Caesars Palace.
The punch line
"According to a new government report, more Americans are living to be 100 years old and older than ever. Which is scary because it means we could have 90 more years of Justin Bieber." — Jimmy Kimmel
— Norm Clarke's column appears Sunday, Monday, Wednesday and Friday. He can be reached at 702-383-0244 or norm@reviewjournal.com. Find more online at www.normclarke.com. On Twitter: @Norm_Clarke.