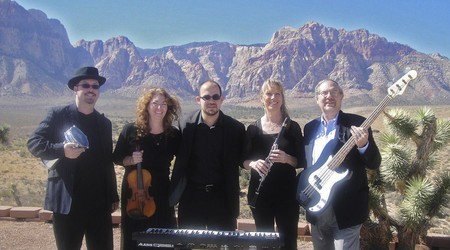 Choose a culture. Select an art form. Pick a concert.
You're now a global connoisseur of the performing arts.
"Las Vegas has become such an international community that you really don't have to go outside Las Vegas to find fabulous artists representing virtually every cultural community on Earth — they are here," says Patrick Gaffey, cultural program specialist for Clark County, about the globe-spanning World Vibration concert series at the Winchester Cultural Center.
"A lot of them are playing in the Cirque shows. They're here for a lot of different reasons."
Following an autumn lineup that included Italian and Mexican folk dancers, a Native American flutist, a Scottish pipe-and-drums ensemble and a Paraguayan harpist, the series opens 2010 with Jewish folk music as the Vegas-based group Meshugginah Klezmorim — that's "Crazy Jazz," more or less — takes the stage Sunday.
"Klezmer has been enormously popular from the moment we put the word out on this concert," Gaffey says.
Rooted primarily in Eastern Europe, klezmer evolved from musicians traveling from village to village to enliven weddings, bar mitzvahs and other special occasions, and the music tagged along when Jewish immigrants arrived in America in the 1800s and early 1900s. Though its popularity eventually waned, klezmer enjoyed a bounce-back in the 1980s, and is also heard at synagogue services.
Reference points? Think "Fiddler on the Roof." Or a robust hora (circle dance) to "Havah Nagilah."
"We're giving a piece of our culture," says violinist Lee Schreiber, a member of the Las Vegas Philharmonic and Nevada Chamber Symphony, who founded Meshugginah Klezmorim. "I'm a classically trained musician, but to me, this was another creative outlet and allowed me to grow as a musician."
Though the traditional music dates back to the Yiddish spoken in Eastern Europe, Klezmorim performs in Hebrew. "Yiddish is a much older dialect and not commonly used that much anymore, usually just the older generation that understands it," says vocalist/keyboardist D.J. Sinai, who is also music director for Temple Beth Sholom. "I have a lot of non-Jewish friends who come to our traditional Friday night services because of the music. Even though they might not understand the words, they understand the music."
Cherished for its expressive melodies, klezmer is noted for sounds that seem to mimic the human voice, especially laughing and weeping. "You'll hear some of that laughing and crying in what the violin does and what the clarinet (does)," Schreiber says.
And klezmer's infectious rhythms are more likely to encourage people to rise and dance than sit and listen. "Most of the music we're doing is music you don't typically sit still for," Sinai says. "It gets the blood flowing and the feet moving."
Adds Schreiber: "It's such a happy sound — we use a lot of minor tonalities, but even with that, it's very upbeat. We're hoping people get up and dance. There's a little space there and the last time we were there, they did get up in the aisles and dance."
Such cultural richness — which continues next month with the African music of Senegalese group Bhoutalow ("Black Scorpion") — has, Gaffey says, found a fan base in town. "We wondered when we started this series how popular it would be, and it's been very popular," he says.
"People know that in every musical tradition around the world there are amazing players. You know you're not going to hear the stuff you've heard a million times on Top 40 radio. You're going to hear different instruments, different musical scales, different ways of approaching sounds."
Which this week is — you should pardon the expression — a bit Meshugginah.
Contact reporter Steve Bornfeld at sbornfeld@ reviewjournal.com or 702-383-0256.
Preview
Meshugginah Klezmorim
2 p.m. Sunday
Winchester Cultural Center, 3130 S. McLeod Drive
$7-$10 (455-7340)