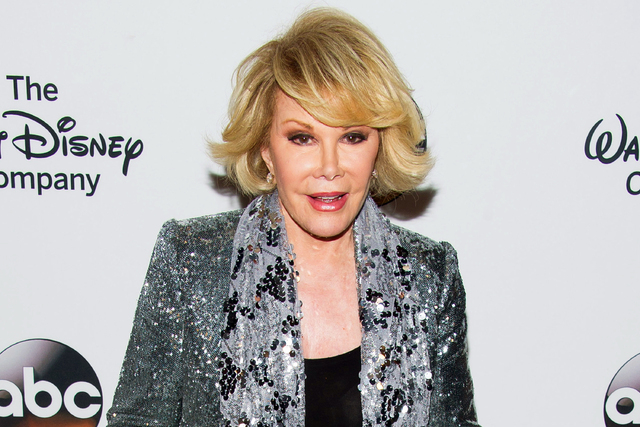 Joan Rivers, the raucous, acid-tongued comedian who crashed the male-dominated realm of late-night talk shows and turned Hollywood red carpets into danger zones for badly dressed celebrities, died Thursday. She was 81.
Rivers was hospitalized last week after she went into cardiac arrest at a Manhattan doctor's office following a routine procedure. Daughter Melissa Rivers said she died at Mount Sinai Hospital in New York, surrounded by family and close friends.
"My mother's greatest joy in life was to make people laugh," Melissa Rivers said. "Although that is difficult to do right now, I know her final wish would be that re return to laughing soon."
Rivers — who made "Can we talk?" a trademark of her routines — never mellowed during her half-century-long career. She had insults ready for all races, genders and creeds. She moved from longtime targets such as the weight problems of Elizabeth Taylor, of whom she said "her favorite food is seconds," to newer foes such as Miley Cyrus, and continued to appear on stage and on TV into her 80s.
Comedy was not only her calling, but her therapy, as she turned her life inside out for laughs, mocking everything from her proclaimed lack of sex appeal ("My best birth control now is just to leave the lights on") to even her own mortality.
"I have never wanted to be a day less than I am," she insisted in a 2013 interview with The Associated Press. "People say, 'I wish I were 30 again.' Nahhh! I'm very happy HERE. It's great. It gets better and better. And then, of course, we die," she quipped.
With her red-carpet query "Who are you wearing?", the raspy-voiced blonde with the brash New York accent also helped patent pre-awards commentary — and the snarky criticism that often accompanies it, like cracking that Adele's Grammy wardrobe made the singer look like she was sitting on a teapot. Rivers slammed actors at the Oscars, Emmys and Golden Globes for E! Entertainment. In 2007, Rivers and her partner-in-slime, daughter Melissa, were dropped by their new employer, the TV Guide Channel, and replaced by actress Lisa Rinna. But they found new success on E! with "Fashion Police," which Rivers hosted and her daughter produced.
No performer worked harder, was more resilient or tenacious. She never stopped writing, testing and fine-tuning her jokes.
"The trouble with me is, I make jokes too often," she told the AP in 2013, just days after the death of her older sister. "I was making jokes yesterday at the funeral home. That's how I get through life. Life is SO difficult — everybody's been through something! But you laugh at it, it becomes smaller."
She had faced true crisis in the mid-1980s. Edgar Rosenberg, her husband of 23 years, committed suicide in 1987 after she was fired from her Fox talk show, which he produced. The show's failure was a major factor, Rivers said. Rosenberg's suicide also temporarily derailed her career.
Rivers had originally entered show business with the dream of being an actress, but comedy was a way to pay the bills while she auditioned for dramatic roles. "Somebody said, 'You can make six dollars standing up in a club,'" she told the AP, "and I said, 'Here I go!' It was better than typing all day."
In the early 1960s, comedy was a man's game and the only women comics she could look to were Totie Fields and Phyllis Diller. But she worked her way up from local clubs in New York until, in 1965, she landed her big break on "The Tonight Show" after numerous rejections. "God, you're funny. You're going to be a star," host Johnny Carson told her after she had rocked the audience with laughter.
Her nightclub career prospered and by late that year she had recorded her first comedy album, "Joan Rivers Presents Mr. Phyllis and Other Funny Stories." Her personal life picked up as well: She met British producer Rosenberg and they married after a four-day courtship.
Rivers hosted a morning talk show on NBC in 1968 and, the next year, made her Las Vegas debut with female comedians still a relative rarity.
If Rivers had essentially two careers, Las Vegas figured prominently in both of them.
Rivers' groundbreaking work as a female comedian on the Strip spanned about 40 years and included the taping of a cable TV special "Joan Rivers and Friends Salute Heidi Abromowitz" at Caesars Palace in 1985.
Yet by 2004, Rivers said her new fans "had never heard of Heidi Abromowitz" (the sex-addicted creation of Rivers' best-selling book) or even knew she was once Johnny Carson's permanent "Tonight Show" guest host from 1983 through 1986.
"Those people are dead. That's the '80s," she said while performing at The Venetian. "The ones who come (now) are the fans from the red carpet and from E! (cable channel). It's a very young, hip crowd. I find that hilarious. They couldn't care less."
Forgotten or not, Rivers' Las Vegas history went back to at least 1972 — her Caesars Palace debut as Paul Anka's opening act — and continued into 2012, when she was a periodic performer at the Venetian.
Phyllis Diller and Totie Fields had both crashed the Vegas comedy men's club before her, but Rivers was the first to do it in high style.
"I was the first one that said, `Try to look good' " instead of dressing for laughs, she said in 2004.
Rivers was a Caesars Palace headliner, co-billed with the likes of the Smothers Brothers, Garry Shandling and Ben Vereen, from 1983 through 1991.
Before that, her Las Vegas work took her to showrooms including the Riviera, Frontier, MGM Grand, Sands and Desert Inn.
In 1978, she explained that she actually preferred to be double-billed as a co-headliner. "My theory is that if you don't headline, they can't get tired of you."
In 1986, Rivers filed suit to stop female impersonator Frank Marino from performing as her in the Riviera's "An Evening at La Cage," citing copyright infringement of her jokes and story material.
Marino eventually agreed to use his own jokes instead of lifting her material verbatim and the two went on to become friends. He still performs as Rivers in "Divas Las Vegas" at The Quad.
"I can't picture Joan Rivers not being in the world anymore," Marino said Tuesday, when Rivers was still on life support. "You can imagine for the last 30 years, her name comes up in my household every day and I perform as her every single night. It's a weird feeling. This is going to sound stupid, but it's like losing a mother."
Marino said Rivers later told him the litigation against him was pursued by her husband-manager Edgar Rosenberg (who died in 1987). Rivers performed at Caesars Palace several times a year, and the Riviera was a more significant competitor in the 1980s, when there were fewer resorts on the Strip.
"She's done things for me that she didn't have to do that were very helpful," Marino said, such has having him on her late-night and daytime TV talk shows. "I don't even think she knew how much of my life she is."
During the period when Rivers was on life support, Marino said he altered his opening monologue in "Divas" to acknowledge the situation, and to say "Tonight, instead of just doing an impersonation I'm going to do a tribute."
In 1978, she wrote, directed and co-starred in the movie "Rabbit Test." It had an intriguing premise — Billy Crystal as a man who gets pregnant — but was poorly received. In 1983, though, she scored a coup when she was named permanent guest host for Carson on "Tonight."
Although she drew good ratings, NBC hesitated in renewing her contract three years later. Fledgling network Fox jumped in with an offer of her own late-night show.
She launched "The Late Show Starring Joan Rivers" on Fox in 1986, but the venture lasted just a season and came at a heavy price: Carson cut ties with her when she surprised him by becoming a competitor.
It took two years to get her career going again, and then she didn't stop. Rivers appeared at clubs and on TV shows including "Hollywood Squares." She appeared on Broadway and released more comedy albums and books, most recently "Diary of a Mad Diva."
Rivers once joked that there was not "one female comic who was beautiful as a little girl." She was born Joan Molinsky in Brooklyn to Russian immigrants Meyer Molinsky, a doctor, and Beatrice. Rivers had a privileged upbringing but struggled with weight — she was a self-proclaimed "fatty" as a child — and recalled using make-believe as an escape. After graduating from Barnard College in 1954, she went to work as a department store fashion coordinator before she turned to comedy clubs. She had a six-month marriage to Jimmy Sanger.
In recent years, Rivers was a familiar face on TV shopping channel QVC, hawking her line of jewelry, and won the reality show "Celebrity Apprentice" by beating out her bitter adversary, poker champ Annie Duke. In 2010, she was featured in the documentary "Joan Rivers: A Piece of Work."
She never let age, or anything, make her sentimental. Earlier in 2014, she got inked: a half-inch-tall tattoo, "6M," on the inside of her arm representing 6 million Jews killed in the Nazi Holocaust. In 2013, she brashly pledged to work "forever."
"You never relax and say, 'Well, here I am!'" she declared. "You always think, 'Is this gonna be OK?' I have never taken anything for granted."
Survivors include daughter Melissa and a grandson, Edgar.
Review-Journal writer Mike Weatherford contributed to this report.
Rita Rudner says Joan Rivers was warm, generous
"It's a sad day for a lot of people who admired her as much as I did," said Rita Rudner, a Las Vegas headliner who cites Rivers and Phyllis Diller as her primary stand-up comedy influences.
"I admired her tremendously because of her diversity. She really turned herself into a global force," added Rudner, who also broke ground as a year-round female stand-up on the Strip in the 2000s.
When the two both worked the same theater at The Venetian, "she would always bring a box of stuff for the people backstage. She was just a generous, kind person, very warm-hearted."