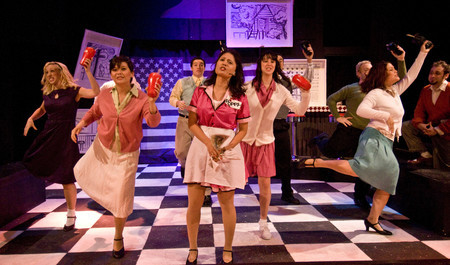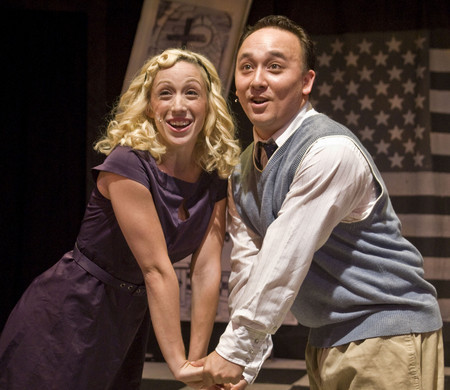 "Creeping like a communist, it's knocking at our doors! Turning all our children into hooligans and whores! Voraciously devouring the way things are today! Savagely deflowering the good 'ol USA!"
— "Reefer Madness"
Smoke this musical.
Puff on the score. Take a long, deep drag on the characters. Get a hit off the pot … make that plot.
Don't forget to visit the concession stand. Surely you've got the munchies.
"We're not telling people to run out of the theater and smoke a joint," says "Reefer Madness" co-star Amanda Kraft. "But it would be nice if it opened their eyes a little bit."
Or their nostrils?
"Reefer Madness: The Musical" — a campy, kitschy, bizarro blowout spoofing the unintentionally hilarious 1936 propaganda film that demonized the demon weed and decades later became a cult fave of college students and the midnight moviegoing crowd — wafts into the College of Southern Nevada's BackStage Theatre tonight. The three-weekend run is staged with all-out relish by the Atlas Theatre Ensemble.
"We've been trying to advertise it and we've gone to certain businesses and some embrace it and some say, 'No, we don't want anything to do with it,' " says director Chris Mayse. "And these are tobacco and pipe stores that you think would say, 'I'm going to support this because it's my clientele.' But they don't want their name associated with something that might propagate that pot is good, though that's not what the story is."
"Stealthy as a socialist, it slithers up our shores! Turning all our children into hooligans and whores! The smoking bowl of evil bears the choking stench of sin! It burrows like a weevil under tender Christian skin!"
The wacky 2001 tunefest that debuted in New York's pot-perfumed, bohemian headquarters of Greenwich Village with choreography by (no kidding) Paula Abdul is the tale of apple-cheeked Jimmy (Drew Yonemori) and Mary (Kraft). Paragons of purity who hold hands, sip cocoa and think chaste thoughts, they're blissfully innocent until Jimmy succumbs to the evils of the Reefer Den. He sasses his parents. He attempts to tongue-smooch a stunned Mary. His druggy descent gets even steeper as Jimmy wallows in a hallucinatory hell of perverse sex, fire eaters, belly dancers and a scary satyr. Cue a hepcat Jesus, who appears — mic in hand, in a Vegas-style production number — with a ring-a-ding-ding reminder that he's risking his eternal soul.
Much more madness ensues — including nods to Buddha, Beelzebub, sodomy, the Bill of Rights and a cameo by President Franklin D. Roosevelt — accompanied by songs such as "The Orgy," "Listen to Jesus, Jimmy," "Mary Jane/Mary Lane" and "The Brownie Song."
"It's absurdity over absurdity and we push it so far past the limit that it becomes ludicrous," Yonemori says. "There's very few leading-man roles that fit my personality. In the beginning, (Jimmy) is very naive, boy-next-door, and I've been that. Then he smokes the marijuana and goes flippin' crazy and gets real wild and sexual and hey, I've been there too."
You wish to add something, Drew? "I have since stopped my wild-child days. We all have to grow up sometime."
Thanks for clarifying.
"Deadly as the Democrats that empty out our stores! Turning all our children into hooligans and whores! Teenagers across the land are glazed and oversexed! If you fail to draw the line, your babies will be next!"
Mayse, however, explains that for all the apparent ridicule of reefer fears as the herb from hell, "Reefer Madness" is more than mere mockery. "I don't try to moralize," Mayse says. "The theme of the show is truth: What is it, how do we figure out what is or isn't and what's good or bad for us? It presents the silliness, but also the chaos. People die as a result of being high in this play and relationships are damaged. That's true of anything because people make choices."
Adds Kraft: "We're not trying to bash anyone who is very much against smoking pot. We're not trying to tell them they're wrong or tell them they're stupid."
High on enthusiasm — the natural kind, not the chemically induced kind, we should emphasize — Kraft's finally landed the lead in a play she's long adored. "I saw the original and fell in love with it," she says. "Cult classics are dear to my heart. When I heard about it being staged here, I had to clear my schedule. It's the first time anyone will have seen it in Las Vegas, so I'm honored to be the person to originate the role here."
C'mon, tell us the truth: At the closing night cast party, will you folks be passing around … you know?
"I can't tell you that! You can't put that in the paper!" Kraft giggles. "Let's just say that there's no 'research' being done for this show at all."
"Tell your children! Fight the menace! Kill the devil! Save the country! Madness! Madness! Madness! Madness!"
Relax, you revilers of reefer. Not a funny cig in sight. Merely a musical to demonstrate their devotion to theater and appreciation of your patronage.
A toke of affection.
Contact reporter Steve Bornfeld at sbornfeld@ reviewjournal.com or 702-383-0256.
Preview
"Reefer Madness: The Musical"
7:30 p.m. today and Saturday; 2 p.m. Sunday (through Oct. 4)
BackStage Theatre, College of Southern Nevada, 3200 E. Cheyenne Ave.
$12-$15 (651-5483)