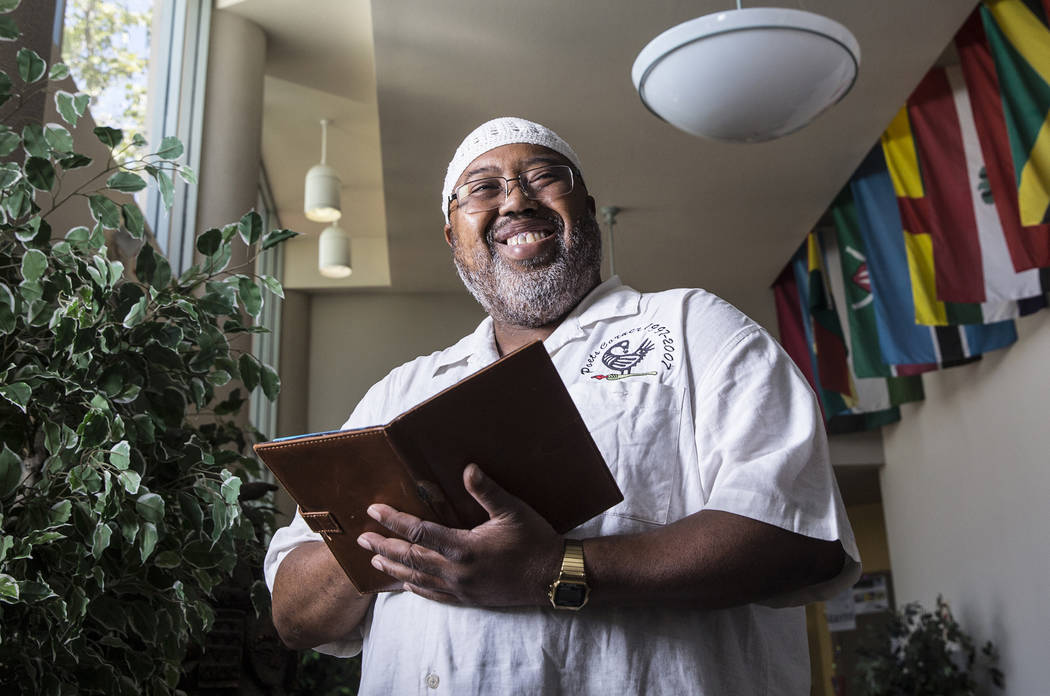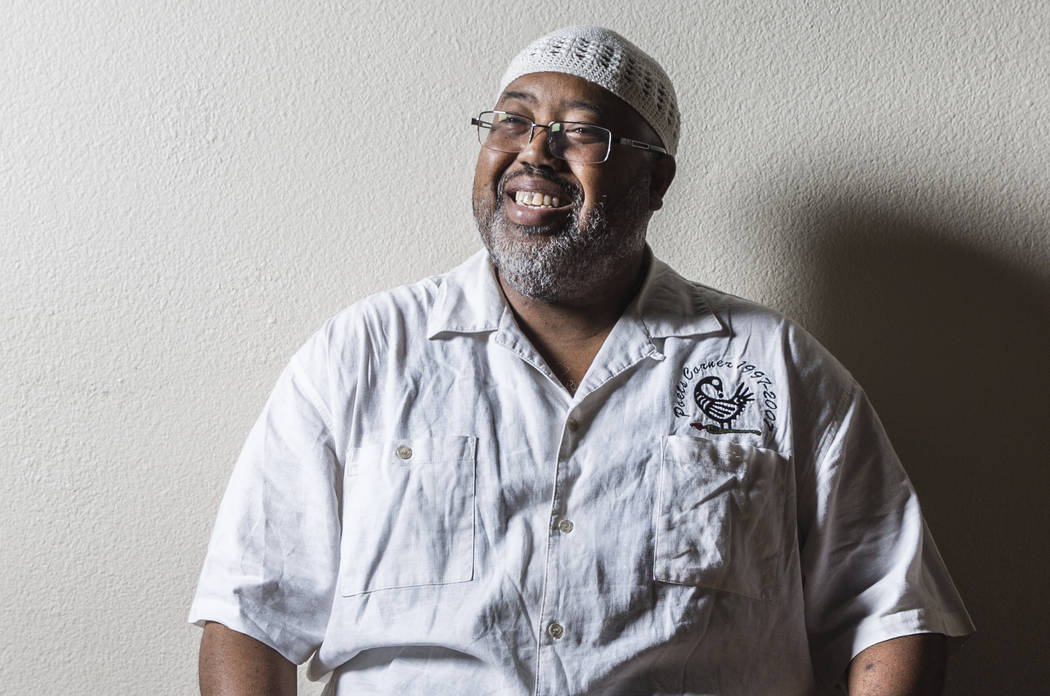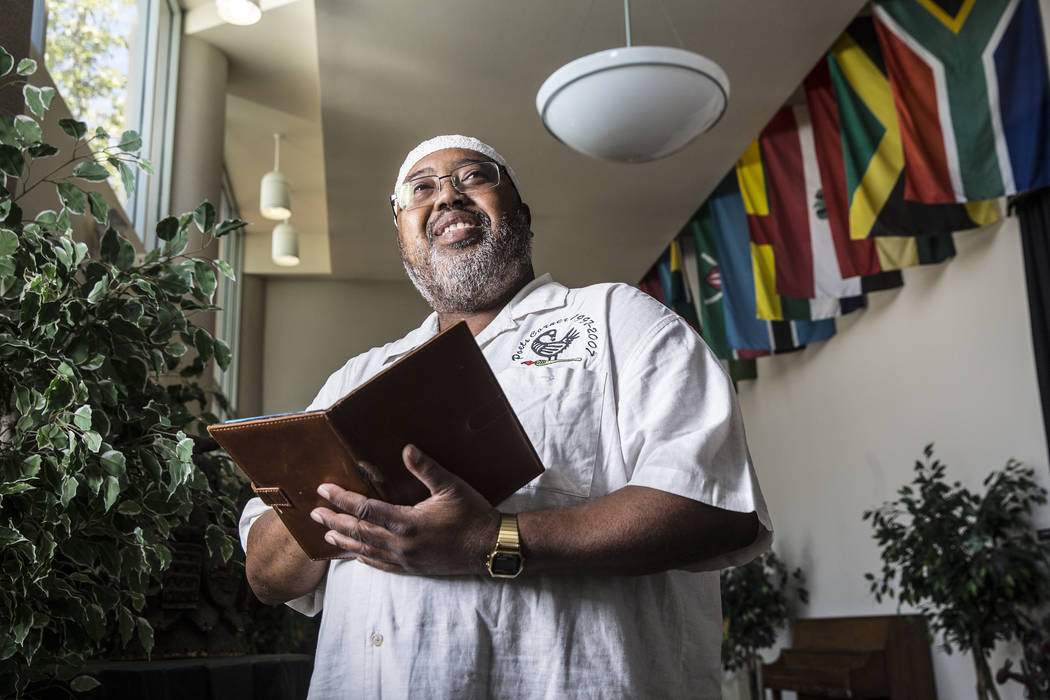 Vegas Voices is a weekly series highlighting notable Las Vegans.
For 20 years, Keith Brantley has hosted The Poets' Corner, the monthly open-mic reading at West Las Vegas Arts Center.
Over those two decades, Brantley has seen the popularity of poetry here ebb and flow. He's met legions of poets and poets-to-be. He's listened to some good poems — and maybe some not-so-good ones — and has heard area poets apply their literary talents to every subject imaginable.
On Friday, Brantley will host his final session of The Poets' Corner (which runs from 7:30 to 9:30 p.m. at the West Las Vegas Arts Center, 947 W. Lake Mead Blvd.). On Aug. 18, poet LaBlaque Williams will take over the hosting gig, even if Brantley says he'll "most definitely" stop by occasionally to read his own work.
Brantley, 56, moved to Las Vegas from Arkansas when he was just a year old and spent his early childhood years living in apartments just down the street from the West Las Vegas Arts Center.
He wasn't a particularly word-obsessed kid during his early school days. "I was in fifth grade before I even realized I could read," he says. "I could, but didn't know I could. I was nervous every time testing came around."
In 1997, Brantley and a few colleagues used a grant to fund what they expected to be a one-off celebration of poetry. The session went so well that several more events followed, eventually morphing into the monthly Poets' Corner readings.
Under Brantley, Poets' Corner has become known as a true open-mic reading where poets could say just about anything they wanted as long as they were willing to accept responsibility for their words. It also developed a reputation as a welcoming space where where everybody had their chance at the mic.
Review-Journal: Why are you stepping down now, after 20 years?
Brantley: It's a nice, round number, and I was to the point where I've done just about everything I set out to do.
Did you expect Poets' Corner to take off so quickly or to last so long?
No, I really didn't. It was shocking. We did this 10-year anniversary and, oh man, people came from everywhere, and folks who had been around back in the day decided to come back. It was not showing any signs of going away. We've had our ups and downs, and because of Poets' Corner a lot of other venues opened, which was my goal in the first place.
Was there ever any competition with readings at other venues?
There was a time early on where almost every night of the week there was someplace to go. Some people had their own venues, and they showed me a lot of respect, the other poets. I have to say that, because people would actually fashion their own events around the Poets' Corner. They'd say, "We're going to go every Friday night except for the third Friday." It was humbling for me.
You're a poet, but also a fan of poetry. That's probably helped.
There are so many poets out there who are different from my way of doing things or my style of doing things, but I'm a fan. So I can come out and relate to a piece that's talking about something that's not relative to my life. But when you're good, the emotion comes through and people understand it.
How did you discover poetry?
I hated the poetry they were teaching us in school in the seventh grade. (The teacher) made us learn "Buffalo Bill" (by e.e. cummings): … "and what I want to know is how do you like your blue-eyed boy Mister Death." There's no reason for a seventh-grader to know that (laughs). But it was about the same time, after I knew that wasn't for me, that I got a chance to hear Gil Scott-Heron. Some radio DJ played "We Beg Your Pardon" and I was, like, 'Oh, you could say that?" So I learned that you could knock down all of the inhibitions.
Is that when you started writing poetry?
I started writing, and I went to read to my mom, and she said. "This is terrible. You should never do this again." (Laughs) She was like, "Oh stop." But I was learning, and everything was a forced rhyme, and I was terrible. That wasn't exactly the encouragement I needed, but I really was terrible. But I got better.
Did Poets' Corner regulars typically read only at Poets' Corner, or would they they make the rounds of other readings in town, too?
Some only came to Poets' Corner because they'd been asked to leave other places. One thing about Poets' Corner is that this is, I dare say, the only true open mic in the whole city, because regardless of what you've said or what type of filth or nonsense came out of your mouth, I would not censor you. So poets are free to say whatever they want to say here.
Have the themes that the Poets' Corner poets write about changed much over 20 years?
What I find is, it gives a lot of people the chance to talk about themselves, so you'd find people doing poems about the guy or girl who broke my heart. It's like, oh, man, isn't your heart gone by now? (Laughs) How can you get your heart broken that many times? There are no pieces.
Contact John Przybys at reviewjournal.com. or 702-383-0280. Follow @JJPrzybys on Twitter.
Q&A
Currently obsessed with …
Netflix. Just finding stuff and putting it on. Netflix in general, not just a particular show.
Ringtone
I've got different ringtones for different people. My wife (Kim) is "Places and Spaces" by Donald Byrd. That's the one I get the most.
Place you always take visitors
I don't take visitors, but my wife takes them to Red Rock, every time.
Favorite musical artist
My favorite artist is Miles Davis, most definitely. I like how innovative he was and how he was able to move with the times.
Most recent music download
Ghostface Killah, "Daytona 500."
Favorite indulgence
Believe it or not, my favorite indulgence is just being alone and thinking. You'd be surprised how often you don't get to do that.
Every-day ritual
Every morning when I wake up, I pray.
Favorite vacation destination
I don't have a favorite, but I'm going to Ghana. I went to Morocco in '09 and Panama in '08. I get a chance to get out of the country every now and again.
Hobbies
Recording music and writing.
Favorite sport and team
Sport is basketball, team is the Lakers.
Favorite book
"The Autobiography of Malcolm X," only because it brought so many other people into consciousness, more so than just me enjoying it so much. When you ask about what book changed lives, more black people will tell you that book more than any other.
Favorite movie
My favorite movie is (Mel Brooks') "History of the World, Part I." It's not very intellectual, but that is the funniest movie ever made, to me.
Piece of art that truly moved you
A piece by Charles Bibbs called "The Guardian." My wife and I have it at home and it's one of those things where we just look at it and, 'Yeah.'
Food you could eat every day
Believe it or not, lasagna. I could eat lasagna every day.
I never leave the house without …
I always tuck a pen in the collar of my shirt.
Where would you live if not in Vegas?
If not Vegas, I'd live in Marrakesh (Morocco). I never felt like I felt when I went there (in 2009). That was probably just the most relaxed and carefree. I'm walking down the street and I'm not worried about anything or anybody looking at me funny.