Kevin James juggles acting, stand-up in Las Vegas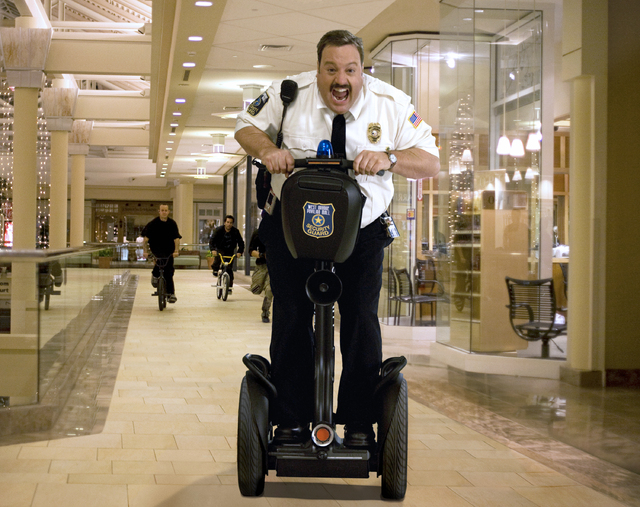 Kevin James says he won't be confused for a member of the Rat Pack. But he is a veteran Las Vegas headliner getting at least a one-day taste of the "Ocean's Eleven" legend, working a showroom by night and a movie set by day.
As "Paul Blart: Mall Cop 2" continues to film through June at Wynn Las Vegas, James will cross the street Saturday to do stand-up at The Mirage, as he has for more than 10 years.
The Rat Pack created a Vegas legend filming the 1960 "Ocean's" while playing the Sands showroom. "Believe me, if there was a way to do that, I would do stand-up every night at the Wynn," he says.
"I would love it if I wasn't so tired."
The 49-year-old James says the realities of modern-day Las Vegas mean working around a casino's needs. "We keep shifting back and forth" between days and nights, he says.
"They only have certain hours where you're not (intruding) on the clientele. … You don't want to bother anybody there. It's like certain times we can shoot, and when you do that, it's tough."
Still, the "Mall Cop" sequel is the first feature ever approved to film extensively at the Wynn. Once James and co-writer Nick Bakay decided to set the sequel in Las Vegas they decided, "That's the golden ring, grabbing the Wynn if we could."
If Wynn didn't want the movie, then sequences such as one that utilizes the swimming-pool stage of "Le Reve" might have been retrofitted to another casino's show, he explained.
"But as we toured the Wynn and looked at it, we were like, 'This is just so perfect in every way.' We were hoping they would say yes and finally they did, which is great.
"Steve Wynn is very particular in what he wanted (but) for some reason he liked us," he adds. "There's a broad audience we can bring in, not necessarily your typically Vegas audience, but it's going to be a big fun movie there," and "we cover every inch of (the property)."
The first "Mall Cop" surprised the film industry, grossing more than $146 million on a budget of $26 million. In that light, it's a wonder that it took five years for James to bring back the lovable schlub on a Segway.
"Sequels are weird," he agrees. "If you wait too long, then people just completely forget about the whole thing and don't even remember it, or care about it anymore." But on the other hand, "you don't want to do it too soon."
Beyond the timing of everyone's schedules, James says "we felt like all the pieces came together" with the idea of Blart and his daughter Maya attending the Security Officers Trade Association convention in Las Vegas.
James got more excited about that plot than an early plan to basically reprise the first movie on larger scale, having Blart take a job at Minnesota's Mall of America. "It was important to me to not do an exact do-over," he says. "The character's in a different light, which you want to see in a situation."
If James isn't yet synonymous with Las Vegas, it's not for lack of employment here. He remembers playing comedy clubs at the Riviera and Tropicana as early as 1992, before his "King of Queens" sitcom took off in 1998.
The CBS hit lasted 207 episodes, running until 2007. "It's kind of taken on a life of its own," he says. Young people who were too young for the original airings "are finding it now" in syndication. "I think we're more popular now than we ever were."
When James comes across an episode by channel surfing, "I try to guess what season it is by how fat I am," he says. He also tries to "guess the next line that I'm saying to see if I still remember it, or where it's going. Some of these episodes I completely forget."
Last weekend, James got out of Las Vegas long enough to take part in a Los Angeles table read for his next movie, "Pixels," a sci-fi adventure due next May that reteams him with "Grown Ups" co-star Adam Sandler.
Before the Blart sequel, a long lull between movie projects gave him time to recommit to his stand-up comedy.
"I've always loved it. It's really where I started, and it's something I've never really gotten out of my system," he says. "I don't like it when I'm not prepared and I don't have enough time to write new material, but fortunately I've been able to get some time set aside. It's a fun outlet for me. I hope to always do it, honestly.
"It's not like I sit down and write a whole new act every year to get a whole new hour," he adds. "It's really hard to do that, especially when you don't have the time. But if you start compiling little chunks of material and working them in there, you look back after four or five years and you get a nice little extra half-hour."
Contact reporter Mike Weatherford at mweatherford@reviewjournal.com or 702-383-0288.
Preview
Kevin James
8 p.m. Saturday
Terry Fator Theatre at The Mirage, 3400 Las Vegas Blvd. South
$82.44-$115.44 (702-792-7777)