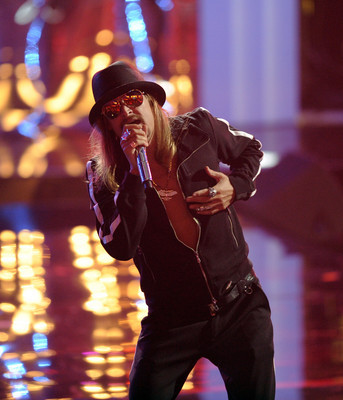 He compares himself to Jesus — you know, if Christ considered Budweiser a sacrament.
Hey, Kid Rock has never been known for his social graces — this is a dude who still gets in fights in waffle houses and pens tunes like "Wax the Booty."
But like white-trash wallpaper, he just keeps hangin' around.
The son of a car salesman, Rock is the ultimate rock 'n' roll huckster, a jack of all trades who's had one career rebirth after the next.
His latest comes in the form of "All Summer Long," a breezy mash-up of Warren Zevon's "Werewolves of London" and Lynyrd Skynyrd's "Sweet Home Alabama" that's become Rock's biggest hit yet.
The song is the third single from Rock's latest disc, "Rock and Roll Jesus," an album that had begun to languish on the charts and was in danger of becoming one of Rock's least successful major label efforts before springing back to life.
Now, Rock is as hot as he's ever been — of course, we're talking about his career, not his appearance, as the dude looks like he should be working at the nearest Jiffy Lube.
As for the sudden success of "Rock and Roll Jesus"?
Well, we can only say one thing: Holy crap.
See Kid Rock at 8 p.m. Saturday at The Pearl at the Palms, 4321 W. Flamingo Road. Tickets are $100, $150 and $200; call 942-7777.
He used to be known as Common Sense, and as such, he filled a void from the onset in hip-hop, which suffers from scrambled brains every now and then — how else can you explain the success of the Ying Yang Twins and Pretty Ricky other than a steady diet of paint chips?
These days, he's just known as Common, though his handle doesn't really do him much justice: For well over a decade now, Common's been one of the smoothest, most eloquent wordsmiths on the mic, a savvy, socially aware MC who inhabits his tunes like a Method actor trying to nail his role.
His albums have been all over the place — in a good way. Recent years have given us the Day-Glo, rock 'n' soul hybrid of "Electric Circus," the return-to-roots realism of "Be" and the more sober, searching "Finding Forever."
Live, he's a commanding presence, a man who thankfully seldom lives up to his name.
See Common at 9 p.m. Sunday at the House of Blues at Mandalay Bay, 3950 Las Vegas Blvd. South. Tickets are $45-$65; call 632-7600.
To be known as a hard-drinking band within the 100-proof heavy metal ranks is kind of like a porn star developing a reputation for promiscuity: You gotta work really hard at that one.
And so it is with Finnish wild boys Children of Bodom, a band whose members assault their livers with just as much force as they do their audience's eardrums.
Fronted by shredder Alexi Laiho, one of the fastest guitar players alive, the band blends heart-palpitating thrash with crazy-eyed keyboard runs in a mad rush of sound.
Belly up to the bar, and enjoy a cold, refreshing punch to the windpipe.
See Children of Bodom at 6 p.m. Saturday at the House of Blues. Tickets are $27.50 in advance and $30 day of show. Call 632-7600.
Contact reporter Jason Bracelin at jbracelin@reviewjournal.com or 702-383-0476.