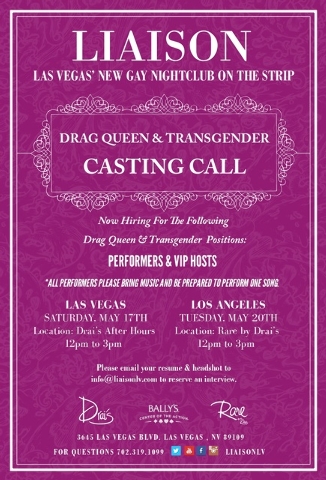 Vegas is getting a new gay nightclub, as created by Victor Drai, whose old Drai's nightclub on the Strip wouldn't even open its nightly doors until the wild-middle morning, so you can imagine how slurry blurry Drai's has seemed to many.
But I digress. This new Drai's Liaison is doing "casting calls" for employees in Las Vegas and in Los Angeles.
This may be the first gay club inside a Strip hotel, Bally's. That's one pitch the club is making. However, there is more to that story: Krave was attached to Planet Hollywood on the Strip already.
However, you'll be able to enter Drai's Liaison from the casino floor after opening in summer, whereas Krave was in that weird Planet Hollywood space that required entering from the outside side door — a relic entrance created stupidly by the old Aladdin hotel long before Planet Hollywood and Krave came along. (Blue Note jazz club died there once.)
Krave, the self-described only LGBT club on the Strip, is now located across the street from Monte Carlo.
Drai's format: "hip-hop, rap, top 40 and a drag night," the club's announcement says.
Caesars Palace owns Bally's and deserves credit for continually reaching out to LGBT people. The Strip is finally awakened to, at the very least, $200 billion of LGBT global travel dollars annually, since the Tropicana has a new LGBT dayclub, and Luxor is reopening its gay dayclub for the season.
But it's not all about the money, to be honest. There are powerful LGBT executives on the Strip, and Las Vegas really does have a generally friendly atmosphere for all.
Whatever you've heard about Drai's nightclub aura, he has a track record of club success, and he is helping to expand Caesars' outreach to LGBT tourists and locals who have traditionally been taken for granted or ignored.