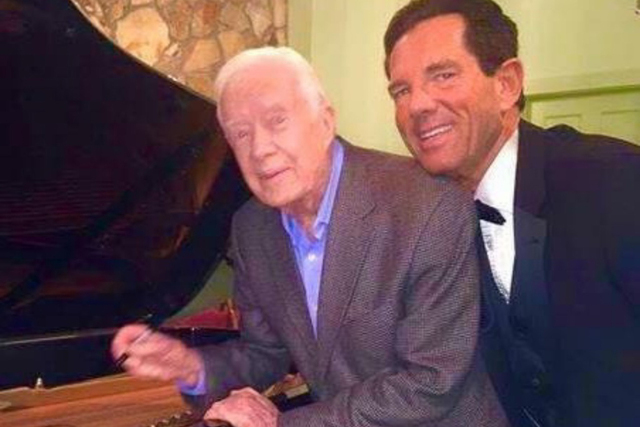 David Osborne grew up hearing kids making fun of his "crippled" father, so when Donald Trump mocked body movements of a disabled reporter, Osborne felt it like a punch to the gut.
"I found myself watching the early days of Trump thinking, 'It looks like this guy is having fun,'" Osborne said.
"But when I saw this handicap mocking," he added, "I haven't been able to take it out of my mind."
Osborne's statement makes him one of a few Vegas performers talking publicly about the election in this go-along-to-get-along town.
The Rio's Penn Jillette has a Hillary Clinton bumper sticker on his car, but he's rooting for libertarian Gary Johnson and has a sharp distaste for Trump. Caesars Palace's Matt Goss has sung for Clinton events. The Mirage's Terry Fator endorsed Trump.
Osborne — the Steinway pianist tens of thousands of Bellagio hotel visitors see every week next to the lobby — doesn't want to upset his many Republican friends by speaking from the heart.
But he can't get that disturbing image out of his head of Trump doing a ridiculing impression of New York Times reporter Serge F. Kovaleski (who suffers from the congenital joint contractures of arthrogryposis) at a rally in November.
"It nailed me to the wall," he said.
Osborne's dad, Bud Osborne, walked with one leg shorter than the other, while living with osteomyelitis, a rare bone infection, in his beloved Oklahoma.
Osborne has performed many nonpartisan public and private shows for Presidents Jimmy Carter, George H.W. and George W. Bush, Bill Clinton and Barack Obama.
On Oct. 1, Osborne will perform at Carter's 92nd birthday at the First Baptist Church in Americus, Georgia, and Osborne signed up Miss America 2016 Betty Cantrell to sing "Georgia On My Mind." Vegas ventriloquist Steve Kader might go along to the party, too.
What has Carter told Osborne about Trump?
"He believes in all his heart that Trump violates the moral and ethical standards on which the United States was founded. He said he (Trump) has tapped into this ugly" baseof support, Osborne said.
Meanwhile, Carter has beat cancer, which was metastasizing in his brain, he said.
"He has no cancer. He's got God on his side, apparently. He's the real deal. He lives his Christianity. He doesn't just talk about it," Osborne said. "Right after we get done (with the party), he's going to build houses for Habitat for Humanity."
And when the time comes for Osborne to stand in the voting booth, he'll think of his "crippled" dad, and how Trump doesn't appear to think, "There but for the grace of God go I."
'MINDFREAK' STAR 'FREAKED OUT' ON PLANE
Luxor illusionist Criss Angel tweeted last weekend, "we thought we were going to die" in the sky when a private plane he was on "filled up with smoke, there was something that exploded or went off."
Thought we were going to die…. Thank God on the ground in Barstow… #emergencyLanding pic.twitter.com/tH1H6TBipn

— Criss Angel (@CrissAngel) September 16, 2016
Angel and his son are fine. The plane made an emergency landing in California.
"Freaked out," the "Mindfreak" star tweeted.
Freaked out…Couldn't drive back in time to make #MindfreakLIVE cause it's 4 hrs away. So getting on another planepic.twitter.com/OL7i56gm2w

— Criss Angel (@CrissAngel) September 16, 2016
Cirrus Aviation Services says in a statement the Beechjet 400A crew were trying to "debug a minor, but potential pressurization issue," so they switched into "emergency pressurization mode," causing a "very loud pop as the valves switch from one mode to another and then very hot air is routed into the cabin. The air can smell like and give the perception of smoke although it is not."
Also in emergency mode, highly compressed "bleed air" from the engine can bypass an air-cycle machine, and that air in a small space feels hot, the statement said.
"We absolutely recognize how frightening any in-flight situation can be and we apologize for this situation," the Cirrus statement reads.
But Cirrus says the crew's reaction to err on the side of caution "only further reaffirms the exceptional training, experience and commitment to our clients when any unexpected circumstances present themselves."
Another Cirrus plane took Angel onward, and the original plane followed that plane after passing "all inspections," Cirrus says.
SIGHTINGS
Chris Evans ("Captain America") and girlfriend/actress Jenny Slate spent the weekend at Nobu Hotel at Caesars Palace, although when it came time to take a photo, it was just Evans and Caesars' Joe Louis statue.
HOME TWEET VEGAS
HGTV star @ChipperGaines: "Why can't the #vegas motto apply to all places? Id like what happens in the bathtub, to stay in the bathtub, right. Same goes for Taco Bell."
Why can't the #vegas motto apply to all places? Id like what happens in the bathtub, to stay in the bathtub, right. Same goes for Taco Bell.

— Chip Gaines (@chippergaines) September 21, 2016
Doug Elfman can be reached at delfman@reviewjournal.com. He blogs at reviewjournal.com/elfman. On Twitter: @VegasAnonymous