Las Vegas shows that turned out to be disappointments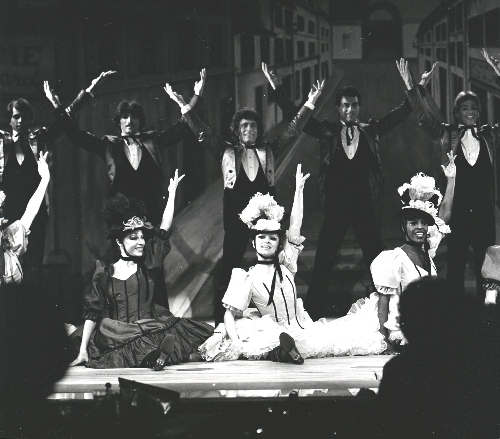 What bombs in Vegas stays in Vegas — often for a year or more.
And that makes a bomb more difficult to sniff out here than it is on Broadway, where ticket-buyers rule after producers raise enough money just to get a show through previews.
Strip shows are less vulnerable to poison-pen reviews on opening night. Theater spaces are frequently negotiated for set periods, making it more tempting for producers to dig in and see if their show will catch on. And the city's ticketing infrastructure doesn't live and die on fully paid seats; everything from casino comps to room-and-show packages are part of the mix.
Nevertheless, we managed to compile a list of some of the biggest disappointments, and shortest-running shows, to hit the valley since the heyday of the Nevada Test Site.
"Alcazar de Paris"
Desert Inn, May-September 1980
Desert Inn President Burton Cohen spent "big bucks" to import this dance revue from Paris, according to Patrick Courquet, one of its dancers. Six months later, Cohen's investment was involuntarily deported.
The interesting thing was why it didn't work — at least according to Courquet.
"It was a lot of different small stories," Courquet said, describing a situation where unannounced cast members — half French and half American — would perform disconnected sketches with ambiguous story lines.
"There was no act," he said. "It was a little too different for Las Vegas in those days."
At separate points, the waiters got up onstage to dance, and Courquet performed a mime act dressed as a baby.
Is this starting to sound familiar? "Alcazar" failed with the same formula that, 30 years later, now dominates the Las Vegas stage.
"Maybe, yes," Courquet said, "it was a little bit like Cirque du Soleil."
"Europa '68"
New Frontier, September 1967-March 1968
Produced by Alan Lee, "Europa '68" was a variety show starring Karel "The Golden Voice of Prague" Gott and 75 Czech showgirls and dancers — plus 10 Americans because the Czechs wouldn't remove their tops.
According to its former stage manager, Jack Yenchek, "Europa '68" drew about 500 people nightly. Unfortunately, its theater held 1,000.
The desperate addition of a comedian from Romania did not help. The last iron curtain call came after only six months.
"We thought it was going to work because of the uniqueness of the foreignness," Yenchek said.
They were wrong.
Las Vegas Musicians Union President Frank Leone called "Europa '68" "the hydrogen bomb of all time."
"Intensi-T"
V Theater inside Miracle Mile Shops at Planet Hollywood, Dec. 3 and 10, 2009
Mickey "Mixin" Oliver is a respected house-music pioneer. But rockin' the house did not mean that Oliver could fill it. His V Theater show lasted only two performances.
According to David Saxe, who owns the V Theater and most of the shows playing there, "Intensi-T" consisted of 90 minutes of Oliver "smiling and playing a little Casio keyboard with girls dancing around him horribly."
Saxe recalls it as "torture."
"Nebulae: The LifeForce"
The Venetian, June-August 2000
Audiences just said "nyet" to this revue, imported from Russia by way of some alien world where intelligent communication was apparently impossible. Review-Journal critic Mike Weatherford wrote at the time: "The cast of 'Nebulae' cavorts in 'Battlestar Galactica' silver tunics and boots on a fluorescent spaceship set that looks like it was saved from the old Vegas World, dancing to an incessant dance beat and mouthing lyrics such as, 'We'll sail on the ship of love/we'll reach for the stars above.' "
It's also probably worth noting that the two main stars were the producer's wife and her twin sister.
The crash-landing occurred after 51 — mere coincidence, Area 51 aficionados? — poorly attended performances.
"Notre Dame De Paris"
Paris Las Vegas, January-August 2000
Forget "… de Paris." It may have worked with "Lido …" and "Casino …," but it tanked with "Alcazar…" and then this, a "Les Miserables"-style take on the Victor Hugo classic better known to Americans as "Hunchback of Notre Dame."
Although Paris Las Vegas announced an "open-ended" engagement, the closing end arrived seven months in, when the Quasimodo hobbled to the top of the Eiffel Tower and jumped.
"It's a question of perception and erudition," Leone of the Musicians Union said. "The Las Vegas audience was not ready for it. They didn't get it.
"There was a lot of laughing and giggling."
"POINT BREAK LIVE!"
V Theater, Oct. 7-9, 2008
"Point Break Live!" was an unusual concept that re-enacted the cult 1991 surfing movie with an audience member — chosen by applause — in Keanu Reeves' lead role. (Lines were provided on cue cards.)
The play enjoyed extended runs across the country, and has played Los Angeles since 2007.
"I told them it was a funny concept one night a week, but they probably shouldn't do it six," recalled V Theater owner Saxe.
But the producers were adamant, so Saxe put his landlord hat on.
"I said, 'OK, you guys can pay rent,' " Saxe said.
After three poorly attended performances, according to Saxe, the play wiped out.
"Raw Talent Live"
Sahara, Oct. 3, 2008-Jan. 4, 2009
Creator Nicole (ND) Durr spared no expense renovating the Sahara theater, then filling it with talented musicians, singers and dancers and giving them — according to critical consensus at the time — nothing worthwhile to do.
In its dying throes, this concept (whatever it was) was renamed "Raw Talent Fuego." After its death, unbelievably, it was resuscitated and shoehorned into the Rio showroom as an equally expensive and unsuccessful nightclub notion called ND's Fuego (later ND's The Club).
By June 2009, ND stood for "No Dinero" as parent company Viashow Inc. filed for Chapter 7 bankruptcy, owing a reported $1.5 million.
"The Real Deal"
The Venetian, Oct. 21-Dec. 19, 2008
The concept seemed aces: audience members compete in a live poker game with pros onstage. And producer Merv Adelson (no relation to Venetian owner Sheldon Adelson) was obviously expecting a real run for "The Real Deal." He affixed more than 200 expensive touch-screens to the showroom's seats.
Unfortunately for him, the 5:30 p.m. start time repelled conventioneers, according to its former host, comic Vinnie Favorito.
"That was horrible," he recalled.
In addition, it became Adelson v. Adelson in an alleged heads-up over money, Favorito said, causing "The Real Deal" to fold after two months — but not before managing to bluff Favorito and most of its famed pros out of about $30,000 each.
"Sourire"
The Venetian, September-October 2002
"Sourire" is French for "smiling," which is not what the producers of this French revue did when forced to raise the guillotine after about two weeks.
Although it didn't last long enough for the R-J to review, sources at the time said the musical highlight was "E.T." of Steven Spielberg movie fame dancing to "Ben," Michael Jackson's 1972 ode to a rat.
"Storm"
Mandalay Bay, April 2001-July 2002
Kitschy Latin pop production numbers drew only a light drizzle of spectators (reportedly 450 per show) to Mandalay Bay's 1,600-seat showroom at $65 a pop.
"It was supposed to attract a Latino audience, and it may have," Leone of the Musicians Union said. "But it was not universal. It didn't seem to have a theme. It was just a lot of tableaus."
"Storm" was shuttered after only three months and, wisely, replaced by "Mama Mia!" in 2003.
"Tropical Heat"
Rio, August 1991-sometime in 1992
The only thing remotely memorable about this musical — which portrayed a downed pilot falling prey to a pack of wild Amazon women — was an astonishing casting decision made by its producer eight months into its anemic run.
Dennis Levinson hired former "Diff'rent Strokes" star Dana Plato to act for two weeks in 1992 — after her separate arrests for holding up a video store in The Lakes and forging valium prescriptions.
"There's no way 'Entertainment Tonight' would come and do a story about (the show) before," Levinson told the R-J in 1992.
And they didn't when Plato left. In fact, no record can be found of its closing night, and even a Rio spokeswoman, after asking around her hotel, replied that "nobody seems to know about the show."
Entertainment reporter and critic Mike Weatherford contributed to the research and reporting of this story. Contact reporter Corey Levitan at clevitan@review journal.com or 702-383-0456.