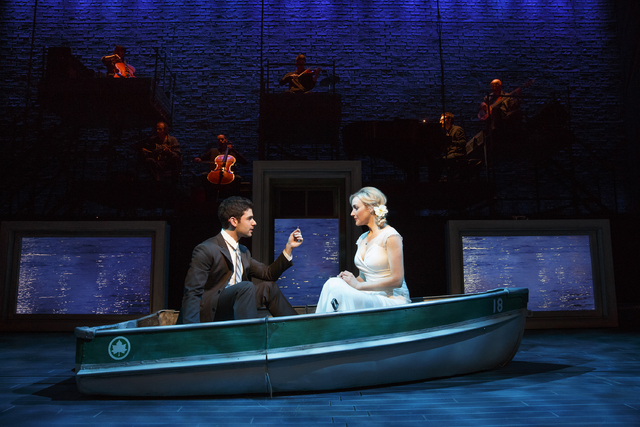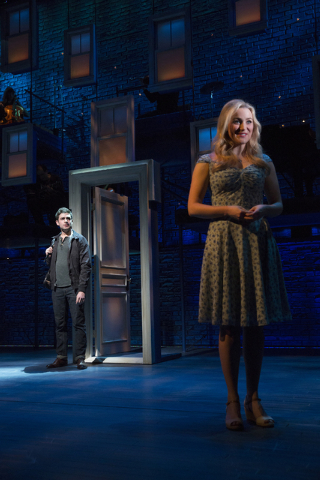 The Nevada Conservatory Theatre's production of "The Last Five Years," the award-winning off-Broadway hit written and composed by Jason Robert Brown, makes a charming bookend to this season's earlier revival of Stephen Sondheim's "Merrily We Roll Along" at the Onyx.
Whereas Sondheim and George Furth told their story backward from the end, Brown has us coming and going with a love story that moves forward toward tragedy for successful writer Jamie and backward to the hope of new love for Cathy, a struggling actress.
Betsy Wolfe and Adam Kantor, the veterans of the play's acclaimed 2013 off-Broadway revival, are perfect as the archetypal boy and girl in love. Wolfe and Kantor are so good that they almost surmount the play's greatest flaw, which also happens to be what makes it most worth seeing.
Because the two lovers are in parallel storylines moving in opposite directions, they seldom interact with each other onstage. Wolfe and Kantor could just as well be performing in parallel one-person shows since they take turns singing solos on the stage. With almost no spoken dialogue, the play begins to feel more like a musical revue than a play and sometimes feels oddly emotionally unengaging.
But when both actors actually do occupy the same time onstage, such as at midpoint when Jamie proposes to Cathy in a rowboat in Central Park ("A Miracle Would Happen/When You Come Home to Me"), the emotions fire. At the end, a wordless glance from Jamie's future to Cathy's past ("Goodbye Until Tomorrow/I Could Never Rescue You") is very moving.
Initially, Jamie has the emotional upper hand since he is full of the charm of young love, while Cathy comes across as emotionally self-centered, moping about feeling neglected. But the tables are turned in the second half when we see Cathy's future hopes quashed in Jamie's masculine immaturity. Lighting designer Brackley Frayer turns a devilish red light on Jamie but in Kantor's hands he is more than just a rake. Likewise, as Wolfe's Cathy grows in innocence and hope, her character grows in depth. We are given the advantage of the perspective that they lack.
Director Philip Shelburne intelligently takes advantage of the play's difficult structure to highlight the couple's yearning. From their first and only kiss at the opening of the play, he moves them on parallel tracks (sometimes literally) as if they are wistfully just missing each other. Set designer Gregory Crane's stylized New York skyline evokes the balcony scene from "West Side Story" and the yearning of lost love.
The stage floor is painted to resemble a giant clock face with subtle Arabic and Roman numerals, and Brown's music sounds like a music box being wound backward as Jamie walks backward offstage at the start of the play and we realize we are moving backward to the beginning.
Musical director Andrew Resnick also plays piano with the small orchestra that expertly accompanies the two powerhouse singing actors. Resnick never allows the range and emotion demanded by Brown's score to come across as caterwauling. Wolfe and Kantor's voices are always in pitch-perfect command and never grate.
The songs could suffer the same criticism often unfairly leveled at Sondheim — you won't leave the theater humming them — but Brown's clever lyrics and engaging melodies fit the characters' emotions hand in glove.
REVIEW
What: "The Last Five Years"
When: 2 and 8 p.m. today; 2 p.m. Sunday
Where: UNLV's Judy Bayley Theatre
Tickets: $27-$30 (702-895-2787 or www.unlvtickets.com/performingarts/)
Grade: B