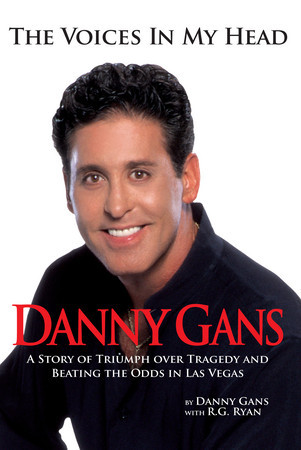 A book detailing the life and career of impressionist Danny Gans hits local bookstore shelves today, 5 1/2 months after the Strip headliner's death at age 52.
The coroner ruled his death accidental, caused by a toxic reaction to hydromorphone.
"The Voices In My Head," by Gans and co-writer R.G. Ryan, spans more than 50 years, beginning with a brief history of how his parents met and closing with a chapter about how Gans came to be headlining at Encore after a long tenure with The Mirage.
Much of what's addressed in the book — Gans' love of baseball, his Las Vegas resume and even his inspirations — won't surprise readers who are familiar with the entertainer, co-writer Ryan says. But Gans told his story in a way that will enable people to understand what drove him to be the "man of many voices" and a longtime Las Vegas headliner.
"Even if you saw his show many times, you still didn't know who he was," Ryan says. After reading the book, "people are going to know who Danny Gans was. They're going to know what it cost him physically to go out on that stage to do what he did, and I suppose what it cost emotionally."
Ryan, who met Gans while exercising at a local gym 13 years ago, proposed the idea for the autobiography over coffee one day in May 2008.
Gans had been thinking about doing a book, Ryan says, so they agreed to collaborate. Ryan would do a series of recorded interviews with Gans, then write the book as though Gans were narrating it.
Ryan ended up with 15 hours of recorded conversations. Transcribing them turned out to be the "biggest chore" and took him about two months to complete, Ryan notes.
He began the writing in earnest in November 2008 and completed a first draft April 30. Gans died May 1.
"The day before he died, at 11 a.m., I sent him a text," Ryan recalls. "I just said, 'Done!!!' He wrote back, 'Great, let's get together Friday at 4 p.m.' "
While the book doesn't address Gans' cause of death or his use of prescription pain medication, readers may get an idea from the book about why he took them, Ryan says.
Gans sustained several injuries over the years that caused him long-term problems, including an ankle injury that ended his dreams of becoming a major league baseball player, surgeries, two car accidents and a diagnosis of rheumatoid arthritis.
The book retails for $14.95 and is published by Stephens Press, a subsidiary of Stephens Media LLC, owner of the Review-Journal. It is available at the R-J Bookstore, at Borders Town Square and online at www.DannyGansVoices.com.
Ryan will make a book signing appearance from 2 to 4 p.m. Oct. 24 at Borders Town Square, 6521 Las Vegas Blvd. South.
Contact reporter Sonya Padgett at spadgett@reviewjournal.com or 702-380-4564.