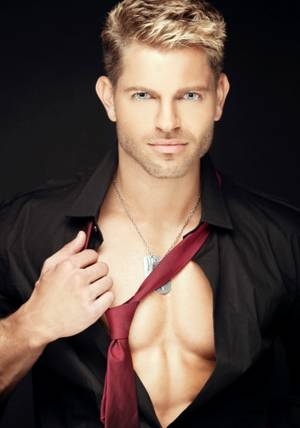 How many hands have touched your mostly naked body? Wait, I shouldn't ask you that impolite question. Instead, let's ask Jaymes Vaughan, host of "Chippendales" at the Rio.
Vaughan does the math: "Let's say we do 500 shows a year, and I've been here for five years, and every night let's just say there was one person who touched me.
"What is that – 2,500 hands? But if they got both hands (on his body), that's 5,000 hands?"
That's crazy. But Vaughan is eager to please his audiences at "Chippendales." He also performs in Rio's "Show in the Sky." And he hosts segments on Lifetime's "Designing Spaces."
You can also look for him on CBS's "Amazing Race 21" this fall, according to TV spoiler sites online. (Vaughan won't confirm or deny. CBS hasn't announced the cast yet.)
You can also see Vaughan on Saturday when he co-hosts one of the best parties of the year, Aid for AIDS of Nevada's annual Black & White Party at the Hard Rock Hotel pool.
Vaughan is one of those models who tells you that when he was a boy, he was bullied and awkward, which he put an end to through self-determination.
"I was that kid who grew up super, super skinny with bad hair, bad skin, bad teeth, everything," he says in his native Virginia accent.
His nickname in school was "the walking stick" – all 6-foot-4, 140 pounds of him.
So, five days a week, he started lifting weights an hour a day, and doing 30 minutes of cardio daily. He began to eat better.
At about the same time, when he was a senior, his "Glee"-like school choir director cut him from the lineup. Vaughan blames only himself.
"I wasn't that good," he says. "She was probably just like, 'Dang, James, you can't harmonize.' "
So Vaughan asked for harmonizing help from his former middle school choir teacher.
"You have two choices when you get knocked down: You can get up and get stronger and get better, or you can sit there and sit in it.
"I worked my ass off."
Once Vaughan's singing improved, he started earning roles at auditions.
And once his body beefed up, auditions got more interesting.
"People would say, 'Take your shirt off,' " he recalls, laughing.
After school, he wound up working in a show in New Orleans until Hurricane Katrina took away his job. So he moved to entertainment-rich Vegas with almost no possessions, staying at a friend's house.
Vaughan soon won a job as lead singer in Harrah's short-lived "Bareback." Then "Chippendales" discovered him.
He swears "Chippendales" guys are way more cool than you might imagine.
"You think there's gonna be guys who are all into themselves and pump iron in the mirror all day," he says.
But in fact, these singing, dancing dudes don't take themselves too seriously. They don't tolerate egomania within their ranks, he says.
"You can't sit around and be like, 'Oh, I'm a Chippendale, I'm so great,' because we will eat you alive," he says, laughing.
Vaughan is excited to co-star at this year's Black & White Party.
Even though it's called Black & White, it's a colorful event. Some people wear tuxes and gowns, and others wear chaps, angel wings, or tuxes-plus-makeup.
"That's what makes it fun," Vaughan says. "You're helping other human beings out just by buying a ticket and having a good time."
AFAN Executive Director Antioco Carrillo promises the vibe will be as entertaining as ever.
"People have the sense of freedom and inclusion about what they are able to bring to the party – who they are, what they accessorize their outfits with," Carrillo says.
Carrillo hopes to raise more than $100,000.
"The money goes directly to services," such as providing emergency rent and other assistance to people in need, he says.
"The AIDS Walk and the Black & White Party are crucial for us," he says. "We have more clients, access and services, and the funding continues to be the same. So we have to stretch the funds."
This is Vaughan's first year as a marquee attraction at the party, instead of just attending it. He says it's always "amazing, amazing, amazing."
Naturally, Vaughan is inclined to enjoy such entertainment, since he's a performer. He jokes that people will have to pry him offstage one day, when he's 80 years old.
"I'm gonna be that guy (screaming), 'I'm the oldest Chippendale in the world!' "
Doug Elfman's column appears Tuesdays, Thursdays and Fridays. Email him at delfman@reviewjournal.com. He blogs at reviewjournal.com/elfman.
Preview
What: Black & White Party
When: 9 p.m.-1 a.m. Saturday
Where: Nirvana Pool at Hard Rock Hotel
Tickets: $35, VIP $100 (afanlv.org)
Doug Elfman interview with Jaymes Vaughan:
AC_FL_RunContent( 'type','application/x-shockwave-flash','data','https://www.reviewjournal.com/media/audio/mp3small','FlashVars','MFILE=https://www.reviewjournal.com/media/audio/2012/jaymes_vaughan_podcast.mp3&MSTART=no','width','131′,'height','30','movie','https://www.reviewjournal.com/media/audio/mp3small','classid','clsid: D27CDB6E-AE6D-11cf-96B8-444553540000′,'codebase','http://download.macromedia.com/pub/shockwave/cabs/flash/swflash.cab#version=8,0,0,0′ );