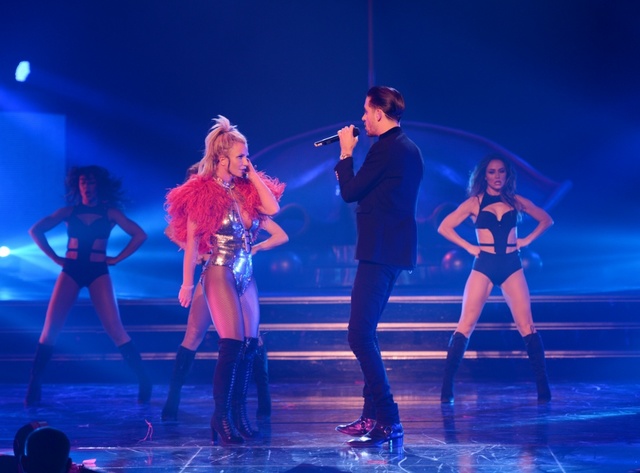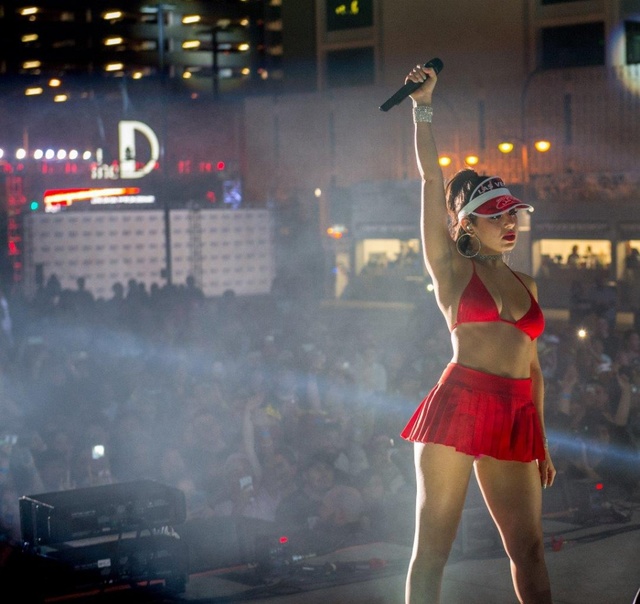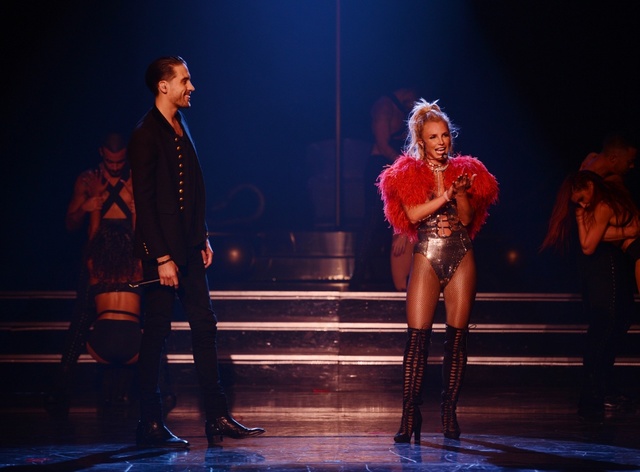 This one's for forlorn One Direction fans: Singer Liam Payne joined DJZedd on stage at the Wynn's Intrigue nightclub Saturday to hype the crowd and sing along.
Fans tried to grab him. Zedd took selfies while they appeared like a couple of bros doing their pro gigs.
Zedd actually thanked his "bro" on social media:
"Thanks to my dawg Liam for coming out last night and saving my life on the mic while my laptop crashed."
Afterward, Payne and Zedd met up with a musician who's better than both of them, Wynn resident DJ Skrillex.
Payne, 23, is working on a solo career while his boy band mulls an eventual reunion. Gossip magazines claim his 33-year-old girlfriend ( English TV star Cheryl Ann Fernandez-Versini) just got a divorce and may be pregnant.
IS A PEEKABOO SKIRT EVEN RISQUÉ ANYMORE?
Social media reacted with glee at photos from singer Charli XCX's show at the Downtown Las Vegas Events Center.
The reason: She wore a red cheerleader skirt hiked up so high everyone in the crowd pretty much stared at her underwear while she sang some of the biggest American hits of the past few years, including "Fancy," "I Love It," "Boom Clap," and "Break The Rules."
"It was her choice of underwear that stole centre stage," London's Mirror reported.
On one hand, this is the kind of thing people said 30 years ago when Madonna came along. And in our online era, this seems tame in theory.
On the other hand, seeing a star do this on a stage in front of one's own eyes is a bonding experience.
Charli XCX performed Friday for the post-Pride parade after-concert, helping raise money for Aid For AIDS Nevada.
NIC CAGE BACK AT TOPLESS SHOW
Acting legend and Las Vegan Nicolas Cage returned to the Rio hotel Thursday to see topless revue "X Rocks" from the front row, accompanied by Dom Pérignon.
He saw "X Rocks" and Harrah's topless "X Country" earlier this month, in the front row each time.
Research for a role? Fingers crossed.
BRITNEY-G-EAZY REUNITED ON STAGE
Rapper G-Eazy joined Britney Spears on stage Friday at Planet Hollywood to sing their duet "Make Me…"
It appears it was the first time they've been seen together since her appearance at August's MTV Video Music Awards. He was in Las Vegas to rap Saturday at Drai's nightclub, where he's a contract resident performer on occasion.
Some media people suggested after the MTV awards that the rapper tried kissing Spears on stage but Spears said it didn't seem like that to her.
MORE WOOD FOR CIRQUE
Guitarist Ron Wood made the most of a Vegas working vacation while the Rolling Stones were in the city to perform.
On Thursday, Wood saw Cirque du Soleil's "Love," two days after seeing Cirque's "One."
GOOD DRUMMING
Local Chris Foster won a "drum-off" competition Saturday at the Downtown Container Park by impressing judges (the "Blue Man Group" and the Killers' drummer Ronnie Vannucci) and the emcee, radio host Mercedes Martinez.
What does one win at a drum-off? Six grand worth of drum kits.
HOME TWEET VEGAS
@NYDailyNews posted a Vegas fast food photo of Donald Trump's son Eric holding what resembles a free water cup containing a yellow substance: "Eric Trump appears to be drinking lemonade out of a free water cup at In-N-Out Burger." (Eric Trump was in town for Wednesday's debate at UNLV, which was satirized by "Saturday Night Live.")
SIGHTINGS
Actress Elisha Cuthbert ("24" and "Happy Endings") drank champagne with sister Lee-Ann Cuthbert and friends Saturday at Wynn's club XS and huddled around DJ Skrillex. Friday, the Cuthbert group ate in a private cabana at Costa Di Mare and partied in the no-camera zone of club Intrigue's Living Room for VIPs.
Brian Baumgartner (who played Kevin Malone on NBC's "The Office") did Topgolf Thursday.
BMX biker Connor Fields, the Henderson champion who won American gold at the 2016 Olympics, saw "Blue Man Group" with his girlfriend Friday in the Luxor hotel.
And longtime RJ icon Norm Clarke drew a typically large "Norm!" crowd Friday at the Hofbrauhaus, a reminder he's still so popular in retirement, he could run for office and win.
Doug Elfman can be reached at delfman@reviewjournal.com. He blogs at reviewjournal.com/elfman. On Twitter: @VegasAnonymous