Life is Beautiful faces pivotal test in fourth year
September 17, 2016 - 4:02 pm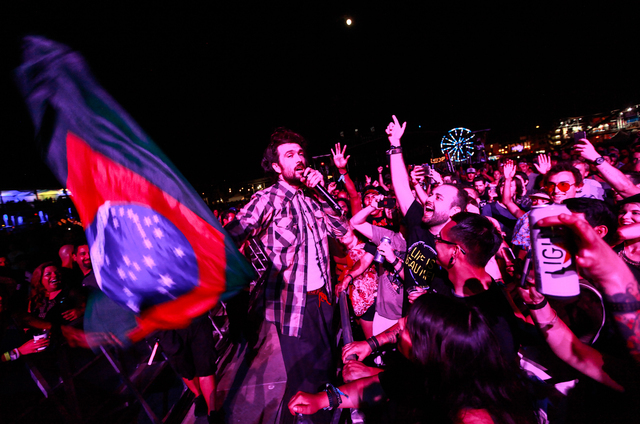 The good news, at least one aspect of it, can't be argued.
When the first batch of discounted "presale" tickets for this year's Life is Beautiful festival went on sale the morning of Feb. 4, its producers figured they would last all day.
Instead, someone broke in on their 10 a.m. meeting. The tickets were almost gone, in just half an hour. What did they want to do now?
But maybe Justin Weniger and Ryan Doherty shouldn't have been surprised. After all, Doherty says it was last year's triumphant set by hometown heroes Imagine Dragons that made him feel the 3-year-old festival had truly hit its stride.
Fans caught the euphoria of Imagine frontman Dan Reynolds as he thanked everyone he could think of, celebrating his own band's triumphant rise and, by proxy, the bold move to plant a music and arts festival in the shadows of a downtown expressway.
Look at photos or YouTube footage of the Dragons packing what's usually an ugly lot behind the Pump N Snack, and "you see how special this festival is," Doherty says.
The run on presale tickets was a sign of blind faith, that maybe people had finally embraced what Life is Beautiful promoters had been preaching: It's the collective experience and unique setting that makes this one stand out amid bigger, more established music festivals around the country.
But then the lineup was announced.
And that's when the debate began.
Is this fourth, crucial year for the festival another step forward? Or a reined-in attempt to turn a profit? Did that early burst of sales ride on the coattails of the festival's ousted founder? Or the guys now in charge of marketing decisions?
This year's lineup poster might be a Rorschach test of your enthusiasm.
Do Mumford &Sons, J. Cole and Major Lazer seem like they would have been second-billed to previous headliners such as Foo Fighters, Stevie Wonder and Kanye West?
Or do you share the promoters' excitement in full explanations? It's been 5½ years since Mumford &Sons played Las Vegas. The Lumineers never have. And The Shins won't play anywhere else in the United States this year. And yes, Major Lazer is a do-over, but they've skyrocketed since last year's fest.
Maybe the answers are not in an ink blot, but a driver's license. If the producers don't want to generalize while aiming for inclusiveness, an outside observer will.
"That talent lineup's not booked for people in their 30s and 40s," says Gary Bongiovanni, editor-in-chief of Pollstar, the concert industry's trade bible. "It's definitely skewing younger. And you know what? That's probably a smart thing."
The three-day downtown music and arts festival needs to hedge all bets as it heads into a pivotal fourth year Friday through Sunday.
It's the first with Weniger and Doherty's Wendoh Media fully at the operational helm, after festival founder Rehan Choudhry departed in January under terms both sides are reluctant to discuss.
The media partners known for Vegas Seven magazine, nightlife websites and special-events marketing announced in early 2015 their company had acquired a 50 percent stake in the festival.
"The numbers are improving every year," Weniger says. But all the same, "It's kind of put-up-or-shut-up time."
BUILDING A (LOSS-LEADER) BRAND
Both the Life is Beautiful organization and its finances are private, even though the festival requires considerable cooperation from the City of Las Vegas, downtown merchants and even the post office — "Mail is still delivered Saturdays," Doherty notes — to fence off an 18-block area between Seventh and 11th streets and between East Mesquite and East Carson avenues for the ticketed event.
But $10 million in losses have been reported for the first three years of the fest largely funded by Downtown Project, the urban redevelopment company financed by Zappos CEO Tony Hsieh. Last year, the festival also brought in the producer of the giant Electric Daisy Carnival, Pasquale Rotella's Insomniac, as an investor and programmer of a new electronic dance music pavilion.
Weniger became the festival's new chief executive officer and Doherty its "chief experience officer," though Choudhry was still part of the festival he started in 2013.
But Choudhry left in January and says he was not even invited to attend this year. Instead, he will be checking out the iHeartRadio festival on the Strip.
(This year's iHeartRadio, taking place Friday and Saturday at T-Mobile Arena, is direct competition. It's always a tight ticket for superstars such as Drake and U2 inside the arena. But Saturday's "Daytime Village" also sold out close to 25,000 tickets for Sam Hunt and 14 pop and rock acts on the 25,000-capacity outdoor grounds across from Luxor).
"The good news is there's life after Life is Beautiful," Choudhry says of a new startup he is working on but not yet ready to announce.
Those familiar with the concert industry and this festival say it's unlikely Choudhry was under the gun to move into the black last year, even if three years is an accepted break-even benchmark for business plans not so dependent upon the intangibles of building a brand.
Attendance figures vary, but the Las Vegas Convention and Visitors Authority estimated last year's total as 131,550 for the three days. Out-of-town visitors were estimated at 37,175, with "direct visitor spending" estimated at $21.5 million.
All of those were an uptick from 2014, with 24,075 out-of-town visitors and total attendance of 87,200. The out-of-towners that year spent $13.9 million, according to the convention authority.
"We improved the numbers substantially last year (and) have grown another 40 percent this year," Weniger says. "It is a business. There's not some unlimited fund we can keep dumping into this. We need it to be sustainable. We need it to be something that can stand on its own."
Pollstar's Bongiovanni says festivals are "a larger part of the concert market overall than they've ever been." Life is Beautiful falls after most of summer's big destination fests but still has just one week's separation from this weekend's KAABOO in the feeder market of San Diego.
Even so, "I think 60 days out we had more tickets sold in Southern California than we did all year last year," Weniger says.
The partners say they haven't backed away from the other "pillars" of the festival — its culinary, art and learning (speaker) components — despite a clear shift away from out-of-town chefs and cooking demonstrations, and a new venture into stand-up comedy this year.
"We don't cut corners on experience," Weniger says. "The experience this year is probably over the top, but it comes from getting a lot more support from the community," such as the increased presence of Cirque du Soleil performers this year.
Weniger also denies this year's musical lineup reflects a more austere talent budget. "The music budget has been the same for four years now," he says. The difference is "this year I think we're more balanced top to bottom."
Doherty says rapper J. Cole and electronica trio Major Lazer reflect a younger fan's definition of a headliner in terms of pop currency, rather than a career body of work.
"Do we all want to have the Radioheads, the Pearl Jams? Of course," says Craig Nyman, who has overseen the musical lineup all four years. "But I do think that when I look at our audience … they really are responding to the artists at the top of our lineup. J. Cole is one of the hottest names in hip-hop right now. (Electronica producer-musician) Flume is one of the hottest artists that's out there today. Jane's Addiction is an iconic rock band."
Add them up, and "it feels right for our audience and for the festival," Nyman says.
UPWARD MOBILIITY
The promoters also are playing to a strength that emerged in previous years: Down-billed acts moving up the pop radar. This year's high-billed G-Eazy was one of the breaking acts in 2014, and the likes of twenty one pilots, Echosmith, Haim and St. Lucia also saw their stars rise after past appearances.
Weniger says the poster art of the lineup is deliberately "kind of jumbled in there together, so people had to explore more. … We're not telling people what the 'best acts' are. Different people saw different things in there."
Nyman urges people to do a little homework. "You've had months (since the lineup announcement) to check these bands out, dive in and listen to some of their tracks. See what may sound good to you."
Outside of the favorites you know you want to see, "I say let the festival take you. Let it carry you to a different stage. Pick out a new sound, discover some new music," Nyman adds. "You're opening up your eyes and ears to a new sound or a new artist."
The goal is to reach that rarefied air of Coachella — formally the Coachella Valley Music and Arts Festival — which sells out a year before it announces who will even play in the desert near Palm Springs, California.
"I guess nobody can really relax, but any time you reach the point where you can put tickets on sale and sell out before you announce any talent, you're golden," Pollstar's Bongiovanni says. But, he adds, "That might only be good for one year, because if you don't deliver that year it might not happen the following year."
Words both encouraging and ominous for Weniger and Doherty, who have been business partners since 2007 and have known each other since they were college students.
Doherty came to Las Vegas on a one-semester exchange from the University of Massachusetts-Amherst and never went back. As an aspiring club promoter, he was trying to draw a crowd to Hush lounge on top of Polo Towers, and therefore curious about who was packing the usually dead Blue Note jazz club at the nearby Aladdin with a Latin dance night.
"I walked down to meet the Latin promoter and found this guy instead," he says.
Weniger had come to town as a linebacker for UNLV in 2000. The two built on their knack for club promotion with entrepreneurial ventures such as starting their own printing company, instead of farming out the cards they were distributing on the streets.
A little of that street-promoter spirit remains in Weniger, sporting a Life is Beautiful T-shirt, noting the festival's apparel is in "35 airports" and that people always want to know where he got the hat. "They have no idea what the festival is, but they want the hat anyway."
They may not have come up with the name, but the new keepers of the brand understand the value of "people walking around in a very divisive time saying 'Life is beautiful,'" Weniger says. "You feel the energy of people in this overall good mood. I think that, more than anything, is what separates us (from other fests)."
The Review-Journal has a promotional partnership with Life is Beautiful, and Mike Weatherford and other RJ entertainment reporters will speak on a Saturday panel at the festival.
Read more from Mike Weatherford at reviewjournal.com. Contact him at mweatherford@reviewjournal.com and follow @Mikeweatherford on Twitter.